Are you looking for a furry companion in Oklahoma? Discovering the perfect Maltipoo pup to join your family just got easier. Maltipoo Breeders in Oklahoma offer a variety of adorable and well-bred Maltipoo puppies. These breeders are dedicated to providing quality care and socialization, ensuring a healthy start for your new four-legged friend. With various colors and sizes available, you will find the ideal Maltipoo to suit your preferences. Read on to learn more about the top Maltipoo Breeders in Oklahoma.
List of Maltipoo Breeders in Oklahoma
| | | | | |
| --- | --- | --- | --- | --- |
| Breeder | Location | Phone | Website | Email |
| Maltipoo Puppies and More | Locust Grove, Oklahoma | (918) 855-7811 | https://maltipoopuppiesnmore.com/ | [email protected] |
| Jaco Kennel | Hulbert, Oklahoma | (918) 456-6731 | https://jacokennel.com/ | [email protected] |
| Paws N Tails Pups | Sallisaw, Oklahoma | (479) 462-9004 | http://www.pawsntailspups.com/ | [email protected] |
Maltipoo Puppies n More
Maltipoo Puppies n More, situated in Locust Grove, Oklahoma, boasts an esteemed reputation. Their primary objective is collaborating closely with potential dog adopters, discerning their preferences to match them with the perfect puppy. This ensures a harmonious fit between each family and their chosen canine companion. Beyond the sheer cuteness, adopting from Maltipoo Puppies and More offers more.
Included upon adoption are a health certificate and vaccination records attesting to the puppy's well-being. Prioritizing puppy health, they also offer a one-year health guarantee. Moreover, the puppy care package adds to the excitement, featuring a collar, leash, blanket with the mother's scent, a sample of the pup's favorite food, a toy, and special treats.
For those interested, reaching out to Maltipoo Puppies n More is advised. The initial step involves conversing with the breeder to pinpoint the ideal match. Following this acquaintance phase, a deposit secures a spot on the puppy waiting list. Once the deposit is placed, an online contract is filled out. When your turn arrives on the waiting list, you can choose your perfect puppy.
Location: Locust Grove, Oklahoma
Website: Maltipoo Puppies n More
Phone: (918) 855-7811
Email: [email protected]
Facebook Page: Maltipoo Puppies n More Facebook Page
---
Jaco Kennel
Jaco Kennel aims to provide families with joyful, healthy dogs. Situated on a Hulbert, Oklahoma farm, Jaco Kennel grants dogs ample space for play and learning, ensuring they're well-adjusted before adoption. Their commitment extends to offering both a robustly healthy and well-trained puppy. Before departure, all kittens are vaccinated, dewormed, and equipped with a microchip.
Jaco Kennel's affiliation with the American Kennel Club (AKC) guarantees pups from robust parentage, upholding elevated standards for health, resulting in contented pups. To adopt a Maltipoo puppy from Jaco Kennel, visit their webpage for a roster of potential pups. Direct communication with them is recommended for additional pet information, as they're eager to assist at every phase.
Location: Hulbert, Oklahoma
Website: Jaco Kennel
Phone: (918) 456-6731
Email: [email protected]
Facebook Page: Jaco Kennel Facebook Page
---
Paws N Tails Pups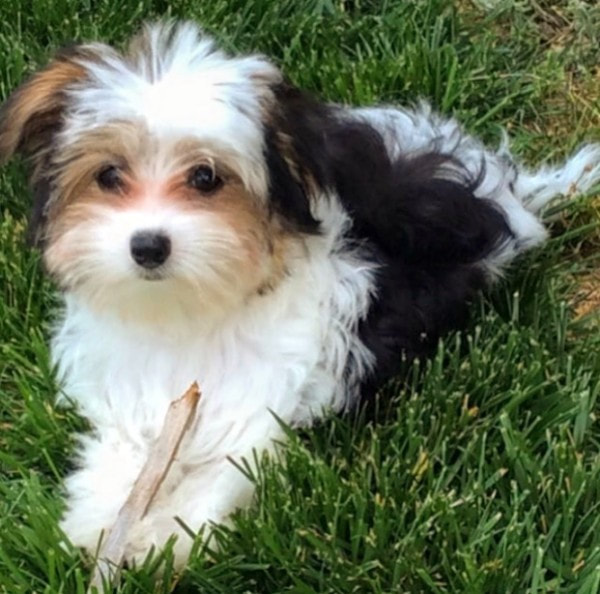 Paws N Tails Pups goes beyond mere dog sales, offering exceptional Maltipoo puppies that become cherished family members. They focus on non-shedding breeds suitable for allergy sufferers, with well-socialized pups boasting appealing personalities—ideal for families with children.
At Paws N Tails Pups, their mission extends beyond providing adorable puppies; they aim to ensure a delightful experience. Bringing home a new puppy can be daunting, but they strive to simplify the transition, offering assistance and support to make the adoption process enjoyable rather than stressful.
Prospective adopters need to check their website for availability to acquire a pup from Paws N Tails. Completing an adoption form is the next step if a pup captures your interest. The team will promptly respond after receiving your submission. It's important to note that submitting an adoption application doesn't guarantee immediate dog acquisition; an open mind and patience are essential. If your desired puppy isn't available, the option to adopt another of their beautiful pups is also there.
Location: Sallisaw, Oklahoma
Website: Paws N Tails Pups
Phone: (479) 462-9004
Email: [email protected]
Facebook Page: Paws N Tails Pups Facebook Page
---
Short History of the Maltipoo Breed
The Maltipoo breed, a delightful cross between Maltese and Poodle, has recently gained popularity. This hybrid's history can be traced back to the late 20th century when breeders intentionally mix these two breeds to create a companion with the Poodle's hypoallergenic coat and the Maltese's charming personality. The aim was to combine the best traits of both breeds, resulting in an affectionate, intelligent, and allergy-friendly pet. The Maltipoo's popularity continues to grow, making it a beloved choice for families and individuals seeking a loving and adaptable canine companion.
Tips When Choosing a Maltipoo Breeder
Research: Get information from different online sources on the description of a breeder or breeder in Oklahoma. After that, ascertain and determine reviews and testimonials about the history of good standing they have gained even before contacting them.
Visit Facilities: Always visit to inspect how dogs live, whether it is clean or not, and overall experience check.
Health Screening: Inquire about what health screening procedures they practice at reliable Oklahoma-based Maltipoo breeders. Learn whether they do genetic tests or vet checks.
Questions to Ask: Feel free to ask about their breeding practices, the Maltipoo breed, and how puppies are raised. Breeders who care have no secrets and welcome sharing information.
Watch Puppy Interaction: Watch how puppies interact with both breeders and visitors. Puppies handled by Maltipoo breeders in Oklahoma will more easily adapt to new homes.
Breeding Ethics: Also discuss breeding with Maltipoo breeders as well. Good ones abide by ethical breeding guidelines, which show that dogs come first and foremost for them.
Contracts and Assurances: Legitimate Maltipoo breeders in Oklahoma will provide a contract that clearly states the contractual terms of sale, health guarantees, and expectations from buying puppy buyers.
Effective Communication: Watch how the way breeders communicate with you. A good breeder is also willing to answer your queries or concerns through effective communication even days after bringing home a puppy.
Conclusion
If you're hunting for a charming Maltipoo companion in Oklahoma, these reputable breeders are your go-to source. Bringing together the best Maltese and Poodle breeds, Maltipoos make for loving and delightful pets. By choosing Maltipoo Breeders in Oklahoma, you're gaining a wonderful new addition to your family and ensuring that your furry friend has the best possible start in life. Don't hesitate to explore the options provided by these breeders, and welcome your new Maltipoo pup with open arms.
Maltipoo Breeders In Other Places
Australia based Moodle breeders
Image Credits:
https://unsplash.com/photos/a-brown-dog-standing-on-top-of-a-sandy-beach-aUC-n8rwPGg