The Labrador Retriever is one of the best dogs and is a loyal companion. They are very friendly and playful, making them perfect for families with children and older adults. If you are looking for Labradoodle Breeders in Georgia, then check out the list of breeders below
List of Labradoodle Breeders in Georgia
| | | | | |
| --- | --- | --- | --- | --- |
| Breeder | Location | Phone | Website | Email |
| Rainbow Row Labradoodles | Georgia | (843) 754-2633 | https://rainbowrowlabradoodles.com/ | [email protected] |
| Classic City Labradoodles | Athens, Georgia | (706) 202-5416 | http://classiccitylabradoodles.com/ | [email protected] |
| Cotton Creek Labradoodles | Marietta, Georgia | n/a | http://www.cottoncreeklabradoodles.com/ | [email protected] |
| Asher Farm Labradoodles | Loganville, Georgia | (770) 656-1094 | http://www.asherfarmlabradoodles.com/ | [email protected] |
| Sweet Bay Labradoodles | Grovetown, Georgia | (682) 276-4817 | https://sweetbaylabradoodles.com/ | [email protected] |
| Southern Charm Labradoodles | Loganville, Georgia | (770) 972-7678 | http://www.southerncharmlabradoodles.com/ | [email protected] |
Rainbow Row Labradoodles
Kylie and Isabella are Labradoodles that produce puppies for this modest breeding enterprise in southern Georgia. ALAA Gold Paw breeder status has been bestowed upon them due to extensive genetic testing of prospective dams, sires, and puppies. This indicates that they are one of Georgia's most respected Labradoodle breeders.
Prioritizing the production of happy, healthy puppies for Georgians, they only feed Life's Abundance holistic puppy chow, which has no by-products, wheat, maize, or chemical preservatives. This is only one of the many reasons they can offer a 2-year guarantee on the genetic health of their puppies.
They've teamed with BAXTER & Bella's Online Training School, where their pet parents receive a 25% discount on a lifetime of classes, modules, and professional advice. As a result of the COVID-related closure of numerous puppy training schools, today is the ideal time to train your dog at home.
With black, chocolate, white, and multicolored Labradoodle pups available in California, you're sure to choose an attractive dog. These Labradoodles range in size from small to medium. You may purchase new tiny and medium-sized litter for $2,850 in southern Georgia near Albany.
Location: Georgia
Phone: (843) 754-2633
Email: [email protected]
Website: Rainbow Row Labradoodles
Facebook Page: Rainbow Row Labradoodles Facebook Page
---
Classic City Labradoodles
Danny White is the delighted father of thirteen exceptional Labradoodle breeding pups. On his expansive two-acre property in Athens, Georgia, the doodles and their puppies receive all the exercise they could ever need.
The primary focus of Classic City is on health, conformation, and temperament, which is fostered by the socialization and doting attention his entire family lavishes on the newborns. These puppies will be among the most socialized Labradoodles in Georgia.
Many of Danny's lovely white and chocolate color daughters intend to become mothers within the next four to six months. Due to the high demand for these litters, he has begun a waiting list, so don't delay.
Those who deposit on one of these Labradoodles will be placed on a waiting list in the order in which their deposits were received. At the time of puppy selection, often between 5 and 6 weeks of age, he will choose the next lucky pet parent. The cost for a lifetime affection with your Classic City dog is only $2500. A complete veterinarian examination and a two-year health guarantee will accompany your puppy. In addition, each new Labradoodle parent receives a leash and collar, a blanket imbued with the aroma of the mother, and dog food to help the adjustment.
Location: Athens, Georgia
Phone: (706) 202-5416
Email: [email protected]
Website: Classic City Labradoodles
Facebook Page: Classic City Labradoodles Facebook Page
---
Cotton Creek Labradoodles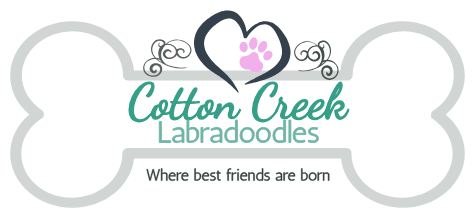 Cotton Creek Labradoodles is a tiny home-based breeding program in a large city. Located in the center of Atlanta, Georgia, they ensure that their Labradoodle puppies can access the city's lovely parks for nature walks. This helps acclimate them to vegetation and tiny animals.
These Labradoodle puppies in Georgia are treated with the same care as human children. They spend three and a half weeks in "Puppy Pre-K", where they participate in socialization exercises and play with stimulating toys. This helps prepare their Labradoodle puppies for life in the real world, where they will experience less tension and anxiety in response to loud stimuli. They are one of the most reputable Labradoodle breeders in Georgia due to their early socialization.
With beautiful southern names like Grover and Harper, these small to medium Labradoodles are anticipated to be in high demand. Cotton Creek expects to have a litter available by the end of 2020 or the beginning of 2021.
In Georgia, their Labradoodle puppies are anticipated to be miniature milk chocolate or milk chocolate and white party, as well as medium. If you would like to be placed on the waiting list for one of these adorable puppies, the deposit of $300 will be applied to the total fee of $3000.
Location: Marietta, Georgia
Email: [email protected]
Website: Cotton Creek Labradoodles
Facebook Page: Cotton Creek Labradoodles Facebook Page
---
Asher Farm Labradoodles
The Chadwick family consists of a mother, father, and two stunning daughters who run a small home-based breeding operation from a farm between Atlanta and Athens, Georgia. As family members, their Labradoodles have practically taken over their home, sleeping in their beds and accompanying them everywhere — even on trips!
The Chadwicks would not accept anything different. Since 2016, they have been breeding Labradoodle puppies in Georgia, and their skill with breed selection, health testing, and socialization has won them the Gold Paw Breeder accreditation they've had since 2017. This indicates that they are one of Georgia's most respected Labradoodle breeders.
With six mothers and two sires in every conceivable color combination, including one with phantom and chocolate coloring, this litter is sure to produce beautiful puppies. Labradoodle puppies are available for $3000.
Your puppy will arrive home with up-to-date vaccinations, a two-year health guarantee, and an initial dog food and toys supply. All current litters are reserved, and one glance at these adorable puppies will explain why. Contact the Chadwicks listed below to enquire about being placed on their reservation list for the next event.
Location: Loganville, Georgia
Email: [email protected]
Phone: (770) 656-1094
Website: Asher Farm Labradoodles
Facebook Page: Asher Farm Labradoodles Facebook Page
---
Sweet Bay Labradoodles
Laura Diaz's primary reason for establishing her own Labradoodle breeding company in Georgia was the comfort and support these emotionally and mentally intelligent animals provide. Arya, a charming red mini, and Snow, a gorgeous snow-white Labradoodle, are the resident dams. They are 2 and 3 years old, have normal hips, elbows, and eyes, and have tested negative for more than 175 medical issues. You may expect these Labradoodle pups in Georgia to be in good health.
Puppies are priced at $2,800 and include age-appropriate vaccines, a two-year health guarantee, and a certificate of third-generation pedigree. In addition, you will receive a 4.5-pound bag of dog food, a dog collar, and a leash. Finally, you receive a snuggly blanket with your mother's aroma to remind you of her. Contact Laura below if you are interested in adopting one of Arya or Snow's upcoming children. She guarantees a response within 48 hours.
Location: Grovetown, Georgia
Email: [email protected]
Phone: (682) 276-4817
Website: Sweet Bay Labradoodles
---
Southern Charm Labradoodles
Carol Dean is a supporter of the diversity of Labradoodles and provides Georgians with a variety of options. She breeds Australian and American Labradoodles ranging in size from miniature to standard.
Due to their patient and devoted character, she also encourages the adoption of her Labradoodle puppies to become service or therapy dogs. Even with these remarkable qualities, only the most exceptional Labradoodle puppy will be picked for this crucial position. Carol will have a professional trainer spend time with and evaluate the Labradoodle puppies.
There are presently two litters on record, including one recently born litter. These Labradoodle puppies have apricot, caramel, and red coats. Later in the year, Laynie and Benz, two Labradoodles, will give birth to an assortment of little Labradoodles in caramel, red, apricot, and potentially a combination of colors. Contact Carol for additional information about purchasing a Labradoodle puppy! This Labradoodle breeder in Loganville, Georgia, offers puppies for $3000 each.
Location: Loganville, Georgia
Email: [email protected]
Phone: (770) 972-7678
Website: Southern Charm Labradoodles
Facebook Page: Southern Charm Labradoodles Facebook Page
---
Tips When Choosing a Labradoodle Breeder
When choosing a Labradoodle breeder, you should ask for references and ensure that the breeder has been breeding dogs for at least five years. It would help if you also asked to see the parents of your puppy, as well as any other puppies they have had in the past. When it comes time for you to pick up your puppy, ensure they are healthy and socialized with people and other animals. This can be determined by checking their teeth and health status before bringing them home with you!
How Much Does a Labradoodle Cost?
The cost of a Labradoodle varies according to the breeder and your puppy's age, health and temperament. Costs can range from $1200-$1500. If you're looking for an affordable dog that can still run around after an hour or two in the backyard with kids and other dogs, this breed might be right for you!
Do Labradoodle Make Good Pets?
Well, the answer is yes! They are great with children and other animals. They're brilliant and easy to train. Their coat is hypoallergenic, so if you have allergies or sensitivities to other dogs, this breed might be perfect for your family! If your kids are older than eight years old, they will love playing with their new puppy friend, as well as having a few cuddles in the morning before school.
Conclusion
The Labradoodle is a beautiful breed that has been growing in popularity for years. This dog has a lot of positive qualities, including being easy to train and great with kids. If you are looking to introduce yourself to the world of this dog or if you have been considering getting one, we hope our site has helped you find the right breeder in Georgia.
Labradoodle Breeders
Image Credits:
https://depositphotos.com/447771472/stock-photo-beautiful-australian-labradoodle-dog.html