Are you on the hunt for a Maltipoo puppy in Tennessee? With so many breeders, it can be tough to know where to start. This article will provide all the information you need to find the best Maltipoo breeders in Tennessee. From what to look for in a breeder to tips on finding the perfect puppy, we've got you covered.
List of Maltipoo Breeders in Tennessee
| | | | | |
| --- | --- | --- | --- | --- |
| Breeder | Location | Phone | Website | Email |
| Tail Wagging Puppies | Bethpage, Tennessee | (615) 633-22284 | http://tailwaggingpuppies.weebly.com/ | N/A |
| Brumfield's Babies | Sparta, Tennessee | (931) 316-6647 | https://www.theperfectpup.com/ | [email protected] |
| Michele's Maltipoos | Clarksville, Tennessee | (931) 316-6647 | http://michelesmaltipoosnmore.com/ | [email protected] |
| Pocket Poos | Cookeville, Tennessee | (931) 783-3956 | https://www.pocketpoos.com/ | [email protected] |
Tail Wagging Puppies
Tail Wagging Puppies tops the list of Maltipoo breeders in Tennessee. This establishment, helmed by Carolyn Chambers, has raised delightful, robust, and charming puppies for families throughout the state for over 40 years. The enterprise operates under a Tennessee State License and conforms to CKC and AKC registration procedures. The parent dogs are of excellent conformation, have lustrous coats, and exhibit a sought-after disposition.
Carolyn and her accomplished team hand-raise the puppies with the utmost care. They see that the young canines are well-adjusted, vaccinated, and given the finest treatment. Every Maltipoo puppy available for sale in Tennessee has a 1-year assurance against congenital anomalies.
Female and male Maltipoos have varying prices: $900 and $800, respectively. The breeder strongly encourages customers to pick up their new pets at the facility located in Bethpage, Tennessee, an hour northeast of Nashville. If pick-up is not feasible, the breeder may coordinate a courier delivery within a 600-mile radius of Bethpage. In addition to Maltipoos, Carolyn is also a breeder of several other pure and mixed dog breeds, including Bichon Frise, Poodles, Shorkies, Cavapoos, Yorkiepoos, Cavachons, Shih Poos, and others.
Location: Bethpage, Tennessee
Website: Tail Wagging Puppies Tennessee
Phone: (615) 633-22284
---
Brumfield's Babies
Brumfield's Babies is a family-owned kennel in Sparta, Tennessee that has been breeding dogs for over 27 years. They initially generated Labradors and later shifted to producing smaller breeds like Maltipoos. The kennel is owned and operated by Tammy Brumfield and has a semi-large facility where the parent dogs and puppies are housed and cared for.
Brumfield's Babies' parent dogs are registered with the CKC and AKC. The Maltipoo puppies for sale at their kennel in Tennessee are priced between $1,050 and $2,000, depending on their gender. Each puppy comes with a 1-year health guarantee. Brumfield's Babies encourages new adopters to pick up their Maltipoo puppies in Sparta. However, if you are far away, you can opt for flight shipping for $300.
Location: Sparta, Tennessee
Website: Brumfield's Babies
Phone: (931) 316-6647
Email: [email protected]
---
Michele's Maltipoos
Michele's Maltipoos was originated by Michelle, a housewife and authorized breeder of puppies residing in the northern region of Nashville, Tennessee. Her breeding enterprise is on a minute scale, with only a limited number of litters obtainable every year. Her proficiency lies in breeding Maltipoo puppies in Tennessee; she has been breeding them for over 14 years.
The canines are raised in Michelle's domicile, where they are bestowed with their personal spaces, kennels, and vast areas for frolicking. The parental units are meticulously chosen based on their physical well-being, structure, and temper. As the puppies mature, they are given up-to-date vaccinations and are made friendly to adjust to a new life with their owners. The Maltipoo puppies are sold for $3,500 to $4,000 based on their gender, coat color, and size, per the buyer's preference.
Location: Clarksville, Tennessee
Website: Michele's Maltipoos
Phone: (931) 316-6647
Email: [email protected]
---
Pocket Poos
Pocket Poos is a small breeding establishment in Cookeville that specializes in producing Toy Maltipoos. The Maltipoo puppies raised here are fully grown at a weight range of 4 to 6 lbs and are available in various colors and curl patterns, with medium curls being the most frequent. The breeding facility is very particular about who gets to adopt their delightful fur babies. They are not proponents of crate training or cages for housing, and they expect adopters to share their viewpoints on this matter.
The average price for a Maltipoo puppy from this breeder starts at $1,500. Compared to other Maltipoo breeders in Tennessee, their prices are considered mid-range. If you want to reserve a puppy, you will be required to pay a deposit of $300, and it may take 3 to 7 months before your name comes up on the waiting list. The Maltipoo puppies are introduced to potty training, updated with age-appropriate vaccinations, and come with a 1-year health guarantee.
If you live far away from Cookeville, you must arrange for transportation of your Maltipoo puppy. The breeder will offer guidance on how to travel with your furry baby. Please note that the breeder does not permit their puppies to be shipped, so you must arrange ground transportation if you live far away.
Location: Cookeville, Tennessee
Website: Pocket Poos
Phone: (931) 783-3956
Email: [email protected]
---
Short History of the Maltipoo Breed
The Maltipoo breed is a relatively new breed that originated in the United States during the 1990s. The idea was to create a small and hypoallergenic dog suitable for apartment living and people with allergies. Breeders crossed the Maltese with the Toy or Miniature Poodle to make a dog with a friendly personality, a hypoallergenic coat, and a small size. Maltipoos quickly became popular among dog lovers, and they continue to be a popular choice today due to their adorable looks and lovable personality. If you're interested in getting a Maltipoo, finding a reputable breeder who can provide you with a healthy and well-socialized puppy is important.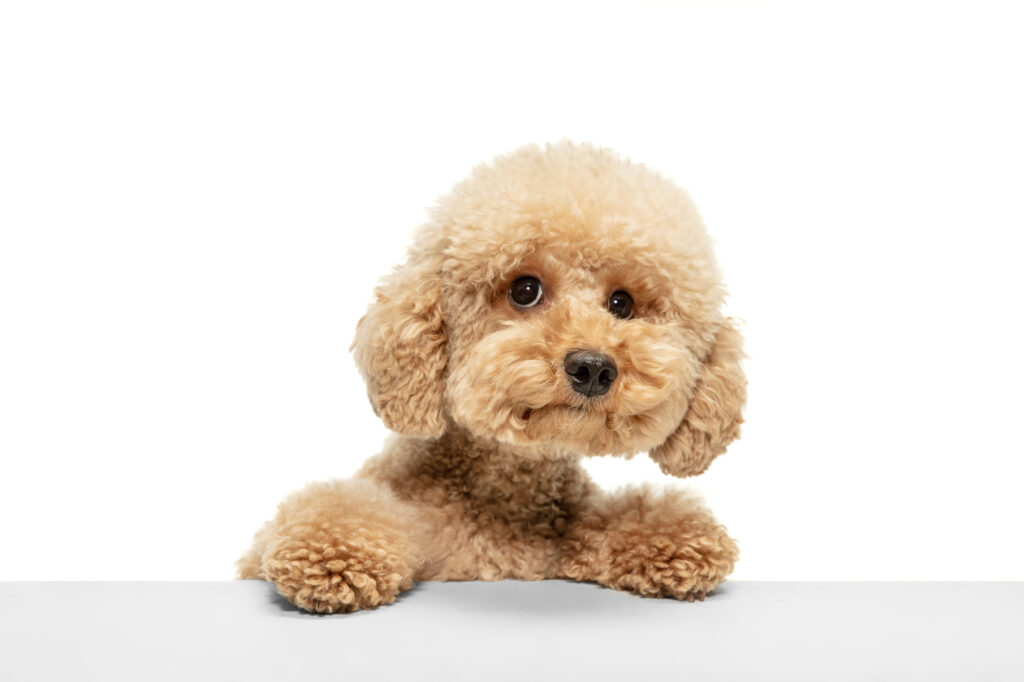 Tips When Choosing a Maltipoo Breeder
Choosing a Maltipoo breeder is an important decision, as it can determine the health and temperament of your new furry friend. Here are some tips to keep in mind when choosing a Maltipoo breeder in Tennessee:
Research: Do your research to find reputable breeders in Tennessee. Look for online reviews, ask for recommendations from friends or family who have purchased a Maltipoo, and check with local breed clubs.
Visit the breeder: Once you have a list of potential breeders, visit their facility to see how they care for their puppies. A good breeder should be willing to show you around and answer any questions you may have.
Health testing: Ask the breeder if they conduct health tests on their dogs to ensure they are healthy and genetic disorders-free.
Socialization: A reputable breeder should provide plenty of socialization opportunities for their puppies to ensure they are well-adjusted and confident around people.
Contract: Before purchasing a Maltipoo, review and sign an agreement with the breeder outlining the sale terms and any health guarantees.
By following these tips, you can find a reputable Maltipoo breeder in Tennessee and ensure that you bring home a healthy and happy puppy.
Conclusion
Several Maltipoo breeders in Tennessee offer these popular designer dogs for sale. It is important to do your research and choose a reputable breeder who prioritizes the health and well-being of their dogs. Ask about health guarantees, genetic testing, and socialization practices before purchasing. With proper care and attention, Maltipoos can make loving and loyal companions.
Image Credits:
https://depositphotos.com/459926076/stock-photo-cute-puppy-of-maltipoo-dog.html
Maltipoo Breeders In Other Places
Australia based Moodle breeders