Dog Breeds List E includes all the world's canine breeds that begin with the letter E.
These dogs have been recognized by at least one kennel club. I am sure, however, that I have missed some great breeds.
If you see one that is missing, why not take a moment to fill out the form below and let me know.
Do you own one of these great dogs? Would you like to share your experience? I am always on the lookout for someone who owns a dog and would be willing to answer a few simple questions about their care and personality.
Your answers will be placed on this website along with all of the wonderful photos you would like to submit. Visit our interview pages to see what others have done. If you think you might like to share your experience, contact me.
Dog Breed Nomenclature
If you are confused by the name of a dog breed, you are not alone. It is usually the parent club or kennel club that decides on the name. Many of these organizations will use the name given by the original country of origin but many times the names have been altered.
If you see duplicate names on this dog breed list E, it is because at least one organization has chosen a breed name with the letter E. If there are other names for the exact same breed, you will find them on their respected page.
East Siberian Laika
Origins: Russia
Size: Medium to Large
Grooming: Minimal
Training: Average
Recognition: FCI (Group 5), UKC (Northern), AKC FSS
East European Shepherd
Origins: Russia
Size: Large to Giant
Grooming: Average
Training: Easy
Recognition: None Currently
Origins: England
Size: Medium to Large
Grooming: Minimal
Training: Average
Recognition: AKC (Non-Sporting), FCI (Group 2), KC (Utility), UKC (Companion), CKC (Nonsporting)
Origins: England
Size: Medium
Grooming: Time consuming
Training: Average
Recognition , AKC (Sporting, FCI (Group 8), KC (Gun Dog), UKC (Gundog), CKC (Sporting)
English Coonhound
Origins: England
Size: Medium to Large
Grooming: Minimal
Training: Average
Recognition: AKC (Hounds) UKC (Scenthound)
English Foxhound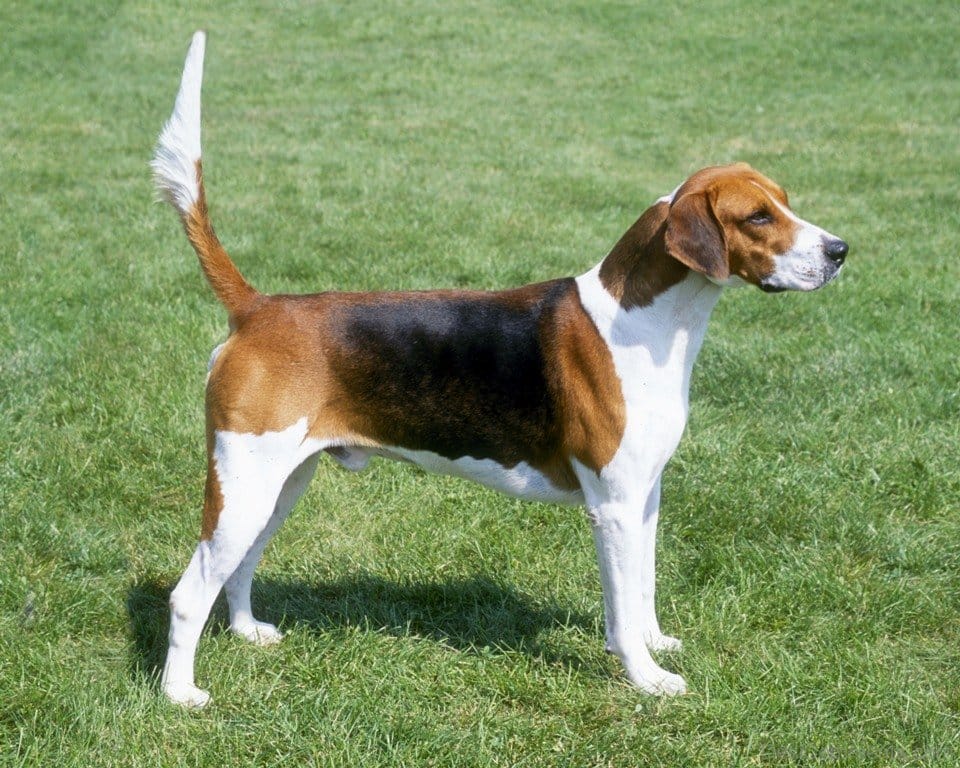 Origins: England
Size: Large
Grooming: Minimal
Training: Average
Recognition , AKC (Hound), FCI (Group 6), KC (Hound), UKC (Scenthound), CKC (Hounds)
Origins: England
Size: Giant
Grooming: Minimal
Training: Time Consuming
Recognition: AKC (Working), FCI (Group 2), KC (Working), UKC (Guardian)
Origins: England
Size: Medium to Large
Grooming: Minimal
Training: Easy
Recognition: AKC (Gundog), FCI (Group 7), KC (Gundog), UKC (Gun Dog)
Origins: England
Size: Large
Grooming: Average
Training: Easy
Recognition: AKC (Sporting), FCI (Group 7), KC (Gundog), UKC (Gun Dog), NZKC (Gundog), ANKC (Gundog), CKC (Sporting)
English Shepherd Dog
Origins: England
Size: Large
Grooming: Average
Training: Easy
Recognition: UKC (Herding)
Also called Springer Spaniel
Origins: England
Size: Medium to Large
Grooming: Easy
Training: Easy
Recognition: AKC (Sporting), FCI (Group 7), KC (Gundog), UKC (Gundog), ANKC (Gundog), NZKC (Gundog), CKC (Sporting)
English Toy Spaniel
Also Called King Charles Spaniel
Origins: England
Size: Small
Grooming: Average
Training: Average
Recognition: AKC (Toy), FCI (Group 9), KC (Toy), UKC (Companion), ANKC (Toy), CKC (Toy), NZCK (Toy)
Also called Manchester Terrier, Black and Tan Terrier
Origins: England
Size: Small
Grooming: Minimal
Training: Average
Recognition: AKC (Terrier), FCI (Group 3), KC (Terrier), UKC (Terrier), NZKC (Terrier), ANKC, (Terrier), CKC (Terrier)
Entlebucher Mountain Dog
Also called Entlebucher Cattle Dog, Entlebucher Sennenhund
Origins: Switzerland
Size: Medium
Grooming: Minimal
Training: Average
Recognition: AKC (Herding), FCI (Group 2), KC (Workings), UKC (Guardian), CKC (Working)
Epagneul Bleu de Picardie
Also called Blue Picardy Spaniel
Origins: France
Size: Medium to Large
Grooming: Minimal
Training: Easy
Recognition: FCI (Group 7), UKC (Gun Dog)
Also Called American Brittany, Brittany Spaniel, Brittany Wiegref, Epagneul Briton, French Brittany
Origins: France
Size: Medium
Grooming: Average
Training: Easy
Recognition: AKC (Sporting), FCI (Group 7), KC (Gundog), UKC (Gun Dog), ANKC (Gundog), NZKC (Gundog), CKC (Sporting)
Epagneul Francais
Also called French Spaniel
Origins: France
Size: Medium to Large
Grooming: Easy
Training: Average
Recognition: AKC (FSS), FCI (Group 7), UKC (Gun Dog), CKC (Sporting)
Also called Continental Toy Spaniel, Papillon, Phalène
Origins: France / Belgium
Size: Small
Grooming: AVerage
Training: Easy
Recognition: AKC (Toy), NZKC (Toy), CKC (Toy), FCI (Group 9), Papillon (Toy), KC (Toy), UKC (Companion)
Epagneul Picard
Also Called Picardy Spaniel
Origins: France
Size: Large
Grooming: Average
Training: Average
Recognition: FCI (Group 7): UKC (Gun Dog)
Epagneul de Pont-Audemer
Also Called Pont-Audemer Spaniel
Origins: France
Size: Large
Grooming: Easy
Training: Average
Recognition: FCI (Group 7), UKC (Gun Dog)
Erdelyi Kopo
Transylvanian Hound, Copoi ardelenesc, Hungarian Hound, Transylvanian Bloodhound, Transylvanian Scenthound, Transylvanischer Laufhund, Ungarische Bracke
Origins: Hungary
Size: Medium to Large
Grooming: Minimal
Training: Time Consuming
Recognition: FCI (Group 6), UKC (Scenthound)
Estonian Hound
Also Called Gontchaja Estonskaja
Origins: Estonia
Size: Medium to Large
Grooming: Minimal
Training: Average
Only recognized by the Estonian Kennel Club
Estrela Mountain Dog
Origins: Portugal
Size: Large to Giant
Grooming: Average
Training: Average
Recognition: AKC: FSS,, UKC(Guardian), NZKC (Utility)
Eurasier
Also called Eurasian, Eurasian Spitz
Origins: Germany
Size: Large to Giant
Grooming: Average
Training: Average
Recognition: AKC (FSS), FCI (Group 5), KC (Utility), UKC (Northern), ANKC (Non-sporting), NZKC (Non-sporting), CKC (Working)