Queensland is home to some excellent Golden Retriever breeders. These breeders are dedicated to producing healthy and happy puppies that make lovely family pets. If you're looking for a Golden Retriever in Queensland, you'll have no trouble finding a breeder to help you find the perfect pup.
List of Golden Retriever Breeders in Queensland
| | | | | |
| --- | --- | --- | --- | --- |
| Breeder | Location | Phone | Website | Email |
| Shogold | Booval Brisbane QLD | (040) 285-4747 | https://www.shogold.net/ | [email protected] |
| Dobro | Brisbane QLD | N/A | http://dobrogolden.com/ | N/A |
| Wysiwyg | Brisbane QLD | N/A | http://www.wysiwyggoldenretrievers.com/ | [email protected] |
| Ikentrieve | Tivoli QLD | (042) 146-1645 | http://ikentrieve.com/ | [email protected] |
| Sihshad | Spring Mountain QLD | (073) 297-5791 | http://www.sihshadkennels.com/ | [email protected] |
| Tedessca Golden Retrievers | Townsville QLD | N/A | http://www.tedessca.com/ | [email protected] |
Shogold
Golden Retrievers and the show circuit have been a part of my existence since 1979, acting as a beautiful introduction for both myself and my mother to the world of breeding with a foundation bitch (Ch. Leoline Golden Sequin CD) from the esteemed "LEOLINE" kennels of Mrs. Viola Reid. Mrs. Reid graciously shared her vast knowledge and experience of the breed with my mother, Sandra. Becoming a breeder is an enormous responsibility that must never be taken lightly.
Our constant aim is to enhance the already high standard of the Golden Retrievers that we produce and to ensure their stable temperament makes them fitting additions to your family. Throughout the years, we have bred and owned many titled Goldens that have achieved recognition in both the Show and Obedience rings.
Our world-renowned dog, Aust Champion Shogold Dom Perignon "DOM," captured the Best in Show title at Golden Retriever Championship Speciality Shows Old, NSW, and VIC, all judged by international specialists. Moreover, descendants of Dom and his sister, Shogold Silk N Elegance, have also captured Best in Shows titles at Golden Retriever Championship Speciality Shows and Multi-Best in All Breed Shows.
We take pride in the superior quality of Golden Retrievers produced by Shogold over the years. Our commitment to producing exceptional dogs will continue for many years.
Name of owner: Sherry & John Jewell
Location: Booval Brisbane QLD
Phone: (040) 285-4747
Email: [email protected]
Website: Shogold
Facebook Page: Shogold Facebook Page
---
Dobro
Dobro, a small breeder, was founded in 1982 in New South Wales and relocated to Brisbane in 2012. The primary goal of the breeder is to produce Golden Retrievers that possess good temperament, high quality, and excellent health. Dobro's dogs are considered pets and treated with love and affection. The breeder occasionally participates in dog shows to have fun, and the dogs are also trained in obedience school.
The bloodlines of Dobro's Golden Retrievers have been meticulously selected from the United Kingdom, Sweden, Europe, and Australia. The breeding stock has been tested for health issues such as hip, elbow, eye, and heart problems by qualified veterinary specialists, and the parents of litters have complete DNA profiles. Dobro has produced several Specialty Best in Show-winning Goldens, 34 Champions, a Grand Champion, and five Titled Obedience Goldens.
With years of experience, Dobro has acquired extensive knowledge of pedigrees, used to plan litter carefully. The breeder has also provided valuable assistance to other breeders, helping them establish successful breeding programs. Dobro is not a commercial breeder and has an average of one litter yearly. The puppies are raised indoors to get them accustomed to a family environment before they are sent to their new homes.
The breeder encourages new owners to take their puppies to training classes to socialize them and teach them how to become well-trained adult dogs, which is a joy. For six years, Liz, the founder of Dobro, was the President of the National Golden Retriever Council. She actively participated in the state breed clubs in Brisbane and Perth before retiring from those duties. She is a member of the Golden Retriever Club of New South Wales and the United Kingdom.
Name of owner: Liz Molnar
Location: Brisbane QLD
Website: Dobro
---
Wysiwyg
At Wysiwyg, we are dedicated to raising all our puppies in-house as part of our family. I have been involved in the dog world since I was born and started showing various other Gundog breeds and Golden Retrievers as a Junior Handler, where my love for the breed began. My first Golden Retriever purchase was a Best in Show winner himself.
Since then, we have imported our first American Golden Retriever in 1998/99 and several more semen from the USA to introduce new bloodlines. Our dogs are mid to dark gold, with no cream.
Over the years, we have bred, owned, and shown numerous Best in Show and Best in Group award winners and multiple Royal Best of Breed/Group Winners. Additionally, I hold five groups as a licensed ANKC Toy, Terrier, Gundog, Hounds, and Working Dog Judge, and my partner is an All Breeds Judge. When not showing, we may be busy with our children or judging.
Our dogs have been used for various purposes, including TV/movies, fieldwork, PTSD/therapy dogs, and many others, not just as show dogs. We take pride in our dogs, and their records speak for themselves. We sometimes have puppies available, and bookings are accepted.
Name of owner: Anthea
Location: Brisbane QLD
Email: [email protected]
Website: Wysiwyg
---
Ikentrieve
This breeder has been involved with Golden Retrievers for 25 years and considers soundness and temperament essential when breeding. All breeding stock is screened for hereditary conditions before planning litters. They are currently members of the Golden Retriever Club of NSW and SA and were previously members of The Golden Retriever Club of QLD for 18 years.
They actively show their dogs locally, and interstate and are proud to have titled many Champions, Grand Champions, and Supreme Champions. Their first Golden Retriever was purchased from Imatriever Kennels in 1999, and they have continued to breed and show Golden Retrievers since then.
Name of owners: Mrs. Brenda & Miss Megan Kent
Location: Tivoli QLD
Phone: (042) 146-1645
Email: [email protected]
Website: Ikentrieve
---
Sihshad
We are dedicated to breeding the best quality Golden Retriever puppies. Our breeding program focuses solely on Golden Retrievers cleared for Hip, Elbow, Eye, and Heart conditions. Our dogs are not kept in kennels but live in our homes as family members. This ensures that our puppies are raised in a social environment and well-adapted when they return to their new homes.
We register all our litter with the CCCQ (Canine Control Council of Queensland). Additionally, each puppy receives a Health Certificate from our local Veterinarian and has had their first shot before leaving our care.
Name of owner: Darren Grimes
Location: Spring Mountain QLD
Phone: (073) 297-5791
Email: [email protected]
Website: Sihshad
---
Tedessca Golden Retrievers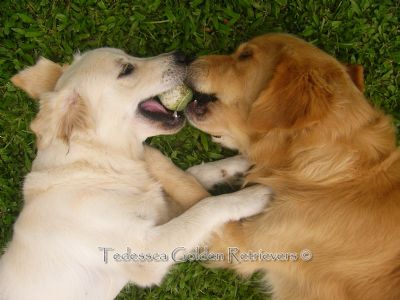 Tedessca is located in Townsville, North Queensland. They take pride in their beautiful Golden Retrievers, beloved family members with even temperaments and gentle natures that bring joy to everyone they meet. They only offer puppies occasionally and only to approved, loving homes forever. Tedessca aims to ensure that their puppies only go home once.
All their Golden Retrievers undergo X-rays for Hip and Elbow Dysplasia, have heart and annual eye clearances, and are DNA tested for PRA1, PRA2, and ICT-A. They are proud financial members of The CCCQ (Dogs QLD), The Golden Retriever Club QLD, The Golden Retriever Club Victoria, and The Canine Obedience Club Townsville. Tedessca does not support or condone the activity of backyard breeders or puppy farms and does not export overseas.
Name of owner: Josie Hibble
Location: Townsville QLD
Email: [email protected]
Website: Tedessca Golden Retrievers
---
Do Golden Retrievers Make Good Pets?
Yes, Golden Retrievers make excellent pets! They are known for their friendly and affectionate nature, loyalty, and love of people. They are also highly trainable and enjoy being active, making them great companions for families and individuals who want outdoor activities. With proper care and training, a Golden Retriever can be an excellent addition to any home.
Conclusion
When looking for a Golden Retriever breeder in Queensland, it's essential to do your research and choose a reputable source. By selecting a breeder who puts the health and welfare of their dogs first, you can be confident that you'll bring home a happy and healthy new furry friend; whether you're looking for a puppy to love or a dog to show, a breeder in Queensland can meet your needs.
Golden Retriever Puppies – Exhaustive List of Breeders
Image Credits:
https://depositphotos.com/10350452/stock-photo-golden-retriever-on-a-sandy.html