You can find the best cockapoo breeders in Michigan with a few simple steps. Cockapoo puppies are adorable and fun and always get along well with kids. They are more like small dogs than a cat, but their hybrid nature gives them personality like both breeds combined if you're looking to find cockapoo breeders in Michigan, check out the below list.
List of Cockapoo Breeders in Michigan
| | | | | |
| --- | --- | --- | --- | --- |
| Breeder | Location | Phone | Website | Email |
| PuppySpot's Cockapoos | Michigan | (866) 269-1056 | https://www.puppyspot.com/puppies-for-sale/breed/cockapoo?prm=22-1 | [email protected] |
| The Family Puppy | Flint, Michigan | (248) 880-4997 | https://www.thefamilypuppy.com/ | N/A |
| Franny Cockapoos | Southern Michigan | (517) 745-4963 | https://www.frannycockapoos.com/ | [email protected] |
| Great Lake Cockapoos | Michigan | (810) 730-1092 | https://www.greatlakescockapoos.com/ | [email protected] |
| Big Bang Poodles | Mancelona, Michigan | (231) 357-6361 | https://bigbangpoodles.com/ | [email protected] |
| The Barking Boutique | Grandville Michigan | (616) 446-6766 | https://thebarkingboutique.com/breed/cock-a-poo/ | N/A |
| About Kathy's Cockapoo | North Lapeer, Michigan | (801) 691-7076 | https://aboutkathyscockapoos.webstarts.com/ | [email protected] |
PuppySpot's Cockapoos
PuppySpot is not a single Cockapoo breeder but a marketplace devoted to legitimate ads. If you are looking for Cockapoo breeders in Michigan, we strongly advise visiting PuppySpot first. PuppySpot has locations around the United States, and its mission is to enrich lives by placing healthy puppies in loving, permanent homes. Their services are characterized by confidence and openness, making selecting a new pet pleasurable and uncomplicated.
Even after a dog is placed in a new home, the canines' safety and health remain their primary focus. Breeders within the PuppySpot community are reliable and trustworthy and adhere to the AKC's strictest guidelines. Their professionalism and years of experience make process transitions seamless and quality-driven. Over two hundred thousand families have relied on their services thus far.
Location: Michigan
Website: PuppySpot's Cockapoos
Phone: (866) 269-1056
Email: [email protected]
---
The Family Puppy
The Family Puppy is a family-owned pet business in three different Michigan cities. Since 1998, their breeding philosophy has been one of quality and high standards, earning them a solid reputation. Their mission is to provide an enjoyable and secure environment for families seeking new family members. The Family Puppy's credibility cannot be questioned, given the excellent feedback they receive from families. Priority is given to the safety and health of their puppies through weekly veterinary appointments until they are adopted. They are so attentive to their puppies that none are given away before reaching maturity.
Location: Flint, Michigan
Phone: (248) 880-4997
Website: The Family Puppy
---
Franny Cockapoos
The Franny Cockapoos is a charming family of devoted and responsible breeders in southern Michigan. Their years of experience are evident in their streamlined pet adoption procedure. They are committed to breeding F1 Cockapoos of superior quality. As Cockapoos are fantastic family pets, their dogs are reared in their homes, so adjusting to the new home will be simple. Their home is on eight acres of property with sufficient space for their dogs to run around. The same devotion and care shown to their litters in the family home are anticipated in their permanent homes. All pups from Franny Cockapoos come with the following:
First two rounds of vaccinations
Standard puppy deworming
Health record
Tail docking
Vet examination and registration paperwork
The Franny is a family of Marine Corps veterans; therefore, it's essential to see that they provide a 5% discount to all active military personnel and veterans. Are you searching for a dependable Cockapoo breeder in Southern Michigan? The Franny Cockapoo is the finest plug for you.
Location: Southern Michigan
Phone: (517) 745-4963
Email: [email protected]
Website: Franny Cockapoos
---
Great Lake Cockapoos
The Great Lake is a family-owned breeder of high-quality Cockapoos bred with all the love and care imaginable. They think a dog's forever home should enrich the human family's lives. Hence, their dedication and commitment to breeding Cockapoos of superior health and quality. The Great Lake is a registered member of the American Cockapoo club, and its breeding practices comply with the club's standards.
They prioritize the health and safety of the litters since they view their dogs as essential family members. Their litters are raised among family members with enough play area and early socialization, easing their transition into their forever home. They do not allow their waste to leave their home until they are between 8 and 10 weeks old and have been vaccinated. All their canines receive a daily dose of Nuvet Supplement to strengthen and enhance their immunity. Additionally, they offer a one-year congenital health guarantee on all of their litters.
Location: Michigan
Phone: (810) 730-1092
Email: [email protected]
Website: Great Lake Cockapoos
---
Big Bang Poodles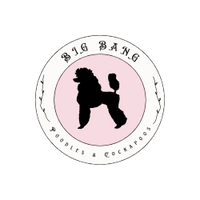 The Big Bang Poodles in Mancelona, Michigan, is a breeder of superior-quality Moyen Poodles and F1 Cockapoos. The warmth and zeal with which they raised their puppies demonstrate their devotion to their litters. Their 10-acre property provides plenty of areas for their dogs to run around and interact with nature. Their canines are raised within the family, as they are their top priority.
All of their litters have tested negative for more than a hundred inherited illnesses. They initiate the neurological stimulation process for their litters between the ages of 2 and 16 days to assist puppies in coping with potential stressors. Temperament, health, and personality are bred for the Big Bang Poodles. If you live in or around Mancelona, Michigan, and are interested in acquiring a healthy Cockapoo, Big Bang Poodles has you covered.
Location: Mancelona, Michigan
Phone: (231) 357-6361
Website: Big Bang Poodles
Email: [email protected]
---
The Barking Boutique
The Barking Boutique has served Greater West Michigan and Grand Rapids for some time. They have acquired their reputation as a respectable breeder over years of expertise. They aim to eradicate the substandard litter market from reckless and negligent breeders. Their procedure is transparent and accessible, so you can rest assured that you will receive a healthy addition to your family.
Before becoming a member of Barking Boutique, each of their breeders must meet stringent ethical standards. They adhere to their standards for all of their puppies and want each puppy to have a loving, permanent home. West Michigan also has an excellent shelter and rescue program for people considering adoption as an alternative to purchasing. So, if you are interested in acquiring a Cockapoo, please get in touch with them immediately.
Location: Grandville Michigan
Phone: (616) 446-6766
Website: The Barking Boutique
---
About Kathy's Cockapoo
Kathy's Cockapoo is the final entry on Michigan's list of top Cockapoo breeders. Located 15 miles north of Lapeer, Michigan, Kathy's Cockapoo has been breeding for almost ten years. All of their litter are handled by breeder owners and reared within their homes. They are committed to creating healthy, well-socialized Cockapoo of superior quality. Kathy's Cockapoo is a respectable and trustworthy breeder who is accessible to assist you even after you've acquired your pet. According to Kathy Maize, when you purchase from them, you receive a healthy puppy and a permanent piece of her.
Notable is that they do not ship their puppies due to their emotional well-being. Consequently, it would help if you did not worry about the puppies' health from About Kathy's Cockapoo. Before leaving for their forever homes, their veterinarian performs a thorough examination, and litters receive their first vaccinations. Kathy Maize is very affectionate and readily available to assist your new pet in adjusting and answering any questions. Contact them to begin the adoption process if you are near North Lapeer.
Location: North Lapeer, Michigan
Phone: (801) 691-7076
Email: [email protected]
Website: About Kathy's Cockapoo
---
Tips When Choosing a Cockapoo Breeder
When choosing a cockapoo breeder, it's essential to do your research. Do they have a good reputation? Are they knowledgeable about the breed and able to answer questions? How old is the breeder? Is their facility clean and well-kept, or does it smell of dog urine or feces?
Before meeting with any breeder, ensure they are willing to answer your questions honestly. You should also ask them if they could provide you with some health records for the puppy before picking him up at home; this way, if there are any problems with his health later on (such as an illness), then you'll know exactly what happened immediately so that something can be done about it right away rather than waiting until after he's already started showing signs of sickness before realizing something might need fixing."
How Much Does a Cockapoo Cost?
The average price of a Cockapoo is $1,000. That's not a bad deal, considering they will always be small dogs with short hair and many personalities! The cost depends on the breeder and whether or not you want a purebred. If you are looking for an all-white pup, this could quickly cost thousands of dollars, depending on where they come from. On the other hand, if you are looking for something mixed breed (like maybe chocolate and black), then it should cost less than half as much per puppy because there isn't as much demand for them overall in Michigan compared with other states like California or Florida which have larger populations overall.
Do Cockapoos Make Good Pets?
Cockapoos are amiable and playful dogs, which makes them great companions for children. They're also easy to train because they have a very high level of intelligence and can learn new tasks quickly.
The Cockapoo is an excellent breed for families with children because they are good watchdogs, bark less than many other breeds, and don't shed much (some may shed slightly). However, like all dogs, Cockapoos need space; if they don't get enough exercise or human interaction, they can become destructive or exhibit separation anxiety issues. Cockapoos tend to be hypoallergenic, so those who suffer from allergies should consider this when choosing a puppy!
Conclusion
If you're looking for a new pet to add to your family, the Cockapoo may be a perfect choice. They are playful and energetic but also very loyal and loving. They are also great with kids because of their friendly nature!
Image Credits:
https://depositphotos.com/209564764/stock-photo-young-red-cockapoo-puppy-lying.html
Cockapoo Breeders In Other Places
Australia based Spoodle breeders