The Cockapoo, a cross between a Cocker Spaniel and a Poodle, is one of America's most popular dog breeds. This breed has been around for centuries but only recently began gaining popularity. If you're interested in owning one of these adorable puppies, here's a list of Cockapoo Breeders in Ohio:
List of Cockapoo Breeders in Ohio
| | | | | |
| --- | --- | --- | --- | --- |
| Breeder | Location | Phone | Website | Email |
| Premier Pups | Johnston, Ohio | (740) 809-3074 | https://premierpups.com/cockapoo-puppies-for-sale/?utm=pp2022 | N/A |
| PuppySpot Cockapoos | Ohio | (866) 269-1056 | https://www.puppyspot.com/puppies-for-sale/breed/cockapoo/?prm=22-1 | N/A |
| Puppies Online | Mount Vernon, Ohio | (740) 497-2333 | https://www.littlepuppiesonline.com/ | N/A |
| Mt Hope Cavaliers | Mt. Hope, Ohio | (330) 465-5469 | http://mthopecavaliers.com/ | [email protected] |
| Brodrick's Barkery | Greenville, Ohio | (937) 621-5299 | https://brodricksbarkery.com/ | [email protected] |
| K & D's Legacy Cockapoos | Cleveland, Ohio | (440) 317-2114 | https://kanddslegacycockapoo.webs.com/ | [email protected] |
| Petland Carriage Place | Columbus, Ohio | (614) 825-3298 | https://www.petland-ohio.com/breed/cockapoo/ | N/A |
| Red Poodle Paws | Millersburg, Ohio | (330) 600-2664 | https://www.redpoodlepaws.com/home | N/A |
Premier Pups.
Premier Pups is a breeder that strives to locate the ideal puppy for you. They choose Cockapoo pups from reliable breeders and send them to Ohio adopters. Johnston is just outside of Columbus. The breeder serves Ohio and adjacent states such as Illinois and Michigan. They generate litters of Yorkie, Maltese, Cockapoo, Cavapoo, and Cavalier kings, among others. Premier Pups maintains a high standard in their breeding program and when requesting puppies from other breeders. The breeder is USDA-certified and aims to breed and rear puppies by their means. Premier Pups' mission goes beyond simply selling puppies. The breeder must ensure that the ideal puppy is placed in the perfect household.
Location: Johnston, Ohio
Website: Premier Pups
Phone: (740) 809-3074
---
PuppySpot Cockapoos.
As one of the most trustworthy Cockapoo breeders in Ohio, PuppySpot is one of our top suggestions. PuppySpot is not a single breeder but a reputable enterprise with a nationwide network of certified and registered breeders. They specialize in breeding and nurturing purebred and designer small-breed puppies.
Premier Pups is a family-oriented establishment where Cockapoo puppies are raised. The PuppySpot family comprises care specialists who are all devoted dog lovers. The puppies are adoptable at eight weeks of age and come with a 10-year health guarantee, clear indicators of a responsible breeder. Additionally, the puppies are socialized early enough to promote a seamless transition to their new homes.
Consumers frequently praise the adoption experience at Premier Pups. In addition to offering support before and the following adoption, they also offer nationwide delivery and financing alternatives.
Location: Ohio
Website: PuppySpot Cockapoos
Phone Number: (866) 269-1056
---
Puppies Online.
"Puppies Online" ranks second on the list of the best Cockapoo breeders in Ohio. Since 2008, Puppies Online has been operating as a family-run breeder. Since 2004, the breeder has also started producing puppies. In 2012, Puppies Online worked with Dogs to the Rescue to rescue strays and adopt them out. The organization ensures that all strays they capture are spayed or neutered. In addition, they vaccinate all of them and schedule frequent vet visits.
Pups Online's mission is to deliver dogs and litter to anyone passionate about puppies. The breeder's kennel contains a range of dogs, such as Morkies, Yorkies, and Cockapoos. All of the breeds on the ranch are lovable and exhibit distinct qualities. Additionally, they show a feeling of individualism.
Due to the breeder's background with these dog breeds, they mostly create purebred and designer dogs. Puppies adopted from the breeder are free of any genetic or medical defects. The litter is timely vaccinated and dewormed. Typically, kennel-adopted puppies are ready for their new homes and rapidly adjust to their new surroundings.
Location: Mount Vernon, Ohio
Phone: (740) 497-2333
Website: Puppies Online
---
Mt Hope Cavaliers.
Mt Hope Cavaliers is a breeder founded by the collaboration of two families. The Ohio kennel is owned jointly by the families of Roy Yoder and Joe Heatwole. In Ohio, the two families have produced some of the finest Cockapoo puppies. Mt Hope Cavaliers, founded in Holmes County's suburbs, provides an abundance of wonderfully bred and nurtured dogs.
The Roy family has been involved in dog breeding for over 14 years and has produced exceptional dogs during this time. Cavapoos, Shihpoos, and Cockapoos are examples. Nestled between Cleveland and Columbus lies the breeder. The breeder's proprietors' extensive experience is one of its most notable characteristics. Mount Hope Cavaliers is the best spot in Ohio to adopt cockapoos.
Location Mt. Hope, Ohio
Phone: (330) 465-5469
Website: Mt Hope Cavaliers
Email: [email protected]
---
Brodrick's Barkery
Brodrick's Barkery is a notable breeder in Columbus's outskirts. The business has been operating for the past 26 years. The breeder is run by a prominent family comprising the original owners' twelve children and grandkids. Over the years, the breeder expanded to include Collies, Cockapoos, and Doodles. The puppies are reared as if they were oversized family members.
Once pups are born, they are cared for and reared in the home until they reach eight weeks. This is when they are subsequently adopted. Brodrick informs prospective adopters of their litters as soon as they are born. Adopters can select a Cockapoo of their choosing from the photographs of all their new animals featured on their website. Before being transported to their new homes, the puppies are vaccinated.
Location: Greenville, Ohio
Phone: (937) 621-5299
Website: Brodrick's Barkery
Email: [email protected]
---
K & D's Legacy Cockapoos
The Cleveland-based breeder is responsible for approximately six liters. However, they make up for their lack of quantity with their superior quality. Katelyn and Daniel, the breeder's proprietors, have been passionate about dog breeding for years. They are one of the few breeders in Ohio whose company began with Cockapoos. They fell in love with them due to their adaptability and agility.
K and D's Legacy Cockapoos is to breed Cockapoos with the ideal temperament, health, and appearance. They emphasize health as the most crucial aspect. This breeder provides breeder support after adoption, which is an intriguing quality. This is intended to address concerns over the dog's happiness or health.
Location: Cleveland, Ohio
Phone: (440) 317-2114
Website: K and D's Legacy Cockapoos
Email: [email protected]
---
Petland Carriage Place.
This local breeder and pet store has been operating for nearly fifty years. It is one of Ohio's oldest breeders still in existence. The breeder's state-of-the-art ranch and facility produce well-trained and well-mannered puppies. Since its founding in 1967, Petland has bred and sold tens of thousands of puppies, facilitating their placement in new homes. The breeder's store includes guides on properly training and rearing your Cockapoos.
If you're not a fan of litter, they also offer pamphlets on how to spay and neuter your dog correctly. Manuals and brochures are provided at no cost. In the unlikely event that the breeder did not have a Cockapoo to your preference, they would suggest you to other trustworthy breeders. In addition, they provide coaching and help to owners of dogs adopted from other sources – they are excellent breeders.
Location: Columbus, Ohio
Phone: (614) 825-3298
Website: Petland Carriage Place
---
Red Poodle Paws
The breeder of Red Poodle Paws has been in the dog breeding industry for over two decades. The family's interest in breeding began as a hobby but has since evolved into a full-time occupation.
The breeder is obligated to inspect all breeding parents routinely. Before breeding, the veterinarian must certify that the animals are healthy. This avoids the possibility of litters and puppies with genetic defects. Red Poodle Paws is an expert breeder of Poodles and Poodle hybrids, including Cockapoos and Cavapoos. Occasionally, typically in the spring, the breeder produces alternative breeds such as French Bulldogs and Bernedoodles.
Location: Millersburg, Ohio
Phone: (330) 600-2664
Website: Red Poodle Paws
---
Tips When Choosing a Cockapoo Breeder
Ask for references from other Cockapoo breeders and meet them in person
Ask what the breeder's experience is with Cockapoos, as well as how many years they've been breeding this specific breed of dog
Make sure that your potential breeder has a sound record-keeping system and health testing practices in place so that you can be confident they're taking care of your puppy properly
Make sure to ask your breeder about the quality of their Cockapoo puppies and how many litters they've had in the past year. If they've had a lot of litter and are still getting great results, this is a good sign that they know what they're doing.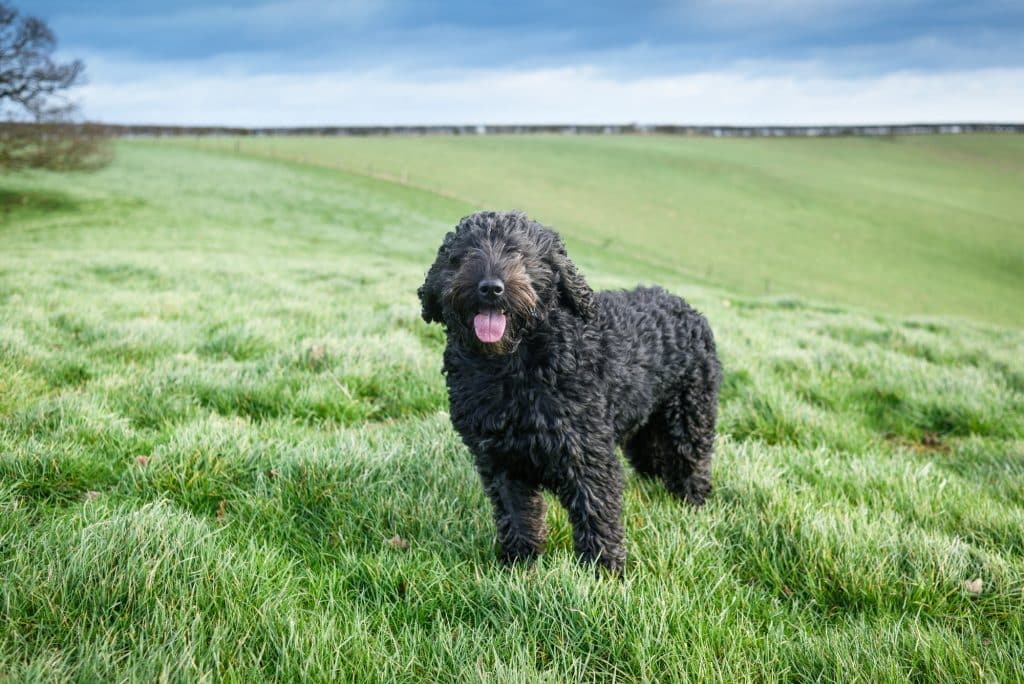 Conclusion
The best way to choose a good breeder is to get recommendations from friends, family members, and other pet owners you trust. We hope this article has given you some helpful tips on how to find the right cockapoo breeder in your area!
Image Credits:
https://depositphotos.com/243805670/stock-photo-black-cockapoo-dog-rural-environment.html
Cockapoo Breeders In Other Places
Australia based Spoodle breeders