We've covered you if you want to add a Cockapoo puppy to your family. In this guide, we'll walk you through everything you need to know about getting started with the Cockapoo breed and finding the right breeder in North Carolina.
List of Cockapoo Breeders In North Carolina
| | | | | |
| --- | --- | --- | --- | --- |
| Breeder | Location | Phone | Website | Email |
| PuppySpot's Cockapoos | North Carolina | (866) 269-1056 | https://www.puppyspot.com/puppies-for-sale/breed/cockapoo?prm=22-1 | |
| Charlotte Dog Club | Cleveland, North Carolina | (704) 323-7929 | https://charlottedogclub.com/ | sales@charlottedogclub.com |
| Darlin Doggies | Concord, North Carolina | (704) 728-4924 | https://www.darlindoggies.com/ | darlindoggies@yahoo.com |
| Carolina Cockapoos | Connelly Springs, North Carolina | (704) 271-3349 | https://carolina-cockapoos.com/ | |
| Cuppycake Cockapoos | Sandhills, North Carolina | (910) 852-9011 | http://cuppycakecockapoos.com/ | cynthiarcooper@gmail.com |
PuppySpot's Cockapoos
Finding the best Cockapoo breeders in North Carolina can be challenging, so we propose PuppySpot. Because PuppySpot is a marketplace populated by respectable dog breeders, it contains a diversity of canines. Moreover, if you want a Cockapoo in particular, you may type that into the search field, and PuppySpot will present a list of available puppies.
Using the filter on the marketplace, you can locate a specific trait for your dog. There is no need to fear encountering a puppy mill because every breeder on PuppySpot has been screened. PuppySpot is strict regarding puppy mills and will do all necessary to ensure that none list Cockapoo puppies for unethical purposes. If you have not already, you should visit PuppySpot.
Location: North Carolina
Website: PuppySpot's Cockapoos
Phone: (866) 269-1056
---
Charlotte Dog Club

The Charlotte Dog Club should be your first stop if you desire a designer dog breed. They collaborate with several reputable dog breeders to provide one of the widest selections of designer dogs in North Carolina, including the highly sought-after Cockapoo. The specific health guarantee offered by Charlotte Dog Club is one of the primary reasons to select this organization. A veterinarian must examine the puppy during the first ten days of ownership to qualify.
All puppies are guaranteed to be free of parvovirus, distemper, hepatitis, and coronavirus. Those diagnosed with these conditions will receive a replacement or a refund. If you adhere to these instructions, you are also eligible for a ten-year congenital warranty. Within the first three years, puppies diagnosed with a life-threatening congenital disability will be reimbursed or replaced.
Those identified within the remaining seven years will be replaced at a discount of fifty percent. Additionally, Charlotte Dog Club provides delivery choices for your new puppy. Additionally, they provide a personal nanny for clients who must fly their dogs to a new place. This service costs between $999 and $1,250. In addition, they provide drive delivery for $1 per mile round trip to deliver your puppy directly to your front door.
Location: Cleveland, North Carolina
Phone: (704) 323-7929
Email: sales@charlottedogclub.com
Website: Charlotte Dog Club
---
Darlin Doggies
Darlin Doggies does this in a setting that allows each dog to reach its full social potential. The proprietor receives assistance from her two children and a close family friend. Additionally, her parents rear a few litters per year in nearby Salisbury. Each youngster is introduced to other animals, various humans, new items, and unusual circumstances. This makes a move into your home much simpler for your puppy.
On a two-acre site, the puppies raised by Darlin Doggies are free to wander. In addition, they do not keep these dogs in kennels but treat them as personal pets. At Darlin Dogs, health takes precedence. Each puppy receives weekly deworming and coccidia prevention from the age of two weeks to six weeks. Also, standards are the first vaccines and health checkups.
All parent dogs have been DNA-tested for hereditary diseases, ensuring that your new puppy will have the best possible chance of future health and success. Your puppy comes with a one-year genetic health guarantee. To extend the warranty to three years, you must feed your puppy paw tree brand food and Nuvet vitamins.
Location: Concord, North Carolina
Phone: (704) 728-4924
Email: darlindoggies@yahoo.com
Website: Darlin Doggies
---
Carolina Cockapoos
If you desire a toy-sized Cockapoo (weighing between eight and twelve pounds), you may be interested in Carolina Cockapoos. They breed only the best third- and fourth-generation Cockapoos. Each parent must be emotionally and physically sound. Additionally, each parent dog is screened for CERF (eyes) and patellar disorders (the rear knees). Barbara and Heather, a mother-daughter combo, manage this kennel. They prefer to maintain a modest company, producing only a few litters annually. At three weeks of age, the puppies are transported from the bedroom to a utility room with an activity area.
Each dog has been socialized with children, so you never have to worry about how your new puppy will interact with your children. Keep in mind that households cannot adopt Cockapoos with children under five. These puppies are tiny and vulnerable; thus, this rule is intended to protect them. Puppies include vaccination and deworming records, a one-year written health and genetic guarantee, a spay/neuter contract, and a copy of their American Cockapoo registration papers.
Name of Owner: Barbara and Heather
Location: Connelly Springs, North Carolina
Phone: (704) 271-3349
Website: Carolina Cockapoos
---
Cuppycake Cockapoos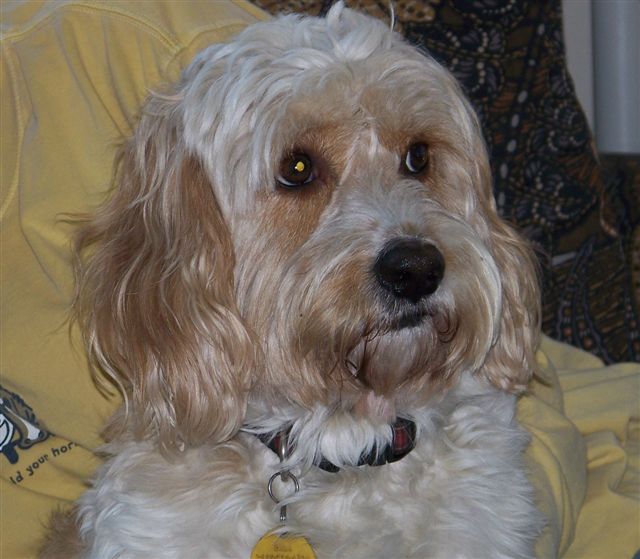 Cuppycake Cockapoos is last on the list of the best Cockapoo breeders in North Carolina. Cuppycake Cockapoos may be your finest option if you desire a superior Cockapoo. The pedigrees of their purebred dogs span five generations. Each dog is registered with the American Cockapoo Club, the American Cockapoo Club, the United All Breed Registry, and the North American Cockapoo Registry. Their puppies may be slightly more expensive than specific competitors, but they are of superior quality.
Each parent is evaluated for health and genetic problems that could be transmitted to the offspring. In addition, they are CERF (eyes) and OFA certified (patellar luxation). This ensures the most excellent possible start for your new puppy. In addition, they provide a one-year genetic health guarantee, assuming all conditions are met. A veterinarian must examine your new puppy within three days of acquiring it, and a checklist must be filled out and returned to the breeder.
Name of Owner: Cynthia Cooper
Location: Sandhills, North Carolina
Phone: (910) 852-9011
Email: cynthiarcooper@gmail.com
Website: Cuppycake Cockapoos
---
Tips When Choosing a Cockapoo Breeder
When choosing a cockapoo breeder, it's essential to do your research. You should ask for a list of references and check the website for any information about the puppy's parents or grandparents. Be sure to ask whether they are raised in the home or kennels; if they're in homes, make sure you can see their health records. If possible, visit with them at least once before purchasing your new pet!
If you find that no one has claimed ownership over these dogs (a common practice), ask if they have been veterinarian checked and vaccinated against diseases like parvo or distemper before being sold as pets. This will help reduce risk when it comes time for adoption later on down the road!
How Much Does a Cockapoo Cost?
The price range of a cockapoo depends on the breeder, the type of dog, and its lineage. Many other factors affect the price of your new pet. The best way to find an affordable puppy is by looking at breeders who have been in business for years and are respected by local animal shelters and rescue organizations. You can also ask friends or family members if they've had any experience with breeders they know personally—they may know someone who has purchased a specific type of dog or someone looking for one.
Do Cockapoos Make Good Pets?
If you're looking for a dog breed that is good with kids, you should consider the Cockapoo. Cockapoos are very friendly and make excellent pets for families with young children. They can also be trained to be fantastic watchdogs by teaching them how to bark at strangers or other pets who may come around the house uninvited.
Cockapoos tolerate noise and will not cause any problems while they sleep if they know you are home because they don't bark much at all (this is an essential factor when choosing a pet). Cats generally do not get along well with cockapoos unless you have been raised from birth by cats or been neutered before being adopted as an adult; however, most cats will tolerate your Cockapoo provided he doesn't show any aggression towards them!
Conclusion
The Cockapoo is an excellent choice for people looking for their next pet! They are loyal and affectionate, with lots of energy and personality. However, they need plenty of daily exercises to stay healthy and active.
Image Credits:
https://depositphotos.com/212902190/stock-photo-young-red-cockapoo-puppy-enjoying.html