Ownership of a dog is a challenging duty, but it rewards you with an abundance of love. Cockapoos thrive on attention and have a cool, calm, and playful disposition, which makes them dependable life companions. If you're ready to adopt a Cockapoo, one of the finest following actions you can take is to research reputable and high-quality Cockapoo breeders in Florida. There are many puppy mills and backyard breeders who do not guarantee the health of their puppies.
List of Cockapoo Breeders in Florida
| | | | | |
| --- | --- | --- | --- | --- |
| Breeder | Location | Phone | Website | Email |
| Creekside Puppy Adoptions | Florida | (217) 549 6555 | https://creeksidepuppyadoptions.com/collections/cockapoo-puppies | [email protected] |
| Glenhaven Cockapoos | Dade City, Florida | | https://glenhavencockapoos.homestead.com/ | [email protected] |
| Robin's Pups | Hudson, Florida | (813) 335-4728 | https://robinspups.com/ | [email protected] |
| Cathy's Cockapoos | East Central, Florida | (772) 473-0002 | http://www.cathyscockapoos.com/index.html | [email protected] |
| Florida Cockapoos | Lecanto, Florida | (727) 243-9045 | https://www.floridacockapoos.com/ | [email protected] |
Creekside Puppy Adoptions
Creeside Puppy Adoptions is the best Cockapoo breeder because they prioritize the puppies' health. They socialize all of their Cockapoo puppies with adults and children because they believe it is essential to market puppies with well-balanced personalities. In addition, every parent breeding dog is picked with the most significant health standards in mind.
Clint is incredibly enthusiastic about raising Cockapoo puppies. The average weight of their Cockapoo puppies for sale is between 8 and 15 pounds, making them little Cockapoos. In addition, before their puppies are placed in permanent homes, they are examined by a veterinarian, microchipped, dewormed, and brought up to date on vaccines.
Typically, Cockapoo puppies are F1 (50% Poodle and 50% Cocker Spaniel) or F1B (75% Poodle and 25% Cocker Spaniel) generations. Additionally, they are available in brown, black, cream, and multicolored coats. If you are interested in a Cockapoo puppy, contact Clint immediately. Even if you don't buy a puppy, he enjoys chatting about his dogs and providing advice.
Location: Florida
Website: Creekside Puppy Adoptions
Email: [email protected]
Phone: (217) 549 6555
---
Glenhaven Cockapoos
The Glenhaven Cockapoos team has been breeding puppies for adoption for almost 20 years. They breed Toy, Miniature, and Standard Cockapoos to provide families with diverse puppies. Puppies and dogs are reared in the home to provide them with the finest opportunities for socialization and access to continual affection and attention. Presently, they live in Dade City, Florida.
When their Cockapoo puppies are ready for adoption, they are immunized and dewormed to ensure their continued health and happiness. The puppies are also examined by a veterinarian and come with a two-year formal health guarantee against genetic health issues. This helps to verify that the Cockapoo puppy you acquire in Florida is clear of hereditary disorders.
Due to their popularity, you should be aware of their schedules and availability since they may not be accepting deposits at a particular moment. You can choose your Cockapoo puppy from the litter once you place a deposit. It is essential to understand that most reputable Cockapoo breeders in Florida will have a three- to twelve-month waiting.
Location: Dade City, Florida
Email: [email protected]
Website: Glen Haven Cockapoos
---
Robin's Pups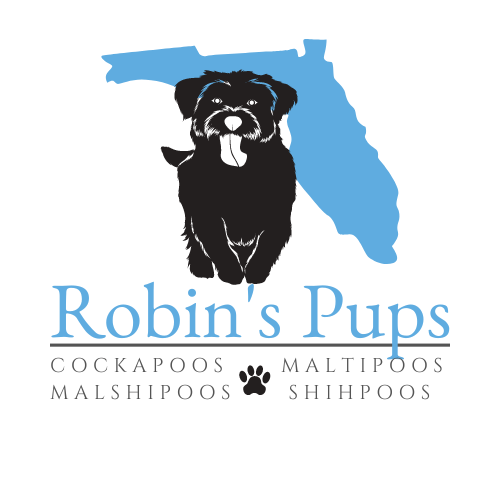 Robin's Pups, located in Hudson, Florida, offers more than only Cockapoos. Robin's Pups is a certified kennel specializing in various hybrid dog breeds. Maltipoos, Shih Poos, Malshipoos, PooChons, and Cockapoos are among these breeds.
Before placing puppies with their permanent family, Robin's Pups takes excellent satisfaction in going the additional mile to care for them. This is accomplished by including training routines in the socialization and preparation of each Cockapoo puppy.
The Cockapoos are trained to use pads and are introduced to a doggie door. You will be better able to acclimate to having a puppy roaming your home once you've completed some basic training.
As a kennel, they also provide grooming and other services as required. You may browse their upcoming Cockapoo litters and when their following puppies will be available.
If you want to adopt a puppy from Robin's Pups, you can submit an application and a $500 deposit to secure your spot. Once this deposit is made, you can choose the Cockapoo puppy of your choice. Observe that this deposit is non-refundable.
Location: Hudson, Florida
Email: [email protected]
Phone: (813) 335-4728
Website: Robins Pups
---
Cathy's Cockapoos
With 10 acres of room, Cathy's Cockapoos puppies are grown to be healthy, happy, and a source of joy for others. After raising a Cocker Spaniel with health issues, the owners adopted a Cockapoo with fewer health issues but the same level of happiness. This Cockapoo breeder is based in the central east region of Florida.
Their Cockapoo puppies are nurtured in their home, where they get daily affection, care, and attention. Additionally, they provide training for their dogs so that they are ready to be adopted.
If you want to adopt one of their Cockapoo pups in Florida, you can submit a deposit to be placed on their waiting list for an upcoming litter. Due to their great demand, their supply depletes rapidly. All of their Cockapoo puppies for sale come with initial immunizations, a deworming treatment, and a Florida health certificate.
In addition, their puppies are shipped with a sample of dog food, flea and heartworm preventative, and a favorite toy. In addition, they provide a guarantee that the puppy will be healthy and free of genetic illnesses. Please get in touch with them for more information about their Cockapoo puppies.
Location: East Central, Florida
Email: [email protected]
Phone: (772) 473-0002
Website: Cathy Cockapoos
---
Florida Cockapoos
Find your ideal F1 Cockapoo from this breeder who prioritizes quality and good health. You can view upcoming litter and locate suitable availability. Check out their forthcoming puppy to choose your next pet companion. The location of Florida Cockapoos is in Lecanto, Florida.
If you're interested in adopting a Cockapoo puppy from Florida Cockapoos, you can indicate your interest by submitting a deposit. Send an email with your litter preference and other pertinent information regarding the upcoming litter. Regardless of gender, color, or size, all of their Cockapoo puppies for sale in Florida are priced identically. Be sure to read their whole deposit submission procedures.
As you prepare to bring your Cockapoo puppy home, they provide helpful tools and preparation tips for the items you'll need. In addition, they provide helpful instructions covering the Florida Health Warranty and other items you might anticipate receiving while purchasing a pet in the state of Florida. Knowing these rules will help you prepare and plan ahead and understand your consumer rights.
Location: Lecanto, Florida
Email: [email protected]
Phone: (727) 243-9045
Website: Florida Cockapoos
---
Tips When Choosing a Cockapoo Breeder
There are many things to consider when choosing a Cockapoo breeder. Here are some of the most important ones:
Ask for references.
Ask about their breeding practices.
Ask about the breeder's experience, how many litters they have bred before you, and what their average litter size is (the better quality the parent dogs are, the more likely there will be good puppies).
If a breeder claims to have had great success with their dogs, ask them to demonstrate this by giving examples of past litters with pictures or videos of each puppy taken at different ages.
Make sure your breeder has health testing protocols in place before purchasing any puppy. If anything goes wrong during your pregnancy/labor period (or after), you'll know who else might be responsible for caring for your new addition once born!
Short History of the Cockapoo Breed
The Cockapoo is a cross between a Cocker Spaniel and a Poodle. The two breeds have been mixed since the middle of the 20th century, with many people adding some of each to their existing dogs. Cockapoos are known for being extremely sweet and affectionate, making them popular family pets. They also tend to be hypoallergenic, meaning they don't shed as much as other dogs (which can worsen allergies).
How Much Does a Cockapoo Cost?
The cost of a Cockapoo puppy depends on the breeder and whether it's registered. A large portion of the cost is determined by their parent's health, temperament, and size. Prices can range from $500 to $2000 for puppies with good medical histories and no health issues. If you're looking for an unregistered pet, prices could be as low as $300 per puppy—but they may have some genetic conditions or other issues that would require extra money for care in the future.
Do Cockapoos Make Good Pets?
Cockapoos are an excellent choice for anyone looking to add a new dog to their family. They're intelligent, friendly, and playful. Cockapoo puppies are also good with kids (as long as they have been raised with them). Cockapoos can live in apartments or small spaces because they tend to be low-maintenance dogs who don't need much room to move around in.
Conclusion
There are many reasons to choose a cockapoo as your next pet. They are a fun, energetic breed that will provide love and affection for years. If you have the time, energy, and dedication required to raise a puppy, consider adding one of these adorable dogs to your family today!
Image Credits:
https://depositphotos.com/164736916/stock-photo-cockapoo-puppy-looking-up-at.html
Cockapoo Breeders In Other Places
Australia based Spoodle breeders