Are you considering adding a Cavapoo to your family in Virginia? Finding a reputable Cavapoo breeder is crucial to ensure you bring home a healthy and well-socialized pup. In this article, we will explore the qualities that make Cavapoos excellent pets, delve into the breed's history, provide tips for selecting a breeder, and discuss the average cost of a Cavapoo. If you're ready to embark on this exciting journey, keep reading to find your ideal Cavapoo companion.
List of Cavapoo Breeders in Virginia
| | | | | |
| --- | --- | --- | --- | --- |
| Breeder | Location | Phone | Website | Email |
| Black Creek Doodles | Mechanicsville, Virginia | N/A | https://blackcreekdoodles.com/ | [email protected] |
| Cape Cod Cavapoos of Virginia | Virginia | (402) 618-2095 | https://capecodcavapoos.weebly.com/ | [email protected] |
| Cockapoo Cottage | New Market, Virginia | (540) 975-2819 | https://www.cockapoocottage.com/ | [email protected] |
Black Creek Doodles
Jordan is the proprietor of Black Creek Doodles. Black Creek Doodles is situated in Mechanicsville, Virginia, close to Richmond, where I reside with my husband, Scott, and our three amazing sons. Our dogs are more than just companions; they are family members. My spouse refers to them as my entourage because they are always close behind me wherever I go.
I've always had a soft spot for canines, but my interest in breeding didn't commence until I met Scott. Scott was raised in breeding, as his mother was and still is a highly skilled and renowned large doodle breeder in Virginia. As soon as I was introduced to Scott's mother's doodles, I was captivated. I knew I wanted to do that at some point in my existence.
As I was serving in the U.S. Navy then, I could not pursue my long-term objective of breeding doodles. It was time after my children were born and my husband's business was well-established.
I began by gaining knowledge of the best reproductive techniques and the components of a superior puppy. I had the privilege of learning from the very finest. Scott's mother has taught me a great deal about genetics, dog and infant health and care, and a general passion for doing what you do to the best of your ability.
Location: Mechanicsville, Virginia
Website: Black Creek Doodles
Email: [email protected]
---
Cape Cod Cavapoos of Virginia
Virginia's Cape Cod Cavapoos is a small breeder that handles their dogs like family. Puppies and adult dogs reside with the breeders and interact with their offspring. Human interaction socializes puppies from a young age, and they typically adapt well to new families and residences.
This breeder ensures that all canines are healthy, vaccinated, and dewormed before placing them with their new families. It simplifies the owners' jobs, and many clients have attested that their puppies are nearly 90 percent trained when arriving at their homes.
Cape Cod Cavapoos specializes in breeding and rearing Cavapoos with optimal health and temperament in red, red, and white colors. The breeder claims that all puppies have a one-year genetic health guarantee and that the parent canines are tested for perfect health before breeding.
In addition, they offer lifetime support to the new owners of their puppies and enjoy hearing the clients' tales about their litters. Therefore, feel free to ask any questions you like; they will prepare all the answers.
Cavapoos from Cape Cod are sweet, gentle, and playful, making it very simple to adapt to various environments and serve a wide range of people.
The breeders ensure that their puppies are good with children, very simple to train, and enjoy active and relaxing pursuits, such as hiking and cuddling while watching a movie.
Location: Virginia
Website: Cape Cod Cavapoos
Phone: (402) 618-2095
Email: [email protected]
Facebook Page: Cape Cod Cavapoos of Virginia Facebook Page
---
Cockapoo Cottage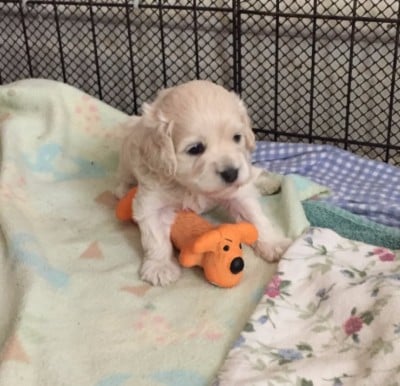 This very small breeder initially specialized in Cockapoo production and breeding. After twelve years of breeding and rehabilitating Cockapoos, they began breeding Cavapoos in 2020.
The Cockapoo Cottage is a modest farm with various animals, including rescued birds, horses, and donkeys. Consequently, their dogs have an incredible socialization experience with these various types of animals.
This family of three, consisting of a husband, a wife, and their daughter, are extremely passionate about dogs and puppies and recognizes the importance of rearing healthy puppies. All puppies born at Cockapoo Cottage are treated with Safeguard and Nemex 2 at the third, fifth, and seventh weeks.
At 7.5 weeks, a veterinarian examines their health and administers vaccines against canine parvovirus, parainfluenza, and distemper hepatitis. When these puppies are adopted, their new proprietors receive a two-year limited health guarantee and all previous medical records they require.
Cockapoo Cottage will provide pictures and videos of your puppy from the time you select it until it reaches you, so you can rest assured that they are being cared for properly.
Location: New Market, Virginia
Phone: (540) 975-2819
Email: [email protected]
Website: Cockapoo Cottage
---
Short History of the Cavapoo Breed
The Cavapoo breed originated in the United States during the 1950s due to crossing Cavalier King Charles Spaniels with Poodles. Breeders aimed to create a companion dog with the desirable traits of both parent breeds. Cavapoos quickly gained popularity due to their friendly temperament, hypoallergenic coats, and versatility as therapy and assistance dogs.
Tips When Choosing a Cavapoo Breeder
Finding a reputable Cavapoo breeder is crucial to ensure the health and well-being of your future furry friend. Here are some essential tips to consider when selecting a Cavapoo breeder in Virginia:
Research and Referrals
Start by researching reputable Cavapoo breeders in Virginia. Look for breeders who prioritize the health and welfare of their dogs and have a good reputation within the dog breeding community. Seek referrals from local veterinarians, trusted friends, or fellow Cavapoo owners to narrow your options.
Visit the Breeder
Arrange a visit to the breeder's facility to observe the living conditions and meet the parent dogs. A responsible breeder will be transparent about their breeding practices and willingly answer any questions you may have. Pay attention to the cleanliness and overall well-being of the dogs on-site.
Health Testing and Certifications
Ensure the breeder conducts health testing on their parent dogs to rule out hereditary health issues common in the Cavapoo breed. They should provide you with relevant health certifications, such as OFA (Orthopedic Foundation for Animals) clearances for hips and elbows, eye certifications, and genetic testing.
Socialization and Early Training
A reputable breeder will prioritize early socialization and basic training for their puppies. Ask about the breeder's socialization practices and how they expose the puppies to various stimuli, environments, and experiences. Well-socialized puppies tend to grow into confident and well-adjusted adults.
How Much Does a Cavapoo Cost?
The cost of a Cavapoo can vary depending on factors such as the breeder's reputation, location, lineage, and the puppy's characteristics. On average, you can expect to pay between $1,500 to $3,500 for a Cavapoo puppy. Remember that reputable breeders invest in health testing, proper care, and early socialization, contributing to the price.
It's essential to avoid unusually low-priced Cavapoo puppies, as they may come from disreputable breeders or puppy mills. These puppies are often bred without proper health screenings, resulting in potential health and behavioral issues later in life.
Conclusion
Adding a Cavapoo to your family can bring immeasurable joy and companionship. By following the tips above and selecting a reputable breeder, you're on your way to finding a healthy and happy Cavapoo companion. Remember to invest time in training, socializing, and providing a loving environment for your new furry friend.
Cavapoo Breeders In Other Places
Australia based Cavoodle breeders
Image Credits:
https://unsplash.com/photos/Jnc-eF01ADg