If you're considering bringing a new furry friend, a Cavapoo could be the perfect addition to your family. These adorable crossbreeds, a mix between Cavalier King Charles Spaniels and Poodles, have gained popularity for their friendly nature, intelligence, and charming appearance. This article will guide you through finding reputable Cavapoo breeders in Missouri and provide essential information about these wonderful companions.
List of Cavapoo Breeders in Missouri
| | | | | |
| --- | --- | --- | --- | --- |
| Breeder | Location | Phone | Website | Email |
| Hot Water Farm | Billings, Missouri | (479) 936-4023 | https://hotwaterfarm.com/ | [email protected] |
| Angel Wing Pets | Republic, Missouri | (417) 813-5504 | https://angelwingpets.com/ | [email protected] |
| Indian Creek Ranch | Northeastern Missouri | (573) 719-9057 | https://indiancreekranch.org/ | [email protected] |
| Riverside Puppies | Crocker, Missouri | (573) 736-3083 | https://riversidepuppies.biz/ | [email protected] |
Hot Water Farm
Hot Water Farm is a family-owned farm in scenic southwest Missouri that breeds the cutest little puppies. Since 1991, this breeder has prioritized providing its customers with healthful Cavapoos, English Bulldogs, and Corgis. The parent canines are registered with the American Kennel Club, so you can rest assured that you will receive a healthy puppy. Each puppy at Hot Water Farm has been dewormed, vaccinated, and examined by a veterinarian to ensure their health.
In addition, each infant includes a one-year health guarantee to ensure your new family member is as healthy as possible. On their website's "Available Puppy" page, you can view both the available canines and those that have already been claimed. The quality canines at Hot Water Farm are adopted by families throughout the United States, as evidenced by this image. If you want to adopt a puppy from Hot Water Farm, you can fill out a contact form on their website, call them, or email them. Contact the breeder immediately to get on the waiting list for upcoming litters, as these adorable puppies are rapidly adopted.
Name of Owner: Hot Water Farm
Location: Billings, Missouri
Website: Hot Water Farm
Phone: (479) 936-4023
Email: [email protected]
Facebook Page: Hot Water Farm Facebook Page
---
Angel Wing Pets
On a 10-acre farm in southwest Missouri, a small home breeder named Angel Wing Pets breeds and sells healthy and affectionate Cavapoo puppies. It has American Kennel Club or American Pet Registry-registered parent canines. This ensures that you receive a puppy from parents of the highest quality. The unregistered parent canines are hybrids and, therefore, cannot be registered because they are not purebred. On their website, they identify the parent dogs who are currently pregnant.
Additionally, you can discover information about potential new litters and the parents of planned litters. This includes the name and weight of each parent dog, giving you a decent idea of how large your new puppy will grow. Each puppy sold by Angel Wing Pets will include current vaccinations, dewclaw removal, a microchip, a one-year health guarantee, and health certifications. These steps will guarantee that you obtain the healthiest possible puppy. If you want to purchase an angelic puppy from Angel Wing Pets, a deposit is required to secure your puppy. Contacting them today is the first step in bringing your new family member home.
Name of Owner: Angel Wing Pets
Location: Republic, Missouri
Website: Angel Wing Pets
Phone: (417) 813-5504
Email: [email protected]
Facebook Page: Angel Wing Pets Facebook Page
---
Indian Creek Ranch
Indian Creek Ranch is an excellent location to look for Cavapoo puppies in northeastern Missouri. It is a modest, family-owned breeding operation spanning 44 acres of farmland. They take pride in their professionally inspected and licensed, well-maintained facilities. To ensure their health, all parent dogs at Indian Creek Ranch are registered with the American Kennel Club. These parent dogs and their offspring are regarded as members of the family.
Given a large area to investigate, these dogs can maintain their physical health through exercise. The puppies at Indian Creek Ranch are well-acquainted with both humans and other canines. The litters are retained with their parents until they are adopted. This enables these puppies to become accustomed to other canines. In addition to being exposed to other canines, these puppies are also exposed to humans of varying ages. This exposure guarantees that you obtain a socially adept puppy from the start.
At Indian Creek Ranch, the welfare of their puppies is of the utmost importance. Each puppy is covered for one year against congenital cardiac defects. In addition, a veterinarian dewormed, vaccinated, microchipped, and examined each puppy before adoption. You will receive all current health records for your puppy upon collection. If you want to acquire a healthy and happy puppy from Indian Creek Ranch, contact them as soon as possible to be placed on the waiting list.
Name of Owner: Indian Creek Ranch
Location: Northeastern Missouri
Website: Indian Creek Ranch
Phone: (573) 719-9057
Email: [email protected]
---
Riverside Puppies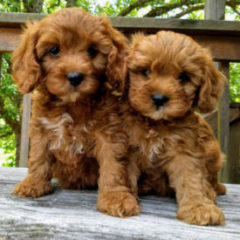 it is located on 250 acres of the scenic Ozark Hills in Missouri. Riverside Puppies, which specializes in Cavapoos and Maltipoos, can address your Cavapoo-related questions. Every puppy at Riverside is born and nurtured in a home. This early socialization ensures you obtain a well-adjusted puppy.
Puppies are housebroken by the age of 5 weeks and crate trained by the age of 7 weeks. This early training will ensure that your puppy is intelligent and well-behaved from the moment you bring it home. Microchipping, spaying/neutering, deworming, a professional vet exam, registration documents, vaccinations, and a health certificate are included in the price of your puppy. In addition, you will receive a "puppy pack" containing all the pertinent information about your puppy.
At Riverside Puppies, all mothers and sires are in excellent health. You will receive four generations of pedigree information for each parent dog, assuring you that their lineages are of the highest quality. Even some of the parent canines have champion pedigrees. If you want to adopt a puppy from Riverside Puppies, you can view their prices online and join the waiting list.
Name of Owner: Riverside Puppies
Location: Crocker, Missouri
Website: Riverside Puppies
Email: [email protected]
Phone: (573) 736-3083
Facebook Page: Riverside Puppies Facebook Page
---
Do Cavapoo Make Good Pets?
Cavapoos are known for their loving and affectionate temperament, making them excellent family pets. Their friendly nature extends to children, seniors, and other pets, making them a versatile and adaptable choice for any household. With their low-shedding coat inherited from Poodles, Cavapoos are also great options for individuals with allergies. Their playful and energetic disposition ensures they are always up for a fun game or a cuddle on the couch.
Short History of the Cavapoo Breed
The Cavapoo, also called the Cavoodle, emerged as a designer breed in the 1950s, combining the desirable traits of the Cavalier King Charles Spaniel and the Poodle. Breeders aimed to create a companion dog with the intelligence and hypoallergenic coat of the Poodle and the gentle and affectionate nature of the Cavalier King Charles Spaniel. Over the years, their popularity soared, and they became cherished pets for families worldwide.
Conclusion
In conclusion, a Cavapoo can make an excellent addition to your family, bringing joy, love, and companionship. When searching for Cavapoo breeders in Missouri, find a reputable and responsible breeder that prioritizes the health and well-being of their dogs. By choosing wisely, you can ensure your new furry friend will be a cherished family member for years.
Cavapoo Breeders In Other Places
Australia based Cavoodle breeders
Image Credits:
https://unsplash.com/photos/KYpMzXNx1tk