Labradors Retrievers are the most popular dog breed in Ontario according to a study conducted by the Canadian Kennel Club. This loyal, friendly, and easygoing animal is perfect for any family looking to add an affectionate pet into their home as they give off both energy and love – making them your best friend from day one!
Labrador puppies in Ontario have been growing in popularity lately due to all of these features that make them such excellent pets!
However, as the breed's popularity grows, so does the number of breeders, And not all of these breeders are trustworthy, so don't worry about finding the breeder.
We have created the list of Best Labradors Retrievers breeders in Ontario for your easiness. But we suggest that you do your own research as well and then decide which breeder you should buy your dog from.
Related Posts: Golden Retriever Breeders in Ontario & Boxer Breeders in Ontario
How We Add Breeders to Our Site
The Dog Breeds Expert team takes a lot of care when it comes to listing Labrador breeders on our site. To ensure the safety of our readers and the right fit for a new pet, we work hard to make sure only the most trusted breeders are featured on the site.
We have a dedicated team that works hard and has done extensive research that involves checking both the breeder and their dogs, to verify that the breeders featured on our site are highly reputable and trustworthy.
Feedback on Google and Facebook is also taken into consideration before they are listed as a breeder to have the highest standards possible. We hope that this gives you a little more information about how we list breeders on our site.
Labrador Retriever For Sale in Ontario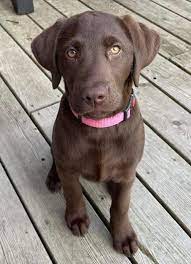 Before we get to the best Labrador breeders in Ontario, there are some things you should take into consideration before finding the best Labrador breeder in Ontario for you.
Labradors are one of the most popular dog breeds, so you'll have your pick of breeders.
Labradors are bred for hunting and retrieving, so make sure you find a breeder that has experience with the specific type of Labrador you're looking for.
Labradors come in three different colors: black, chocolate, and yellow. You'll want to decide which color you prefer before beginning your search.
There are a few things you should look for when choosing a Lab puppy breeder. First and foremost, make sure they are reputable and offer health guarantees. Choosing a reputable Lab breeder is key to getting a healthy, well-behaved puppy.
By ensuring that you choose a reputable breeder, you can be sure that you are getting a dog that has been raised in a healthy environment and is less likely to have behavior or health issues.
It's also important that the reputable Labrador breeder takes exceptional care of their dogs, and provides full-time support before, during, and after you purchase your puppy.
By following these guidelines, you can be sure you'll end up with a well-behaved, healthy, and sound Lab puppy.
The Best Labrador Retriever Breeders in Ontario
1. Chocolate Labrador Retriever Ontario
Chocolate Labrador is the purebred Labrador Retriever breeder in Ontario who has 50 years of experience in breeding Labrador which shows their worth.
Lucky Labs was founded in the loving memory of the breeder's first Labrador retriever, Lucky. It was this dog that showed the breeder the true meaning of companionship. They love Labrador puppies so much that they decided to start a breeding program. Some of what they offer are:
1. Lifetime support for your Lab pup
2. No Inbreeding or Line breeding
3. 4 year written health guarantee
4. Lifetime guarantee on tested genetics
5. Parents/Grandparents health tested
6. Clients screened for suitability
7. Vet Inspected Kennel/Whelping
8. Super premium food fed to all Labs
9. Rehoming for life
All of their puppies are registered as purebred Labrador Retrievers with the Canadian Kennel Club (CKC) and some have American Kennel Club (AKC) registration, too. This breeder's top priority is to breed puppies that are healthy, smart, and even-tempered. As a result, they've produced some of the best family pets and hunting retrievers around.
A passion for excellence inbreeding has been the cornerstone of their business from day one. For over 50 years, they have committed themselves to deliver a superior Labrador Retriever experience by focusing on excellent health, outstanding intelligence, and even temperament within all breeds.
As a result of this dedication to detail and quality control, every single puppy is guaranteed healthy as well as intelligent with an easy-going disposition that will make them perfect family pets or hunting retrievers who can easily fit for any situation you put them through!
Lucky Lab's puppies are happy, healthy and come with a 4-year written guarantee from all major organs like heart problems or hip dysplasia which also includes elbow dysplasia as well as PRA genetic testing that makes them bred lineage free of health issues.
Labrador Retriever Breeder Info:
Location: Ontario,Canada
Website: Chocolate Labrador Retriever Ontario
2. Gypzy's Labrador Retrievers ON
The Gypzy's Labrador Retrievers has been breeding labradors since 2012. They have a variety of bloodlines, including Search-and-Rescue and Diabetic Alert lines. All puppies come from well-titled working, hunting, conformation bloodlines as well as families with autism companions or search and rescue capabilities. So your future family member will be bred to excel in all aspects!
Gypzy's Labradors is committed to giving you nothing but excellent pups for your family – they pride themselves on providing quality Labrador retrievers puppies in Ontario. All pups are micro-chipped and dewormed 4 times before going to a new home. They come with vet check records to ensure they're healthy before going to new homes!
All pups are well-socialized with people and other pets. They're given exposure to different stimuli, like living in their kitchen with access to the .5 acre fenced dog yard while they become acquainted with household routines, sights, and sounds. Once they reach 4 weeks of age, They start crate training them so that their first home will be a breeze!
Labrador Retriever Breeder Info:
Location:1286 Lynn Valley Rd, Port Dover, ON N0A 1N1
Email:[email protected]
Website:Gypzy's Labrador Retrievers ON
3. Cooperslane Kennels
At Cooperslane Kennels, they have been breeding purebred, CKC-registered Labrador Retrievers since 1999. From day one, their moto is to breed the best well-behaved family companions and service dogs. They are a family business, so they understand the importance of having a furry friend that can be a part of your everyday life. That's why they take the time to get to know each and every one of its pups so that they can help you find the perfect match for your home.
The health and temperament of the puppies are always the top priority for them. They consider their dogs to be part of their family and have a full staff to provide them with high-quality care around the clock. This is why all of their dogs are so well socialized; they are comfortable around both humans and other dogs.
If you're interested in getting a puppy from this breeder, be sure to check out their website for detailed information. And if you have any questions, don't hesitate to shoot them an email.
Labrador Retriever Breeder Ontario Info:
Location: Arthur, Ontario, Canada N0G 1A0
Email: [email protected] || [email protected]
Phone: 519-848-6192
Website: Cooperslane Kennels
4. Greyden Labradors
For more than two decades, Greyden Labradors have been breeding beautiful Yellow Labrador Retrievers. Their puppies are not just animals, but members of the family first and foremost. Their top priority is to produce puppies that will be cherished members of the family.
Recently, they have moved to a newly built farm that has given their dogs an opportunity to run and play in a more spacious area. Not only does this help the pups grow up in a peaceful environment, but they also get to experience the beauty of the countryside.
They only breed high-quality Labradors and all of their breeding stock have the appropriate clearance for hereditary problems. They're proud of their pedigrees and work hard to make sure that only the best of the best go into their breeding program.
If you're interested in buying a Labrador Retriever Puppy from this breeder, the first step is to visit their website and check currently has puppies for sale. Once you're on the website, locate the application form so that you can reserve a puppy.
Labrador Retriever Breeder Info:
Location: Grand Valley, Ontario
Email: [email protected]
Website: Greyden Labradors
5. Breukhaven Labradors Ontario
Breukhaven Labradors is located in Jarvis, Ontario, just outside of Hamilton. They specialize in breeding CKC registered chocolate, Fox Red, and black Labradors. At Breukhaven, they understand that dogs are part of the family. They make sure that all their pups are raised in a loving family environment and given the opportunity to experience all the joys that life as a labrador can. All of their dogs have the natural drive and desire to retrieve and please their owners.
Breukhaven is committed to offering all of its buyers a general health guarantee. This means that the puppies have been checked by the veterinarian and have been vaccinated with all shots (depending on age). They also offer a 2-year hip and eye guarantee for genetic hip dysplasia and PRA – Progressive Retinal Atrophy. By working with Breukhaven, you can rest assured that you are getting a healthy and genetically sound puppy.
If you're not sure you're ready to take on the responsibility of a puppy, don't worry – you can always return them within 48 hours for a full refund. All new owners receive a puppy package that comes with everything you need to get started, including training and food info, as well as gifts like toys, a leash, and a collar.
Labrador Retriever Breeder Info:
Location: Jarvis, Ontario – N0A 1J0 – Canada
Email:[email protected]
Phone:519-909-8365
Website:Breukhaven Labrado Ontarior
6. Asklar Labradors Ontario,Canada
Asklar Labrador is dedicated to raising Labrador puppies that are high-quality for temperament, structure, and intelligence. They offer three colors Yellow; including Fox Red and Chocolate.
All puppies are raised inside their home, so they are well socialized and easily adjusted to any family. All Asklar puppies are free from genetic diseases such as hip dysplasia elbow and eyes cleared and come with one-year health warranty that you can count on
Labrador Retriever Breeder Ontario Info:
Location:RR#2 Beaverton, Ontario
Email:[email protected]
Phone:705-426-5154
Website:Asklar Labradors Ontario
7. Applemeadow Labs
Having had a great experience with their first black Lab, the breeders from Applemeadow Labs decided to start their own breeding program 20 years ago. They have been passionately in love with the breed ever since. And have been dedicated to providing healthy, happy Labs to families ever since.
They're located in the heart of the agricultural district of oxford county, which is known for being a prime area for agriculture. All of their pups have a lot of space to run and play, and the goal has always been to produce healthy and sound puppies with great temperaments.
When you purchase a puppy at Applemeadow, you're not just buying a furry friend for life. You're also receiving a full written guarantee of the dog's health and vaccinations, as well as testing for any genetic diseases. On top of that, every puppy comes with a special package, and their support doesn't end there! They'll be available to help and answer any questions you may have, for as long as you need them.
Labrador Retriever Breeder Info:
Location: Southwestern Ontario
Email: [email protected]
Phone: 519-424-9088
Website: Applemeadow Labs
8. Castilleja Labradors ON,Canada
Labrador Retriever Breeder Info:
Location: Bracebridge, Ontario, Canada P1L 1X1
Phone: 705-645-2848
Website: Castilleja Labradors ON
9. Shelley Acres Labrador Retriever

Shelley Acres Labrador Retrievers prides itself on producing AKC and UKC registered puppies for service work, scent detection/ nosework, show and pets. They have imported several breeding lines in addition to developing their own. Everyone is health tested and must pass extensive testing to be included in this premium program. Puppies are started with puppy culture methods as well as other methods and testing to ensure they are started ahead in life preparing them for their big adventures ahead.
Breeder Info
Owner: Shelley Dzsudzsak
Location: Waterford, Ontario
Phone Number: (519) 717-1467
Email: [email protected]
Website:https://shelleyacres.com/
Facebook:https://www.facebook.com/profile.php?id=100068228923800
---
How Much Does A Labrador Puppy Cost In Ontario?
If you want to purchase a puppy from a well-known Labrador breeder in Ontario, you can expect to spend $800-$1200. Some puppies with an impressive lineage may even cost $2000. Many people want Labrador puppies but their budget won't stretch to cover the high prices charged by breeders. They can find them for cheaper at a shelter. The adoption fees for a Labrador puppy at a shelter are usually around $200-$300.
If you want to make sure you're getting a healthy and sound puppy with a health guarantee, it's always best to choose a reputable, trustworthy breeder.
But be aware that even with the best breeder, there's no guarantee when it comes to individual puppies – every puppy is different, and each one comes with its own set of health risks. Be sure to ask your breeder plenty of questions, and do your own research before bringing a new puppy home.
When you're considering getting a Lab, it's important to remember that they're a sizable breed of dog. That means their food, toys, and vet bills can add up quickly. So if you're not 100% confident that you can afford all of those things, it's best to avoid making the purchase.
Do You Recommend any Good Labrador Retriever Breeder in Ontario?
If you know any great Labrador Retriever breeder who lives in Ontario, please let us know in the comments below so we can add it to our list. What is the Breeder Name? Where are they located in Ontario? It really helps others who are looking for Labrador Retriever puppies in Ontario. if they can read honest reviews from buyers like yourself.
Conclusion
Hope you like this post, so these are the best Labrador Retriever Breeders in Ontario that we have added to our list. and we believe there are many but we thoroughly review and close check the breeder before adding it to our list. If you're a friend and relative looking for a good breeder in Ontario, you can share this post with them. If you are looking for the best Labrador Retriever Breeders in Ontario, you can consider one of these breeders.
Labrador Breeders
| | | | | |
| --- | --- | --- | --- | --- |
| Alberta | British Columbia | Nova Scotia | Ontario | Ottawa |
Canada based breeders