Labrador Retrievers are among the most popular dog breeds in the United States, known for their friendly nature, intelligence, and loyalty. If you're looking to bring home a Labrador puppy in Illinois, it's important to find a reputable breeder who prioritizes the health and well-being of their dogs. In this article, we will explore the world of Labrador breeders in Illinois, providing valuable information and insights to help you make an informed decision.
List of Labrador Breeders in Illinois
| | | | | |
| --- | --- | --- | --- | --- |
| Breeder | Location | Phone | Website | Email |
| Simpson's Labrador Retrievers | Redbud, Illinois | (618) 615-7006 | https://labpuppiesillinois.com/ | [email protected] |
| Mabry Kennels LLC | Murphysboro, Illinois | (618) 521-5719 | https://mabrylabrador.com/welcome.html | [email protected] |
| Empress Labradors | North of Rockford, Illinois | (815) 218-8765 | https://empresslabradors.com/ | [email protected] |
| Mackinaw Valley Gun Dogs | Delavan, Illinois | (309) 613-3644 | http://www.mackinawvalleylabs.com/ | [email protected] |
| Puddle Jumper Labs | Rockford, Illinois | (815) 494-3485 | https://puddlejumperlabs.com/ | [email protected] |
Simpson's Labrador Retrievers
Simpson's Labrador Retrievers can sell you a magnificent and fascinating Labrador Retriever, whether you are in Chicago or St. Louis. Simpson's has been breeding only the three recognized colors of chocolate, black, and yellow English Labrador Retrievers with the highest levels of health and wholeness.
Puppies are immediately exposed to various sights, sounds, scents, animals, water activities, and socialization experiences within the expansive living quarters of the kennels and the 10-acre property on which they are situated. In addition, they begin obedience training immediately and are given ample opportunities to swim and exercise. Expect your new puppy from Simpson's to arrive with AKC and UKC registrations, their pedigrees, current vaccinations and deworming, a health release from a veterinarian, a "puppy pack" containing all essential puppy comforts, and a lifetime support system from their family to yours. Puppies' prices vary based on each puppy's lineage, so you must contact the breeder for all relevant information and to secure a spot on the waiting list.
Location: Redbud, Illinois
Website: Simpson's Labrador Retrievers
Email: [email protected]
Phone: (618) 615-7006
Facebook Page: Simpson's Labrador Retrievers Facebook Page
---
Mabry Kennels LLC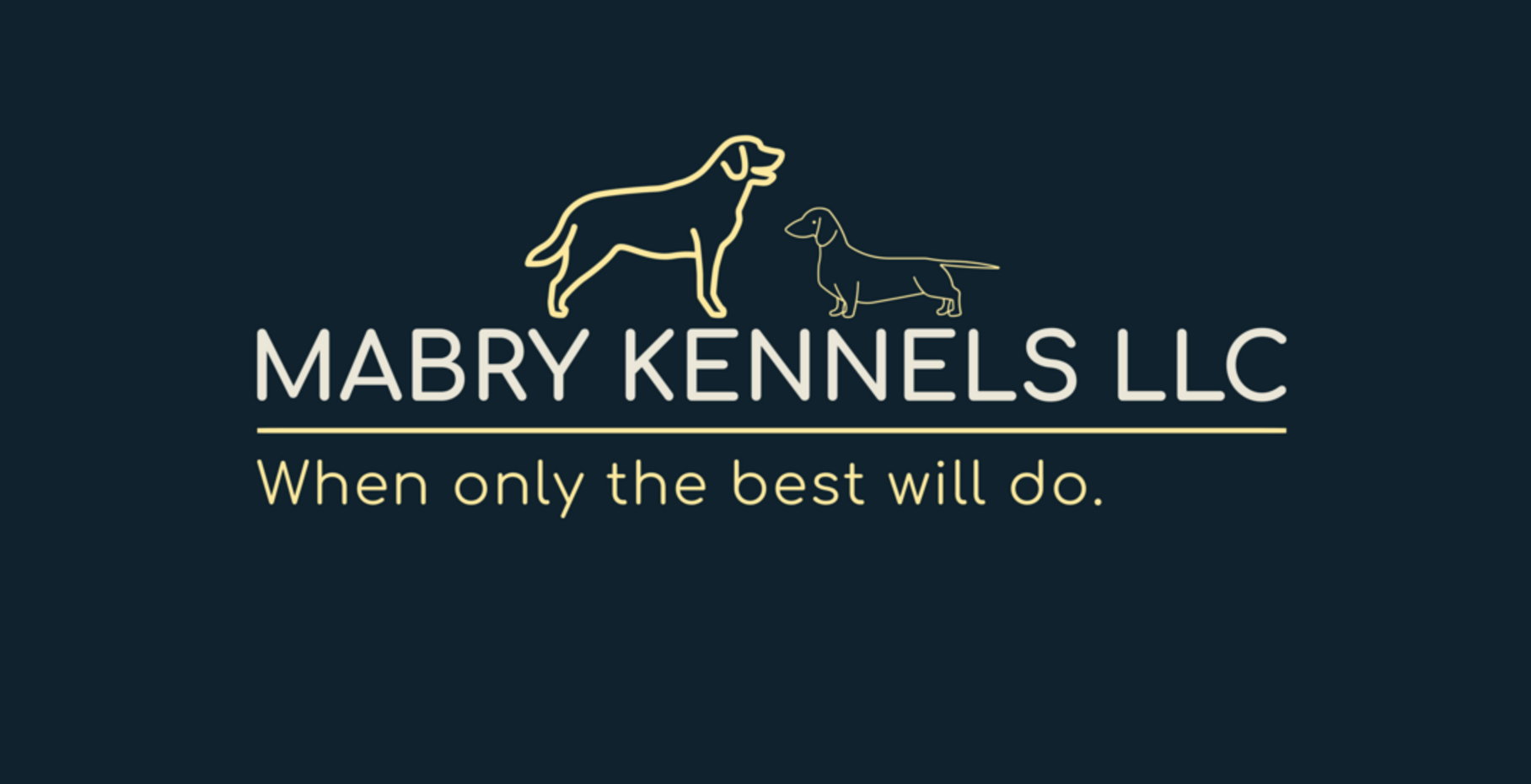 Mabry Kennels' 100 luscious acres allow playful, intelligent Labrador Retriever adults and puppies to act like pets and family members simultaneously. The structure that houses the puppies was constructed in 2016 and is equipped with climate control, access to the outdoors around-the-clock, an abundance of toys, and a video monitoring system to keep a close watch on the puppies. There are sections for each mother to have her own space while delivering in a tranquil environment. All dogs at this facility have their requirements met in excess, are treated as family members, and have access to couch spots, swimming holes, interaction with family and friends, and shelter from the elements.
All puppies and adults are bred from extensively researched, health-tested shows and hunting genetic lines. You will receive AKC documents, vaccinations, deworming, a 36-month guarantee, microchipping, food, treats, and much more with your new puppy. This is detailed on their website's "Upcoming Litter" page, which details deposit and pricing. Prices are approximately $2,200 with a non-refundable $500 deposit. Contact us as soon as possible to secure your place on the waiting list for these coveted Labrador Retrievers from Mabry Kennels. Look at the seemingly unending page of testimonials from happy families fortunate enough to acquire a Labrador from these conscientious breeders.
Location: Murphysboro, Illinois
Website: Mabry Kennels LLC
Phone: (618) 521-5719
Email: [email protected]
Facebook Page: Mabry Labs Facebook Page
---
Empress Labradors
If you're looking for silver Labradors, you should seek elsewhere. This mutation is believed to diminish the high quality of the chocolate, yellow, and black Labradors available at Empress Labradors. All animals bred at this facility are held to the highest conformation, hunting, temperament, loyalty, and sociability standards established over generations for the most popular Labrador Retriever. The breeding program and breeders at Empress Labradors are supported by ten years of handling and kennel-owning experience. Due to its location on 5.5 wooded acres on the state line of Illinois and Wisconsin, prospective Labrador owners from Iowa, Indiana, Minnesota, and Michigan can also travel here for their future dogs.
Huge paddocks with swimming pools and obstacles provide tranquil environments for the upbringing of all canines, while human and animal stimulation aids in developing well-mannered dogs. Dogs from this kennel have been requested and donated to serve as therapy dogs, service dogs, and dogs used to help incarcerated individuals acquire experience with dog care and training. Your Empress-purchased offspring will be Labrador Retrievers of English type with limited AKC registration. Occasionally, retired canines can be purchased for $3,800. Puppies cost $2,800, with a $500 deposit required to reserve a place on the waiting list. The breeder may authorize puppies with full registration, but they will cost $5,000 for males and $8,000 for females. Please get in touch with Empress Labradors immediately with any questions and to secure a coveted place on their waiting list.
Location: North of Rockford, Illinois
Phone: (815) 218-8765
Website: Empress Labradors
Email: [email protected]
Facebook Page: Empress Labradors Homestead Facebook Page
---
Mackinaw Valley Gun Dogs
The primary objective of Mackinaw Valley gun Dogs breeding is to produce waterfowl hunting companions with superior pointing instincts. The second objective is to provide the ideal family pet. John Zeigler founded Mackinaw Valley Gun Dogs and decided to form a small family-based kennel in Central Illinois that would introduce a breed of Labrador Retriever that was developed, through genetic testing and the elimination of breed-specific health issues, to be notably healthy, friendly, and loyal companions for hunters and their families. Visit their Facebook page to view photographs of their canines proudly displaying their hunting trophies and flawlessly carrying out the duties for which they were bred. All offspring will be provided with a guarantee of genetic health. The price is approximately $1,200 with a $300 deposit. Already, litters for 2021 are being planned, so contact them as soon as possible to be placed on their waiting list.
Location: Delavan, Illinois
Website: Mackinaw Valley Gun Dogs
Phone: (309) 613-3644
Email: [email protected]
Facebook Page: Mackinaw Valley Gun Dogs Facebook Page
---
Puddle Jumper Labs
Mark and Sheila Holcomb, owners of Puddle Jumper Labs, have amassed experience of over thirty years. You can be confident that you will acquire a Labrador breed unparalleled by all others. The Holcombs endeavor to refine their breeding program with each successive offspring.
They strive to produce Labrador Retrievers of the highest possible quality and with the most likeable personalities. If you place your name on their coveted waiting list for the next breeding, you can choose from any of the three Labrador colors, black, yellow, or chocolate. These puppies are worth the delay, as evidenced by their numerous awards and 5-star reviews left on their Facebook page by previous clients and current dog owners who have had the pleasure of adding a Puddle Jumper dog to their family.
They request the completion of a survey to weed out proprietors unwilling to devote the necessary years to raising and loving one of their Labrador Retriever puppies. They are committed to being there for all owners for the puppy's life, so they seek the ideal owner willing to put in the same amount of effort and dedication. Contact them for all pricing, breed, and waiting list-related inquiries.
Location: Rockford, Illinois
Website: Puddle Jumper Labs
Phone: (815) 494-3485
Email: [email protected]
Facebook Page: Puddle JumperLabs Facebook Page
---
How Much Does a Labrador Cost?
The cost of a Labrador Retriever can vary depending on various factors, such as the breeder's reputation, the puppy's pedigree, and the location. On average, you can expect to pay between $1,200 and $2,500 for a Labrador puppy from a reputable breeder. Show-quality Labradors or those from champion bloodlines may be on the higher end of the price range. It's important to note that the initial cost of the puppy is just one aspect of owning a Labrador. Additional expenses such as food, grooming, veterinary care, and training should also be considered when budgeting for a Labrador.
Conclusion
Bringing a Labrador puppy into your family is an exciting and rewarding experience. By choosing a reputable Labrador breeder in Illinois, you can have confidence in the health and temperament of your new companion. Take the time to research, visit breeders, and ask questions to ensure that you make an informed decision. You'll enjoy years of love, joy, and companionship with a well-bred and well-cared-for Labrador.
Labrador Breeders
| | | | | |
| --- | --- | --- | --- | --- |
| Alberta | British Columbia | Nova Scotia | Ontario | Ottawa |
Canada based breeders
Image Credits:
https://unsplash.com/photos/PXONSnizYJ4