If you're looking for a Dachshund puppy in New South Wales, you're in luck! Several reputable breeders in the area specialize in this charming and loyal breed. Dachshunds are known for their unique long, low bodies and friendly, playful personalities. Whether you're looking for a smooth, wire, or long-haired Dachshund, you're sure to find a breeder in New South Wales who can help you find your perfect companion.
List of Dachshund Breeders in New South Wales
| | | | | |
| --- | --- | --- | --- | --- |
| Breeder | Location | Phone | Website | Email |
| Sonree | Ballina NSW | (026) 683-4001 | http://www.sonree.com/ | [email protected] |
| Nerricky | Wingham NSW | N/A | https://www.nerricky.com/ | [email protected] |
| Aleya | Bargo NSW | (041) 380-4696 | https://www.aleyadachshunds.com.au/ | [email protected] |
| Basito | Eastwood NSW | (041) 143-0644 | https://basito-miniature-dachshunds.pbwebs.com/ | N/A |
| Rubystud | Tamworth NSW | (042) 992-0124 | https://rubystud.com.au/ | [email protected] |
Sonree
We are situated on the remote northern coast of New South Wales near Ballina. We have been selectively breeding miniature smooth dachshunds of top-notch quality for nearly four decades. Our canines are widely acknowledged for their exceptional disposition and breed standard; we prioritize good health and ensure our dogs are tested negative for any prevalent genetic defects.
A handful of our beloved canines have triumphed in esteemed contests like the Specialty and Royal Shows, in addition to emerging victorious as the Best in Show or Reserve to the Best in Show in both Specialty and All Breed events. Our reproduction practices are limited, yielding just one or two litters annually.
Name of Owner: Virginia Brown
Location: Ballina NSW
Phone: (026) 683-4001
Email: [email protected]
Website: Sonree
---
Nerricky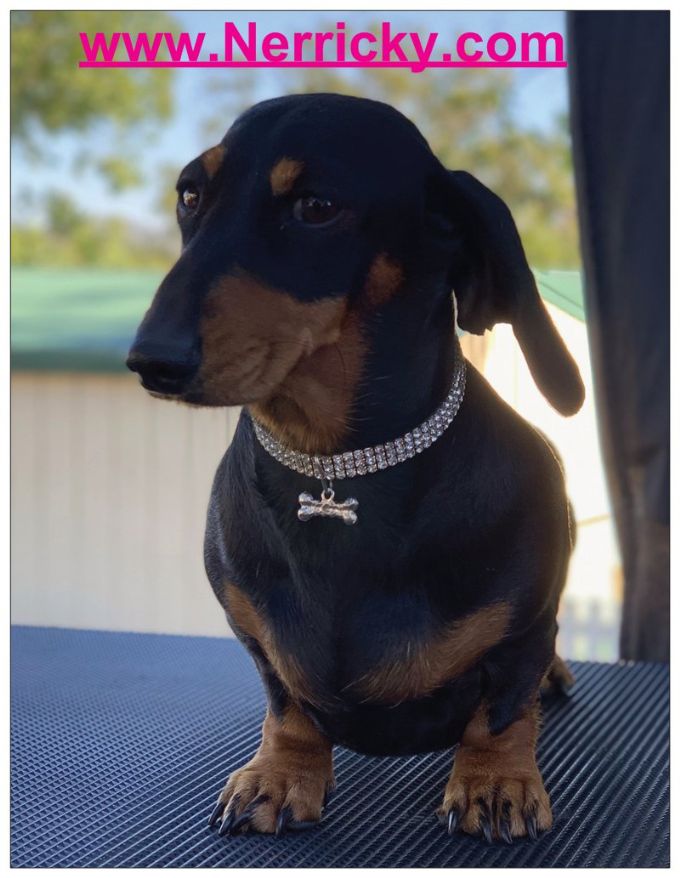 Greetings and welcome to the official website of Nerricky, a kennel dedicated to breeding top-notch Miniature Smooth Dachshunds of exceptional breed quality. Despite being a recent addition to the breeding industry, we take pride in our selective and meticulous approach to breeding these canines. Our kennel is located in Wingham, on the picturesque Mid-North Coast of New South Wales. Our breeding program strongly emphasizes canine health and temperament, which is why our foundation hounds undergo rigorous health screening procedures to ensure their well-being.
Name of Owner: Nerida Gilfillan
Location: Wingham NSW
Email: [email protected]
Website: Nerricky
---
Aleya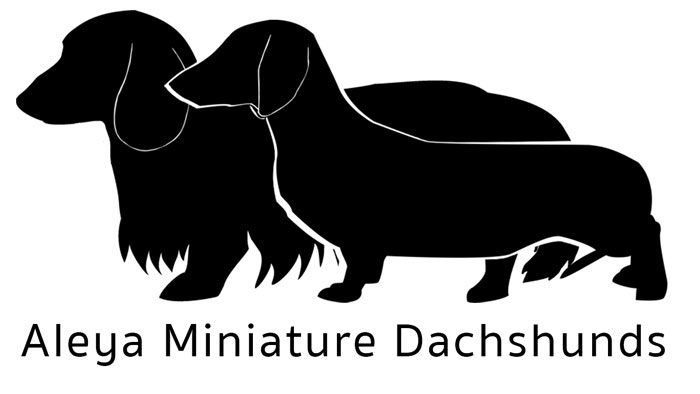 We warmly welcome Aleya Dachshunds, a registered breeder with Dogs NSW, specializing in breeding Miniature Dachshunds in smooth and long hair varieties. Our commitment to producing dogs that adhere to the Dachshund standard is paramount, so we participate in shows that enable us to refine our breeding techniques. Aleya kennel is based in Bargo, New South Wales. Our entire family, including my spouse and five children, is dedicated to raising healthy, joyful, and well-socialized puppies that we hope will become a cherished part of your family.
Name of Owner: Michelle Etherington
Location: Bargo NSW
Phone: (041) 380-4696
Email: [email protected]
Website: Aleya
Facebook Page: Aleya Facebook Page
---
Basito

Welcome to our ANKC Kennel, located in the Ryde area of Sydney. We are a registered breeder with Dogs NSW and have dedicatedly produced Miniature Dachshunds of exceptional quality, type, and temperament. Our commitment to the breed is evident through our membership in the Dachshund Club of NSW Inc.
As proud owners of two beautiful Miniature Dachshunds, AaShudna Oliver Brown and AaShudna Piccadilly Daisy, we have fallen in love with this beautiful breed. Our very first litter is due in mid-January 2020, and we are excited to share our passion for Dachshunds by producing happy, healthy puppies that are true to their standard.
Our dogs are integral to our lives, and we treat them as such. They live in our home, and we love nothing more than to snuggle with them on the couch, take them on car rides, walks and play with them. We believe these dogs deserve love and attention; in return, they show us endless love and loyalty.
We are committed to placing our puppies in loving homes that share our passion for Dachshunds. As you consider bringing a puppy into your family, please remember that they require time, love, and devotion. They will become a cherished member of your family, and we hope you will provide them with the love and attention they deserve.
Name of Owner: Annalisa Esposito
Location: Eastwood NSW
Phone: (041) 143-0644
Website: Basito
---
Rubystud
We breed Miniature Dachshund Smooth Haired to enhance and improve the breed. Our puppies come with vaccinations, microchipping, worming, a veterinary health certificate, limited registration papers (no breeding or showing), copies of parents' genetic health testing, and a puppy pack. We can arrange for puppies to be flown anywhere in Australia at the buyer's expense if needed.
Our puppies are raised as part of our family, and we only have two breeding girls to whom we devote all our time and attention. They are highly well-cared to and raised on a farm, so they are accustomed to cats, chickens, and other animals. We may have the perfect puppy if you're looking for a versatile little dog with heaps of personality and character! We occasionally have puppies available, so please check in with us to see when our babies will be ready for their forever homes.
Name of Owner: Amy Sheridan
Location: Tamworth NSW
Phone: (042) 992-0124
Email: [email protected]
Website: Rubystud
---
Short History of the Dachshund Breed
The Dachshund breed, also known as the "wiener dog" or "sausage dog," originated in Germany in the 16th century. They were initially bred for hunting small game, particularly badgers, which is where their name comes from (dachs means badger in German, while hund means dog). Dachshunds were specially designed for this task, with their long, narrow bodies and short legs allowing them to follow prey into their burrows. Over time, Dachshunds also became famous as companion dogs, thanks to their charming personalities and loyal natures.
Tips When Choosing a Dachshund Breeder
When choosing a Dachshund breeder, it's essential to do your research and find a reputable breeder dedicated to producing healthy, well-adjusted puppies. Here are a few tips to help you make the right choice:
Look for a breeder registered with a recognized breed association, such as the American Kennel Club or the Australian National Kennel Council. This ensures the breeder adheres to high animal welfare standards and breeding practices.
Visit the breeder in person and ask to see the puppies parents. This will give you a good sense of their temperament and overall health.
Ask the breeder about any health issues that are common in the breed and whether the puppies have been screened for these conditions. Reputable breeders will typically conduct genetic testing to ensure their puppies are free of hereditary health problems.
Check the breeder's references and online reviews. Look for feedback from previous customers to understand their experiences with the breeder.
Ask the breeder about their socialization practices and whether the puppies have been exposed to different people, animals, and environments. Socialization is critical for ensuring your new puppy grows into a well-adjusted and confident adult dog.
By following these tips and choosing a reputable Dachshund breeder, you can rest assured that you're bringing home a healthy and happy new furry friend.
Conclusion
Finding a Dachshund breeder in New South Wales is a great way to add a loving and playful companion to your family. Their unique appearance and friendly personalities make Dachshunds famous among dog lovers worldwide. By researching and choosing a reputable breeder, you can ensure your new furry friend will be healthy and happy for many years.
Image Credits:
https://depositphotos.com/240652464/stock-photo-dachshund-dog-portrait-spring.html
List of Dachshund Breeders