Are you looking for a furry friend to keep you company? Have you considered getting a Dachshund? These adorable little pups are known for their playful personalities and loving demeanor. In this article, we will explore the world of Dachshund breeders in Victoria, where to find the perfect pup, and what to look for when choosing a breeder.
List of Dachshund Breeders in Victoria
| | | | | |
| --- | --- | --- | --- | --- |
| Breeder | Location | Phone | Website | Email |
| Kamahi | Warrion, Victoria | (052) 348-224 | http://www.emmilinekamahi.com/ | [email protected] |
| Sarsica | Nyora, Victoria | N/A | N/A | N/A |
Kamahi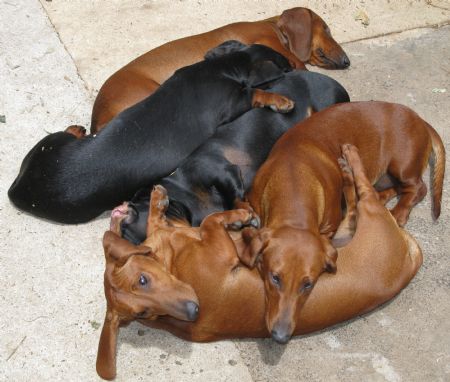 In 1972, Brenda Howell embarked on her journey with dachshunds and eventually established the Kamahi prefix in 1974. Her initial foray into the breed began with a miniature smooth from Dartlowe kennels. Later, she acquired a standard smooth bitch from the same breeder whose sire, Ch. Romalo Wringleader was a progenitor of several top-winning canines at that time, including Ch. Millewa Monarch.
The maiden litter bred by Kamahi in 1975 yielded Ch. Kamahi Kerri was a triumph in the show ring, having earned in-group, in-show, and Royal Challenge distinctions. Other notable canines that achieved great success under Kamahi's tutelage include Ch. Kamahi Krackerjack, Kamahi Bridget, Kamahi Sweet Charity, Ch. Kamahi Kolby, Kamahi Missionary Man, and Kamahi Kristine won the Royal Melbourne bitch challenge from the junior class and later became one of the leading smoothies in Western Australia.
Furthermore, American Grand Ch. Kamahi Klass Act claimed the title of the No.1 smooth dachshund in 2008 and 2009 and the No.6 hound in Hawaii for those years—meanwhile, Ch. Kamahi Amelia Jane, featured in the VCA calendar of 2007, was a particular favorite of enthusiasts owing to her excellent conformation and pleasing demeanor. As for miniatures, both Ch. Kamahi Alice and Ch. Kamahi Mistified stood out for their group and showed victories.
Name of Owner: Katrina Brooks
Location: Warrion, Victoria
Phone: (052) 348-224
Email: [email protected]
Website: Kamahi
---
Sarsica
Sarsica Miniature Dachshund Kennels have been passionately and successfully breeding these wonderful family-oriented dogs since 1995. Throughout our journey, we are proud to have won numerous Best of Breeds at prestigious events such as the Sydney Royals and Melbourne Royals.
Our breeding lines have been carefully and thoughtfully established through the selective breeding of English imported dogs. Our miniatures, including longhair and smooth hair varieties, have been bred to exhibit impeccable size, type, and temperament, and we take great pride in their beauty and demeanor.
Name of Owner: Vicki Pettigrove
Location: Nyora, Victoria
Facebook Page: Sarsica Facebook Page
---
Short History of the Dachshund Breed
The Dachshund breed, also known as the "sausage dog" or "wiener dog," originated in Germany in the 16th century. The breed was initially developed for hunting small animals such as badgers and rabbits, and their long, narrow bodies and short legs were ideal for tracking these creatures through tight spaces.
In the 19th century, Dachshunds became popular among royalty and soon became a favorite of Queen Victoria. Their popularity continued to grow, and they eventually became one of the most popular breeds in the United States.
Today, Dachshunds are still beloved for their playful personalities and affectionate nature. They come in various colors and coat types, including long-haired, wire-haired, and smooth-haired. While they may no longer be used for hunting, they continue to bring joy and companionship to families worldwide.
Tips When Choosing a Dachshund Breeder
When choosing a Dachshund breeder, it's essential to do your research and select a reputable breeder who prioritizes the health and welfare of their dogs. Look for breeders who are members of recognized breed clubs and organizations, as these groups often have strict codes of ethics and guidelines for breeding practices. Additionally, reputable breeders will typically conduct health screenings and genetic testing on their breeding dogs to ensure they are not passing on any hereditary health issues to their puppies.
It would help if you also asked to see the breeder's facilities and meet the puppies' parents to assess their temperament and overall health. A responsible breeder will be happy to answer any questions and provide information about the breed and their breeding program. Avoid breeders who do not allow you to see their facilities or meet the puppies' parents. Always prioritize the health and well-being of the dog over the price or convenience of obtaining a puppy.
How Much Does a Dachshund Cost?
The cost of a Dachshund can vary depending on several factors, including the breeder's location, the puppy's age and gender, and the puppy's pedigree. You can expect to pay between $500 and $2,000 for a Dachshund puppy. However, it's important to remember that the initial cost of the puppy is just the beginning, as you will also need to factor in ongoing expenses such as food, veterinary care, and grooming.
Do Dachshunds Make Good Pets?
Dachshunds can make excellent pets for the right owner. They are loyal and affectionate and often have a playful and energetic personality. However, it's important to remember that Dachshunds were bred for hunting so that they could be stubborn and independent-minded. They may also tend to bark excessively or become aggressive toward other animals. They can make excellent pets if you are prepared to provide proper training and socialization and will give your Dachshund plenty of attention and exercise.
Conclusion
Finding the perfect Dachshund pup in Victoria can be daunting, but it can be a fun and rewarding experience with the proper research and approach. Always choose a reputable breeder who puts the health and well-being of their dogs first, and be sure to ask plenty of questions. Remember, bringing a new furry friend into your home is a big decision, but with a little bit of patience and love, it can be one of the most fulfilling experiences of your life.
Image Credits:
https://depositphotos.com/6145054/stock-photo-dachshund.html
List of Dachshund Breeders