Welcoming a German Shepherd can bring unparalleled joy and loyalty to your family. However, finding the right German Shepherd breeder in Georgia is crucial to ensure you get a healthy and well-adjusted furry friend. This article will guide you through selecting a reputable breeder and everything you need to know about German Shepherds as pets.
List of German Shepherd Breeders in Georgia
| | | | | |
| --- | --- | --- | --- | --- |
| Breeder | Location | Phone | Website | Email |
| Beres Haus | Dawsonville, Georgia | (720) 277-1721 | http://www.bereshaus.com/ | [email protected] |
| Câine de Lup | Smyrna, Georgia | (404) 319-7035 | http://www.cainedelup.com/ | N/A |
| Southern Legacy German Shepherds | Monroe, Georgia | (404) 395-1252 | https://slgs.me/ | [email protected] |
| Kennels von Lotta | Locust Grove, Georgia | (404) 823-8234 | https://vonlotta.com/ | [email protected] |
| Altvater German Shepherds | Georgia | (706) 799-9976 | http://www.altvatergsd.com/ | [email protected] |
Beres Haus
Beres Haus intends to propagate exclusively West German Showline German Shepherds. They breed West German line German Shepherd canines selectively. These distinct breeds have been certified to produce offspring that excel in obedience, tracking, Schutzhund, personal protection, Show and Conformation, Search and Rescue, and family companionship.
Bev and Dan are the breeders at Beres Haus, where German Shepherds have been a family passion for generations. The family has owned German Shepherds for forty years to use them in therapy work. At Beres Haus, the goal is to breed family-friendly canines with improved temperaments.
The nature of their training produces offspring with superior temperament, attractive conformation, good health, and increased trainability. A German Shepherd from Beres Haus is the optimal addition to any family. Possessing numerous endearing qualities, they value the outdoors and are extremely friendly. They are friendly, intelligent, receptive, and gregarious!
You will have a new, special family member you will cherish for many years. The 'GSD for Veteran Heroes program at Beres Haus donates one puppy from each litter to a PTSD-afflicted military veteran. You can contact Bev and Dan by mail or visit the Beres Haus website for more information about their German Shepherds.
Location: Dawsonville, Georgia
Website: Beres Haus
Phone: (720) 277-1721
Email: [email protected]
---
Câine de Lup
There are puppies at the Caine de Lup kennel that are suitable for various professions, including police, family, protection, explosive, search & rescue, and sport dogs. Their breeding program meticulously preserves the German Shepherd's operational line markers.
Alex and Kristina, the breeders at Caine de Lup, conduct extensive research on both parents' pedigrees, strengths, and weaknesses to produce the finest puppies. Their breeding program consists of Slovak, Czech, Romanian, and German working lineages of the German Shepherd Dog. They also import puppies, as well as untrained and trained canines.
On their 11-acre property in Smyrna, there are two creeks where the dogs enjoy swimming and cool off in the summer. The acreage is ideal for training and allowing the canines to run and play. They routinely refresh the training of their titled dogs and perpetually work on obedience with their untitled dogs.
They constantly interact with the puppies, exposing them to new environments, other dogs, and noises to develop their self-assurance and composure. All of their canines receive timely veterinary care. There are FCI documents for imported canines and AKC records for domestically bred dogs. For more information about Alex and Kristina's intelligent German Shepherds, kindly call them or visit their website today.
Location: Smyrna, Georgia
Website: Caine de Lup
Phone: (404) 319-7035
---
Southern Legacy German Shepherds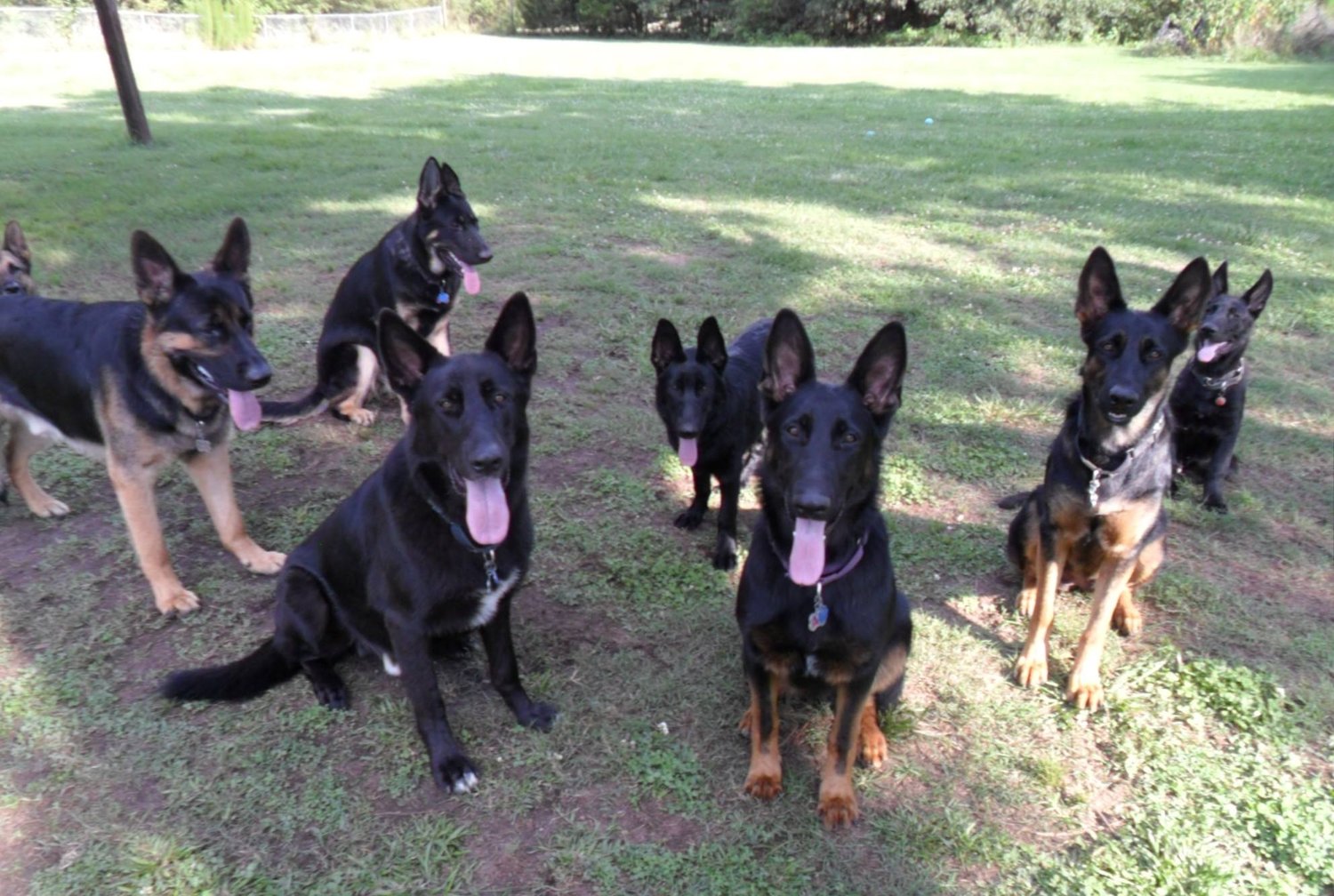 Michelle Brooks (Mitzi) is the breeder behind Southern Legacy German Shepherds. Having owned dogs her entire life, she discovered that German Shepherds matched her personality. She is a modest breeder who focuses on the health and temperament of her large, quaint German Shepherds.
Her dogs are considerably larger than the GSD standard dictates, but this does not harm their health. All the requisite health tests have been administered and confirmed. On the website, you'll find information about health screenings.
Mitzi focuses on what is important to her: the health and disposition of her offspring. The canines have medium to low activity levels, making them simple to train and ideal for families. She does not breed service dogs, excessively hyperactive, aggressive, or extremely angular canines.
Her home is where the puppies are born and nurtured! This means your puppy travels home with you, is already socialized with other dogs and cats, and is accustomed to the sights and sounds of a typical home. In addition, all canines are up-to-date on vaccinations and deworming.
The canines are sold as pets and companions. Mitzi's puppies are born to live in and be a part of a family, just as working dogs are bred to labor. Their low to medium drive makes it simple for new owners to match their energy level without the puppies losing their innate GSD instinct for family and home protection.
These gentle temperaments indicate that her dogs are equally content to play outside, lie at their feet, and interact with the family. Call Mitzi or visit the Southern Legacy German Shepherds website today for more information on their German Shepherds with moderate temperaments.
Location: Monroe, Georgia
Website: Southern Legacy German Shepherds
Phone: (404) 395-1252
Email: [email protected]
---
Kennels von Lotta
Yuliya, the breeder responsible for Kennels von Lotta German Shepherds, had her first offspring in 1993. Her affection for German Shepherds dates back to her childhood. Their canines are bred to be active, moderately protective, enthusiastic about spending time with and playing with their owners, and extremely trainable.
They perform best when included in daily family activities. Most of their breeding canines are imported from Germany for a wider selection of sires and dams. Only males with healthy hips and elbows, OFA or SV certification, training, titles, and sound show ratings are used for breeding.
The only method to attract the interest of a female German Shepherd is to title and show him. Please call Yuliya or consult the website immediately for more information about their German Shepherds.
Location: Locust Grove, Georgia
Website: Kennels von Lotta
Phone: (404) 823-8234
Email: [email protected]
---
Altvater German Shepherds
Altvater German Shepherds is a modest breeder that will only breed working-line German Shepherds with hip and elbow evaluations and genetic compatibility to avoid degenerative myelopathy.
They attempt to preserve the qualities that make the German Shepherd such a great dog while releasing as many canines as possible from the diseases that can result from irresponsible breeding. They endeavor to produce physically and mentally sound dogs with the temperament, instincts, and nerve to perform real work.
Their puppies suit various tasks, including protection, police, sport, farm labor, service work, and making the best family pet. They plan the future and potential reproduction so far in advance. With so much research behind them, you will receive a German Shepherd Dog with the ideal genetics, environment, and exposure.
Altvater German Shepherds is heavily involved in various rescue efforts and will eagerly refer you to shelters or rescue groups if you are not looking for a dog of working quality but would like to add one to your family. Visit the website immediately for more information about their German Shepherds.
Location: Georgia
Website: Altvater German Shepherds
Phone: (706) 799-9976
Email: [email protected]
Facebook Page: Altvater German Shepherds Facebook Page
---
Do German Shepherds Make Good Pets?
German Shepherds are renowned for their intelligence, loyalty, and versatility, making them excellent companions for various roles. As family pets, they are affectionate, protective, and great with children, forming strong bonds that last a lifetime. Their instincts as protectors make them ideal guard dogs, providing security for your home. However, they require consistent training and socialization to develop into well-behaved and well-rounded pets.
Short History of the German Shepherd Breed
The German Shepherd breed, developed in Germany during the late 19th and early 20th centuries, was originally bred for herding and guarding sheep. The breed's intelligence and agility made them indispensable working dogs. Later, their versatility led them to serve as police, military, and search-and-rescue dogs due to their keen sense of smell and obedience. Over time, their popularity as family pets soared, making them one of the most cherished dog breeds worldwide.
The Cost of a German Shepherd Puppy
The price of a German Shepherd puppy can vary depending on factors like the breeder's reputation, bloodline, health clearances, and demand. On average, a German Shepherd puppy from a reputable breeder in Georgia can cost anywhere from $1,000 to $3,000. Remember that investing in a well-bred and healthy puppy is essential for your new furry companion's long-term well-being and happiness.
Conclusion
German Shepherds are exceptional dogs that can enrich your life with loyalty, love, and protection. To find the perfect German Shepherd puppy in Georgia, research reputable breeders, consider health factors, and choose one that aligns with your values and requirements. Remember that a well-bred and well-trained German Shepherd can become a cherished family member for many years.
German Shepherd Breeders
Breeders in the UK – UK Rescues
Image Credits:
https://unsplash.com/photos/DnCAASEYNdM