Look no further than the German Shepherd breed if you're hunting for a loyal and intelligent canine companion. Renowned for their versatility, loyalty, and striking appearance, German Shepherds have become one of the most popular dog breeds worldwide. Suppose you reside in Australia and have decided that a German Shepherd is the perfect addition to your family. In that case, this article will guide you through finding reputable German Shepherd breeders in Australia.
List of German Shepherd Breeders in Australia
| | | | | |
| --- | --- | --- | --- | --- |
| Breeder | Location | Phone | Website | Email |
| Takimbre | Southern Tablelands NSW, Australia | (045) 518-1128 | https://www.takimbre.net/ | N/A |
| Ambala German Shepherds | Mulgoa NSW, Australia | (040) 101-9213 | https://www.ambalagermanshepherds.com/ | [email protected] |
| Masterton German Shepherds | Childers QLD, Australia | (074) 126-6177 | http://www.masterton.info/ | [email protected] |
| Gipfel German Shepherd Dogs | Wangaratta VIC, Australia | (041) 854-0466 | http://www.gipfelgsds.com/ | [email protected] |
| Kieserhund German Shepherd | Roadvale QLD, Australia | (054) 635-286 | http://www.dogs.net.au/kieserhundgsd/ | [email protected] |
| Durnstein German Shepherds | Sydney NSW, Australia | (040) 700-5990 | http://www.durnstein.net/ | [email protected] |
Takimbre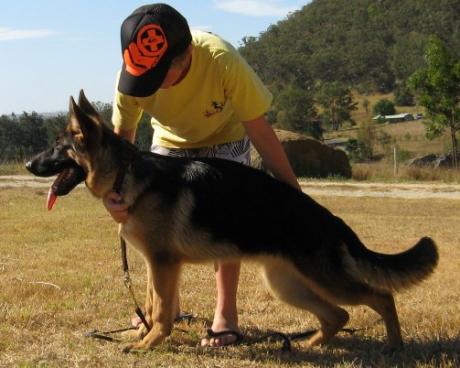 We are committed to breeding dogs with the correct type and sound temperament. We aim to produce puppies suitable for various purposes, whether for show, Obedience, or serving as loyal family companions. Over the years, our bred pups have excelled in a wide range of activities, including Show, Obedience, Agility, Jumping, Tracking, and even serving as Assistance Dogs, proving their versatility and excellence.
At the GSDCA 2015 AGM, the Affiliated Clubs' decision against a voluntary DM testing scheme raised some concerns. It was observed that a deregistered affiliate was allowed to vote, potentially impacting the outcome unconstitutionally. Despite this, we remain dedicated to using the DM test as a valuable tool in selecting breeding partners for our dogs.
Dogs NSW and GSDCA members support their respective breed programs and adhere to their respective codes of ethics. The recipient of the GSDCA Bronze and Silver Breeders Achievement Awards, we are currently pursuing the Gold.
All of our puppies and older dogs are sold under the stringent condition that our instructions regarding diet, weight control, exercise, Vitamin C use, and basic obedience training are strictly followed. Puppies may be purchased in installments beginning with a $500.00 holding deposit at the time of birth. Due to spam generated by emails sent through Hotmail, Gmail, and Yahoo, we may be unable to respond to inquiries from these sources.
Name of Owner: Colin and Shirley Ford
Location: Southern Tablelands NSW, Australia
Website: Takimbre
Phone: (045) 518-1128
---
Ambala German Shepherds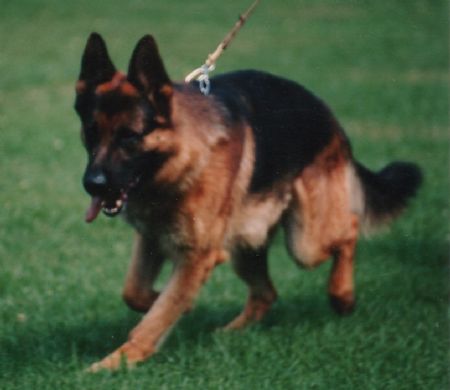 Ambala has received nine national medals, including Gold, silver, and bronze for hips and elbows. Additionally, all animals undergo hip and elbow x-rays and breed surveys. Breeding from German lineages for superior stock – breeders of numerous Excellent Select and Excellent rated stock – winners of the National Breeders Group, as well as Australian Obedience Champions – we breed for quality rather than quantity – our shepherds are reared with children and have outstanding personalities.
Name of Owner: Fay Stokes
Location: Mulgoa NSW, Australia
Website: Ambala German Shepherds
Phone: (040) 101-9213
Email: [email protected]
---
Masterton German Shepherds
We are proud to offer stud dogs that carry Germany's top bloodlines, ensuring the best qualities in our breeding program. Our commitment to excellence is evident in our care with all our breeding stock, ensuring they are x-rayed and meet the highest standards. As a result, our kennel has been honored with the prestigious Bronze, Silver, and Gold medals from the GSDCA for maintaining excellent hip and elbow health in our dogs.
Among our notable achievements, we are the proud home of the 2002 Bronze National Winner, "Barnie," an Australian GRAND Champion Crossfire Cantona (deceased). We have also celebrated the success of other exceptional dogs, including the NZ Gold Medalist Masterton Phar Lapp and NZ Gold Medalist Champion Crossfire Chatos County (deceased). Our roster includes the impressive German import Champion Fanto vom Team Fiemereck.
Name of Owner: Irene Hayton
Location: Childers QLD, Australia
Website: Masterton German Shepherds
Phone:(074) 126-6177
Email: [email protected]
---
Gipfel German Shepherd Dogs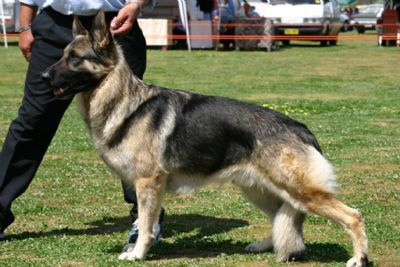 Welcome to our small kennel, where we are passionately dedicated to breeding top-notch German Shepherd Dogs you can be truly proud of. Our adorable puppies are raised with utmost care and love, ensuring they are well-socialized and ready to embrace their new forever homes
From the early stages, we ensure their well-being by worming them fortnightly, starting from just two weeks of age. At six weeks, they are vet checked, vaccinated, and micro-chipped, ensuring their health and safety.
When it comes to their early experiences, we ensure they are familiar with various surroundings, including the paraphernalia they will encounter in their new homes and other animals. This way, they transition seamlessly and comfortably into their new environment.
Name of Owner: Anthony Scarcella
Location: Wangaratta VIC, Australia
Website: GIPFEL German Shepherd Dogs
Phone: (041) 854-0466
Email: [email protected]
---
Kieserhund German Shepherd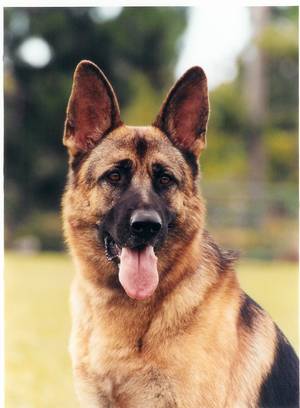 Kieserhund German Shepherds are selectively bred for their temperament. Although I strive to breed attractive dogs, my primary objective is to breed dogs solid in health, temperament, and desire to work. Most of a breeder's puppies go to pet homes, with only a small percentage going to the show ring; therefore, temperament is of the utmost importance, as these puppies will be around children and families and must be trustworthy, loyal, and protective.
All Kieserhund puppies are nurtured in a family environment, well-socialized and temperament-tested before entering their new homes, and hand-selected to suit each new owner. I also provide ongoing support and guidance. I served on the committee of the German Shepherd Dog Club of Queensland for three years, contributing to the improvement of the breed and responsible ownership. Kieserhund has been awarded the bronze medal for canines bred and evaluated under the Hip and Elbow Scheme of the German Shepherd National Council. Dogs Australia (Canine Control Council of Queensland) has also conferred us "Accredited Breeder" status for meeting the required Veterinary, Health & Welfare, buyer, and breeder recommendations.
Name of Owner: Sue Robertson
Location: Roadvale QLD, Australia
Website: Kieserhund German Shepherd
Phone: (054) 635-286
Email: [email protected]
---
Durnstein German Shepherds
At our small and selective kennel, we take great pride in breeding German Shepherds that excel in showmanship, Obedience and make loyal companions. Our dedication to breeding excellence has resulted in producing specialist show winners, dogs with titles such as Excellent Select, Excellent, Champion, and Breed Surveyed, as well as accomplished Obedience Titled, E.T., Dual Titled, and A Z Stamped German Shepherds.
We are honored to have achieved significant recognition in the German Shepherd community. Notably, we are the proud winners of the Bronze & Silver WUSV Medal at National German Shepherd Shows, a testament to the quality of our breeding program. Additionally, we have been awarded the Bronze and Silver Breeder's Achievement Award Medal by the German Shepherd Dog Council of Australia for our unwavering support of the Hip Dysplasia Improvement Scheme.
Our commitment to breeding outstanding German Shepherds is evident in every aspect of our work. We carefully select our breeding pairs to ensure the best possible genetic traits are passed on to the next generation. We prioritize our dogs' health, temperament, and conformation, striving to maintain the breed's excellence.
Name of Owner: Frances
Location: Sydney, NSW, Australia
Website: Durnstein German Shepherds
Phone: (040) 700-5990
Email: [email protected]
---
Do German Shepherds Make Good Pets?
German Shepherds are excellent pets for the right owners. They are known for their loyalty and protective nature, making them great family dogs. They are intelligent and trainable, making them suitable for various roles, including service dogs, police work, search and rescue, and even therapy dogs. However, they require regular exercise, mental stimulation, and socialization to thrive as pets.
Conclusion
German Shepherds are remarkable dogs with a rich history and impressive skills. As pets, they offer their families loyalty, love, and protection. When looking for a German Shepherd breeder in Australia, take the time to research, visit facilities, and choose a responsible breeder who prioritizes the health and well-being of their dogs. Owning a German Shepherd can be a rewarding experience, but it requires commitment and responsible ownership.
German Shepherd Breeders
Breeders in the UK – UK Rescues
Image Credits:
https://unsplash.com/photos/i1AS4tkfbj4