German Shepherds are famous for being the most intelligent breed of dog in the world. They are also one of the most popular breeds due to their loyal and loving nature. If you're looking for a German Shepherd breeder in New South Wales, Australia, we have compiled a list of some of the top German Shepherds breeders in and around Sydney and Newcastle to help you find your perfect pup.
How to Choose German Shepherds Breeders in NSW
When it comes to picking the German Shepherd breeders in NSW, there are many factors you should take into consideration when deciding who to buy your puppy from. It is important that you do your research before buying a dog so that you can make the best decision for yourself and your family. We will go over some of the most important factors below:
1) Ask around –Talk to friends and family members who have dogs or have had experience with different breeds of dogs before. They will most likely have good information about where they went and what their experiences were like.
2) Ask the breeder – How much experience they have to raise this particular breed – it should take at least 10 years of experience before someone can really get down all the nuances.
3) Check medical history and checks health of the parents – You should look at the medical history of the puppy's parents. A well-known breeder has a medical history for both parents, as well as they suggest a vaccination schedule for giving puppies.
The German Shepherd is one of the most popular breeds in Australia. They are known for their intelligence, strength and loyalty. They are also considered to be highly adaptable, which makes them excellent working dogs. However, this breed can be challenging to find a suitable home for because they require lots of space and exercise time outside your home daily. If you're looking for a German Shepherd breeder in NSW, this guide will help!
List of German Shepherd Breeders In NSW
| | | | | |
| --- | --- | --- | --- | --- |
| Breeder | Location | Phone | Website | Email |
| Takimbre | Southern Tablelands NSW | (455) 181-128 | https://www.takimbre.net/ | N/A |
| Sunhaze | Hunter Valley NSW | N/A | http://www.sunhaze.net | N/A |
| Ambala | Mulgoa NSW | (401) 019-213 | https://www.ambalagermanshepherds.com | N/A |
| Durnstein | Sydney NSW | (407) 005 990 | http://www.durnstein.net | N/A |
| Freevale | Sydney NSW | (247) 740-286 | http://freevale.homestead.com/ | N/A |
| Kelinpark | Grafton NSW | (428) 473-185 | https://www.dogzonline.com.au/ | N/A |
| Lawine | Kenthurst NSW | (296) 543-282 | http://www.lawinegsd.com | [email protected] |
| Amberg | High Range NSW | (478) 580-960 | https://www.dogzonline.com.au/ | N/A |
Takimbre
Breeding for correct type and temperament in dogs. When available, puppies are ideal for obedience competitions or as a faithful family companions. Our puppies have excelled in Show, Obedience, Agility, Jumping, Tracking, and Assistance Dog competitions, but most importantly, as devoted family pets.
Members of Dogs NSW (RNSWCC) and GSDCA Affiliate adhere to their Code of Ethics and promote their breed initiatives. The recipient of the GSDCA Bronze and Silver Breeders Achievement Awards, we are currently pursuing the gold. All of our pups and older dogs are offered under the strict condition that our advice regarding diet, weight control, exercise, Vitamin C use, and basic obedience training is rigorously followed.
Name of Owner: Colin & Shirley Ford
Location: Southern Tablelands NSW
Phone: (455) 181-128
Website: https://www.takimbre.net/
---
Sunhaze
Consistent breeders of clever, good-natured German Shepherds. A successful show kennel that also breeds exceptional temperament and health. Our puppies are not available for breeding or export, only for permanent, loving pet homes.
Name of Owner: Greg Angwin & Toni Gale
Location: Hunter Valley NSW
Website: http://www.sunhaze.net
---
Ambala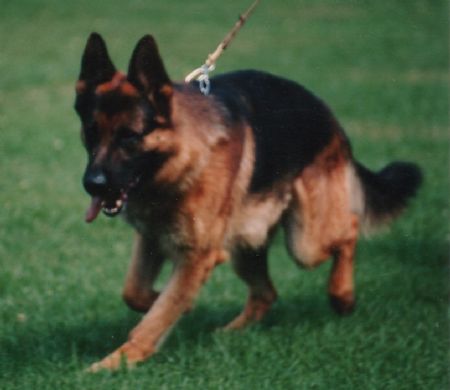 Ambala receives nine national medals, including gold, silver, and bronze for hips and elbows. Additionally, all animals undergo hip and elbow x-rays and breed surveys. Breeding from German bloodlines for quality stock; breeders of many Good Select and Excellent graded stock; winners of National Breeders Group; and Australian Obedience Champions; we breed Quality than quantity; our shepherds are raised with children and have excellent personalities.
Name of Owner: Fay Stokes
Location: Mulgoa NSW
Phone: (401) 019-213
Website: https://www.ambalagermanshepherds.com
---
Durnstein
A small kennel that breeds German Shepherds for show, obedience, and as devoted friends. Breeder of speciality show winners, Excellent Select, Excellent, Champion, Breed Surveyed, Obedience Titled, E.T., Dual titled, and A to Z German Shepherds. Winner of the Bronze & Silver WUSV Medal at National German Shepherds Shows and a recipient of the Bronze & Silver Breeder's Achievement Award Medal from the German Shepherd Dog Council of Australia for supporting the Hip Dysplasia Improvement Scheme.
Name of Owner: Frances
Location: Sydney NSW
Phone: (407) 005 990
Website: http://www.durnstein.net
---
Freevale
At freevale, the home of the grand champions, our puppies are of the highest quality and are selectively bred with an emphasis on type, soundness, and temperament. Freevale is the only breeder to have produced four grand champions, multiple Best in Show winners, Royal Best of Breed and Royal Group winners, National winners, and Specialty winners. Additionally, freevale is the breeder of numerous champion show-winning German Shepherds. Our puppies are exclusively available to families in which they will thrive
Freevale is one of the top breeders of German Shepherds due to years of breeding to the highest standards with the utmost care and planning. The GSDCA has awarded Freevale the Bronze and Silver medals for producing dogs with excellent hips and elbows. We only breed from dogs that have completed their hip and elbow tests and from dogs with low scores.
Name of Owner: Caryl & Matthew Morris
Location: Sydney NSW
Phone: (247) 740-286
Website: http://freevale.homestead.com/
---
Kelinpark
We have 30 years of experience exhibiting, trialing, and producing exceptional German Shepherds on the NSW North Coast. In every litter I breed, I strive to create attractive, healthy puppies with outstanding temperaments suited for exhibiting obedience, tracking, agility, etc., making excellent household pets.
Name of Owner: Lyn Gregor
Location: Grafton NSW
Phone: (428) 473-185
Website: https://www.dogzonline.com.au/
---
Lawine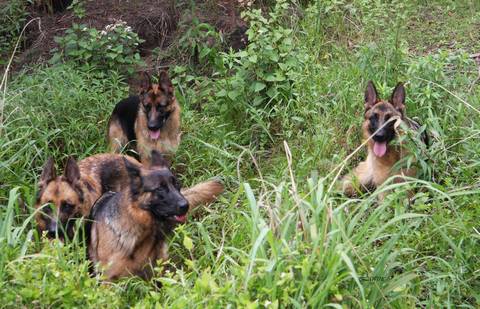 Lawine Kennels belongs to the GSDL and RNSWCC. We engage in the GSDCA's programs. We breed for quality and disposition without sacrificing type. We've been lucky to have several beautiful, sturdy foundation females who have shaped our kennel's current character. Our ancestry is entirely German and European.
Our German shepherds are suitable as household pets, show animals, and obedient dogs. Litters are produced by parents who have received the "A" and "Z" stamps (hip and elbow dysplasia), have been breed surveyed, and have been screened for current diseases.
Name of Owner: Denise Smith
Location: Kenthurst NSW
Phone: (296) 543-282
Website: http://www.lawinegsd.com
Email: [email protected]
---
Amberg
Amberg is a small kennel that breeds quality German Shepherd Dogs for home and competition. Puppies are sometimes available. Member GSDL. Our adorable dog, Diego vom Hasseltal, has now adjusted well. And he has achieved Breed Survey Class 1. He is currently also rated as multi-Excellent.
Name of Owner: Mrs Lee Baker
Location: High Range NSW
Phone: (478) 580-960
Website: https://www.dogzonline.com.au/
---
A short history of the German shepherd breed
In the late 1800s, German shepherds were used for herding and guarding. These dogs were initially bred for those jobs, but over time they became more versatile and used in other ways.
The first registered German Shepherd was born in 1904 in England. That same year, Germany also registered its first herd of these dogs with the Imperial Kennel Club and named them Deutsche Schaferhunde (German Shepherds). The breed gained popularity across Europe after World War I broke out; however, due to restrictions on importing or exporting certain breeds of livestock at this period (such as sheep), there weren't many opportunities available for people looking forward to purchasing German Shepherds outside of Europe until after World War II ended up being over!
Tips when choosing a German shepherd breeder
Look for a breeder member of the Australian Shepherd Club of NSW.
Look for a breeder who has been in business for at least five years and has more than one litter per year.
Ask to see the parents of your puppy, if possible. This will help you get an idea of their temperament and how well they've been socialized with other dogs or people (or both).
Ask to see health records and vaccination certificates from every previous vet visit and copies of their veterinary bills from each visit(s).
How much does a German shepherd cost?
As with most other breeds, the cost of a German Shepherd varies depending on what you want. The average price is around $500 to $5000. Still, it can be considerably higher or lower depending on the quality of your dog and how many puppies are available at the time of purchase. If you're looking for an adult dog rather than a puppy, then costs will generally be higher because they tend to have more training already under their belt than young pups do.
If you're wondering if there's anything else I should know about: no! Once again—and I'm saying this because it's something we get asked all the time—the answer is yes! There's nothing unique about our breed that makes them more expensive than any other breed; however, there are some things special about owning one (or multiple) German Shepherds:
Do German Shepherd make good pets?
The German Shepherd is a loyal and protective breed. They are also brilliant and can be trained to do many different tasks. These dogs make good pets for people with children or other pets they want to protect.
Conclusion
If you want to purchase a dog, it is essential to make sure that you choose the right breeder. There are many reputable breeders in NSW, and you can find one that will meet your needs and expectations.
Image Credits:
https://depositphotos.com/6959603/stock-photo-two-german-shepherd-dog.html