The Labradoodle breed can be the perfect fit if you're looking for a new puppy to add to your family. These dogs are easy-going and affectionate, which makes them ideal companions for kids and adults alike. If you're thinking about getting a labradoodle but aren't sure where to start or what to look out for when picking a breeder, this article will provide all the information you need.
List of Labradoodle Breeders in Pennsylvania
| | | | | |
| --- | --- | --- | --- | --- |
| Breeder | Location | Phone | Website | Email |
| Maple Lane Australian Labradoodles | Annville, Pennsylvania | N/A | https://www.maplelanedoodles.com/contact | [email protected] |
| Spring Valley Australian Labradoodles | Kennett Square, Pennsylvania | N/A | https://www.springvalleydoodles.com/contact-us/ | [email protected] |
| Slate Ridge Labradoodles | Delta, Pennsylvania | (717) 825-6942 | https://slateridgelabradoodles.com/ | N/A |
| Bolingo Labradoodles | Red Lion, Pennsylvania | N/A | https://www.bolingolabradoodles.com/ | [email protected] |
| Windsor Creek Labradoodles | Windsor, Pennsylvania | N/A | https://www.windsorcreeklabradoodles.com/ | [email protected] |
Maple Lane Australian Labradoodles
Maple Lane Labradoodles is a tiny family-run business with a genuine passion for this breed and its puppies. Because they are small businesses, they can devote sufficient time to socializing and caring for their puppies.
They belong to the American Australian Labradoodle Association and the World Australian Labradoodle Association. This indicates that they adhere to all health, registration, and breeding requirements to be a part of these organizations. You may rely on this breeder to give you socialized, healthy puppies. Their puppies cost $3,500 after Pennsylvania sales tax is added.
Location: Annville, Pennsylvania
Website: Maple Lane Australian Labradoodles
Email: [email protected]
Facebook Page: Maple Lane Australian Labradoodles Facebook Page
---
Spring Valley Australian Labradoodles
Spring Valley Australian Labradoodles describes itself as a one-woman operation. The owner/breeder is a single mother who lives in a historic Pennsylvania home with her family and only one dog at a time. They have guardian homes for their dogs to be permanent family members.
Due to the safety of the pups as well as the protection of their home environment, Spring Valley does not permit puppy visits before pick-up. They do update prospective owners frequently with photographs. The price of these puppies is $3000 plus tax, regardless of gender or color. This is a fixed fee for a puppy.
Location: Kennett Square, Pennsylvania
Email: [email protected]
Website: Spring Valley Australian Labradoodles
Facebook Page: Spring Valley Australian Labradoodles Facebook Page
---
Slate Ridge Labradoodles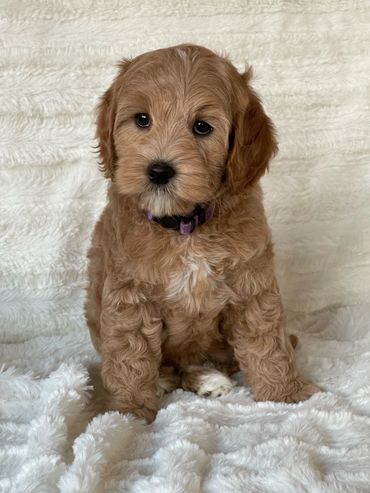 Small breeder Slate Ridge Labradoodles is an Australian Labradoodle Association of America the silver paw breeder. They specialize in tiny and medium Labradoodles. Slate Ridge is upgrading its website, but pricing information, images of available puppies, and what is included in the purchase price are still accessible.
Although the website is undergoing maintenance, the company is still active on Facebook and receptive to messages and contact forms. We are convinced that this breeder will not take advantage of you or mistreat your animals.
Puppies cost $2,700 and include a two-year health guarantee, first vaccinations, thirty days of health insurance, a bag of food, a leash, a collar, a blanket, and shampoo.
Location: Delta, Pennsylvania
Phone: (717) 825-6942
Website: Slate Ridge Labradoodles
Facebook Page: Slate Ridge Labradoodles Facebook Page
---
Bolingo Labradoodles
Bolingo Labradoodles are the place to go if you are searching for a breeder with an incredible backstory and a commitment to giving back each time a puppy is sold. This is a family-run business, and according to the proprietor, "half of her heart is in Uganda," hence the name.
In Uganda, the owners have adopted orphans and work with them. Each purchase of a puppy supports the family's international endeavors. This wonderful dog will benefit many individuals, not just your family.
The Australian Labradoodle Association of America has accredited Bolingo as a gold paw breeder. They are a reliable breeder who will provide your family with a socialized and healthy labradoodle. If you have a house full of children and are concerned about your puppy's ability to manage the noise and commotion of a family, you may want to consider utilizing this breeder.
Because the puppies are raised with the sounds and activities of a typical household, you may be confident that they can adapt to your family's lifestyle.
Bolingo Puppies are priced at $2,850 plus tax. They do want a $500 payment before the delivery of the puppies or $800 after birth. The deposit is deducted from the total price. They accept PayPal payments, although there is a cost associated with doing so.
Location: Red Lion, Pennsylvania
Website: Bolingo Labradoodles
Email: [email protected]
Facebook Page: Bolingo Labradoodles Facebook page
---
Windsor Creek Labradoodles
If you are searching for an experienced breeder who has been doing this for a long time, you may want to choose this breeder. Since at least 20 years ago, this breeding company has produced healthy and content companion Labradoodles. They are pretty upfront and encourage potential puppy owners to come.
During these visits, precautions are taken to protect the puppies from contagious infections. Despite this, they have no problem with people seeing where the puppies are and how the breeding partners live. Always a positive indicator that the breeder is not a puppy mill. Some breeders do not want their home lives disrupted and are highly cautious about parvo. Likewise, this is entirely fine.
Another breeder utilizes the guardian program to allow their breeding pups to grow in a home setting. After its reproductive career, the dog is spayed or neutered and then lives out the remainder of its life with the guardian family. Every breeder on the list utilizes this program. Puppy mills do not engage in this practice.
The price of puppies from Windsor Creek is $3000 plus tax, and a $500 deposit is required to reserve a spot. They do not ship puppies but will meet the new owners at a local airport with the puppy so that they can fly home together.
Location: Windsor, Pennsylvania
Website: Windsor Creek Labradoodles
Email: [email protected]
Facebook Page: Windsor Creek Labradoodles Facebook Page
---
Tips When Choosing a Labradoodle Breeder
Check the breeder's credentials. A good breeder will have many years of experience breeding dogs and should be able to provide you with references from other breeders and veterinary professionals who worked with them in the past.
Ask for references from previous owners of their puppies so you can get a feel for how well they've been cared for by their current owners.
Ask about health testing on older dogs before making a purchase decision, mainly if the puppy is sold as show quality (this may cost extra).
If you are looking for a particular breed, ask the breeder if they have any puppies available. You can also try searching for local breeders on the OFA website or by visiting it.
Short History of the Labradoodle Breed
The Labradoodle is a breed of dog bred to be a guide dog for the blind. However, the breed is now seen as a family pet or companion due to its friendly demeanor and intelligence. The origins of this dog can be traced back to 1966 when Dr. Ralph Labonte wanted to create an all-purpose retriever that could also serve as an assistance dog for those who are visually impaired; he bred two Labrador Retrievers together with Poodles so they could get rid of their shedding coats while still retaining some of their hunting skills from previous generations. The result: A new breed called "Labradoodle."
How Much Does a Labradoodle Cost?
The cost of a Labradoodle puppy depends on the breeder but can range from $1,000 to $2,000. While you might be able to save money by adopting a dog from a shelter or rescue organization and raising it yourself, it's important to remember that puppies are expensive. They're often one of the most costly things in life!
The expense associated with owning an adult labradoodle includes food (about $300 per month), vet bills ($250-$300), and training costs ($500-$700).
Conclusion
The Labrador Retriever is a beautiful dog that any family would be happy to have. It is an intelligent, playful, and affectionate breed that has excellent qualities as a companion. With so many different colors, sizes, and patterns available in this breed, it can be challenging to find the right one for you or your family! However, with proper research and care, it will be easy to find just what you need from this beautiful breed!
Labradoodle Breeders
Image Credits:
https://depositphotos.com/49232291/stock-photo-labradoodle.html