The Labradoodle may be your breed if you've been searching for the perfect dog. These dogs are known for their intelligence and loyalty. This makes them great companions as well as hunting partners. In addition to being energetic, Labradoodles are also great with children and other pets. If you are in search of Labradoodle dog breeders, then check out the list of Labradoodle Breeders In North Carolina below:
List of Labradoodle Breeders In North Carolina
| | | | | |
| --- | --- | --- | --- | --- |
| Breeder | Location | Phone | Website | Email |
| DownUnder Labradoodles | Raleigh, North Carolina | (919) 863-0000 | https://www.labradoodle.biz/ | butchcharlton@icloud.com |
| Good Day Doodles | Greensboro, North Carolina | (336) 505-9606 | http://gooddaydoodles.com/ | info@gooddaydoodles.com |
| Brown Labradoodles | Browns Summit, North Carolina | (336) 543-7408 | https://www.brownslabradoodles.com/ | brownslabradoodles@gmail.com |
| Beach Doodles | Wilmington, North Carolina | (336) 444-9910 | https://www.beachdoodlesnc.com/ | beachdoodlesnc@gmail.com |
| Charlotte Labradoodles | Matthews, North Carolina | (704) 445-4750 | https://charlottelabradoodles.com/ | info@charlottelabradoodles.com |
DownUnder Labradoodles
One of the first places in the U.S. to breed True Australian Multigenerational Labradoodles was DownUnder Labradoodle Puppies in North Carolina. In 2002, Butch Charlton, the founder of the Australian Labradoodle Club of America, hand-selected the first progenitors of all of their adorable puppies from a meticulously examined line in Australia. Their extensive history makes them one of the most recognized Labradoodle breeders in North Carolina.
Those early canines exemplified a lineage of the greatest quality Australian doodles that now comprise DownUnder Labradoodles. On the Charltons' gorgeous property in Raleigh, North Carolina, the puppies grow up frolicking and playing with their siblings while undergoing daily socialization and temperament conditioning.
These doodles, which are easily trainable and have allergy-free, non-shedding fleece coats, are the ideal family companion for folks who do not want dog hair all over their home. This Gold Paw breeder adheres to the most stringent ALAA ethical breeding standards, so you can be assured that your Labradoodle puppy was nurtured in a wholesome environment. All dogs and litters are housed within the Charlton household until they are adopted.
Even though they are not listed on their website, it is a fair assumption that these high-quality Australian doodles are well worth the investment, as they come de-sexed and microchipped with a health guarantee and lifetime assistance from DownUnder Labradoodles. If you're searching for an Australian Labradoodle puppy in North Carolina, DownUnder is your best bet.
Location: Raleigh, North Carolina
Email: butchcharlton@icloud.com
Phone: (919) 863-0000
Website: DownUnder Labradoodles
Facebook Page: DownUnder Labradoodles Facebook Page
---
Good Day Doodles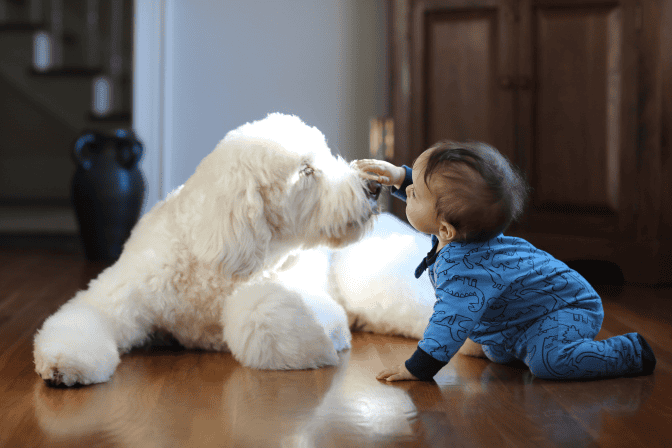 Good Day Doodles North Carolina believes in the established benefits of neurological stimulation, including better cardiovascular performance, disease resistance, adrenal function, and stress tolerance. Every Labradoodle puppy born here receives daily inspiration, which makes them more interested than their colleagues. It also reduces their anxiety and terror later in life.
Before adoption, each puppy is screened for hereditary eye and heart illnesses and hip and elbow conditions such as dysplasia. In addition, this North Carolina Labradoodle breeder socializes their puppies with men, women, and children, allowing for a smooth transition into your family. In addition to being adaptable, your new Labradoodle puppy in North Carolina will be spayed or neutered, up-to-date on vaccines, de-wormed, and microchipped.
You can choose from a vast selection of tiny, medium, and standard poodle puppies. Regardless of size or color, the Labradoodle price is $3250, with a $500 deposit for those on the coveted waiting list.
Location: Greensboro, North Carolina
Email: info@gooddaydoodles.com
Phone: (336) 505-9606
Website: Good Day Doodles
Facebook Page: Good Day Doodles Facebook Page
---
Brown Labradoodles

Beginning with a passion for chocolate labs, the family transitioned to a large-scale breeding operation after discovering the Labradoodle's calmer, more obedient temperament.
In addition to neurological Puppy Culture Protocols, the Labradoodle puppies at Brown are given the finest possible start in life, benefiting from their well-bred parents' health and kind disposition. Brown Labradoodles NC works diligently to assure you will have a lifetime of happiness with your doodle without incurring a lifetime of veterinary costs through rigorous testing designed to prevent inherited disorders.
This North Carolina Labradoodle breeder also discovered that nothing beats affection and meaningful time with humans for a healthy start to life. Because a well-adjusted parent means a well-adjusted puppy, all of their mothers and sires are housed in Guardian homes rather than kennels.
If you are interested in adopting one of these generous dogs, the costs are as follows: $1,400 for F1 puppies, $2,500 for Multigenerational or Foundation ALD puppies, and $2,750 for ALDs. These costs are reasonable for Labradoodle puppies in North Carolina.
Location: Browns Summit, North Carolina
Email: brownslabradoodles@gmail.com
Phone: (336) 543-7408
Website: Brown Labradoodles
Facebook Page: Brown Labradoodles Facebook Page
---
Beach Doodles
Nina Blackwell was a deputy sheriff for almost seven years. As a first responder, she saw things no one should ever have to see. As a result, she needs the assistance of a multitasking service dog. She desired a puppy with the ideal disposition to grow with her, so she began breeding Labradoodles, whose temperament was a perfect match. Beach Doodles North Carolina was established due to her innate desire to assist people.
Their innate disposition appears to be intended for service, given their brilliance, boundless energy, and enduring optimism. They require only minor adjustments along the way. The North Carolina Labradoodle puppies get temperament training, neurological stimulation, and socialization to tap into the doodle's innate capacity to learn and adapt. Therefore, they produce excellent hypoallergenic service dogs for veterans, first responders, the disabled, the elderly, and others with specific needs.
Twice a year, Nina will choose a puppy from each litter that appears superior to its siblings for service dog certification. These puppies are enrolled in service dog school from birth to the age of nine weeks! Contact Nina at the below coordinates for information on adopting a service or therapy dog. Puppies designated for the role of family pet are priced at $3500. If you are interested in acquiring a service dog, contact this breeder.
Location: Wilmington, North Carolina
Email: beachdoodlesnc@gmail.com
Phone: (336) 444-9910
Website: Beach Doodles
Facebook Page: Beach Doodles Facebook Page
---
Charlotte Labradoodles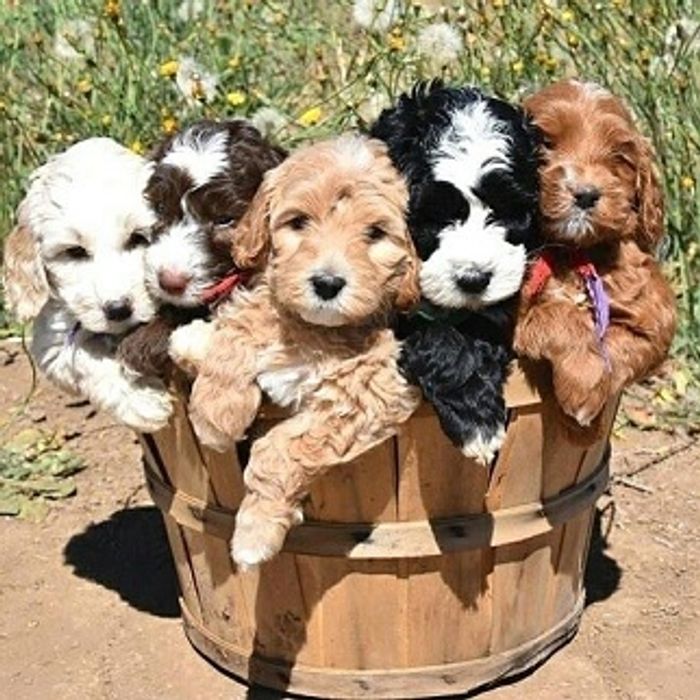 The Labradoodle pups in North Carolina receive all the affection and care you could ever want for your new furry pet. They begin their lives in breeder Cynthia Koffman's family basement whelping and transitional area, where they enjoy playing and terrifying themselves with their own mirror (always entertaining to observe!).
The next day, she graduates to her half-acre backyard's new sounds and sensations. In addition to all the standards required for Gold Star breeder certification, these little boys have a TON of fun! Charlotte Labradoodles NC can offer a 2-year health guarantee on these Labradoodle puppies because they undergo comprehensive testing for eye, hip, and elbow abnormalities. Even in these weird COVID-19 times, there are numerous ways to keep adoptive parents apprised of the condition of their puppies.
You will receive regular updates outlining the breeding process, pregnancy, and birth, and you can even track the development of your Labradoodle via their puppy camera. You will finally have the opportunity to see them at six weeks old during an open house weekend.
You will bring your new furry buddy home with up-to-date vaccinations, ALAA registration, a stuffed toy, and a blanket with mommy's fragrance for a smooth transition. All sizes, genders, and colors of puppies cost $2850. This Labradoodle breeder in North Carolina is unquestionably trustworthy.
Location: Matthews, North Carolina
Email: info@charlottelabradoodles.com
Phone: (704) 445-4750
Website: Charlotte Labradoodles
Facebook: Charlotte Labradoodles Facebook Page
---
Tips When Choosing a Labradoodle Breeder
Before you choose a breeder, you must be sure they know about the breed. A good breeder will have been involved with the Labrador Retriever for many years and can advise you on how to care for your dog.
It would help if you also chose a breeder who has a good reputation and has been breeding Labradoodles for long enough so that they know what they are doing. If possible, check out their website or contact them directly by phone or email before deciding if this is a good fit for you and your family.
Finally, if there aren't any puppies available when looking at potential puppy sellers, don't worry! This doesn't mean anything negative about either party—it just means that maybe they haven't had enough time yet (or maybe at all). Still, these things sometimes happen, especially when dealing with small breeders who don't have much inventory.
How Much Does a Labradoodle Cost?
The price of a labradoodle will vary depending on the breeder, the size of the dog, and whether it is male or female. The average cost for an adult Labradoodle puppy range from $800 to $1,000.
Conclusion
If you are a dog owner in North Carolina looking for a new breed of dog, the Labrador Retriever is an excellent choice. These dogs have been bred over many years to be loyal and gentle companions who love being close to their owners.
Image Credits:
https://depositphotos.com/65374131/stock-photo-dog-australian-labradoodle.html