If you're looking for a new dog, you may consider adopting a Labradoodle. This adorable puppy has been gaining popularity over the last few years and is quickly becoming one of the most popular breeds in the United States. But with so many dog breeders, how do you know which will be best for your family? Read on to find out what makes this breed unique from other dogs and how much they cost!
List of Labradoodle Breeders in Ohio
| | | | | |
| --- | --- | --- | --- | --- |
| Breeder | Location | Phone | Website | Email |
| Deer Pines Labradoodles | Clinton, Ohio | (330) 329-7340 | https://deerpineslabradoodles.com/ | N/A |
| Heritage Manor Labradoodles | Walton Hills, Ohio | (216) 978-6750 | https://heritagemanorlabradoodles.com/ | N/A |
| Ohio Valley Labradoodles | Conover, Ohio |  n/a | http://www.ohiovalleylabradoodles.com/ | [email protected] |
| Labradoodles on Main | Findlay, Ohio | (419) 348-0973 | https://labradoodlesonmain.com/ | N/A |
| Magnolia Australian Labradoodles | Crestline, Ohio | (419) 571-6471 | http://www.magnoliaaustralianlabradoodles.com/ | N/A |
| Riverbend Labradoodles | Fayette, Ohio | (419) 583-7060 | https://riverbendlabradoodles.com/ | N/A |
Deer Pines Labradoodles
Ohio's Deer Pines Labradoodles is a small home-based breeding company. They deploy the guardian program for breeders unable to house themselves. This is a program that facilitates the placement of growing pups with homes. Once sexually mature, they will remain with the family until the puppies are born. They then return to the family of the guardian. The owners began breeding Labradoodles due to their affection for the breed. Additionally, they desired the companionship of dogs once their children departed for college. These canines are raised as if they were their children.
Puppies from Deer Pines are guaranteed to be healthy and well-adjusted. They provide lifetime assistance and guidance for your Labrador retriever. You may contact them for advice if you have grooming or training problems or if your pet experiences a health issue. The Labradoodle puppy you get from Deer Pines will be healthy, well-loved, and socialized. These pups are priced at $2,800 plus Ohio sales tax. Upon application clearance, there is a $500 deposit required.
Location: Clinton, Ohio
Phone: (330) 329-7340
Website: Deer Pines Labradoodles
Facebook Page: Deer Pines Labradoodles Facebook Page
---
Heritage Manor Labradoodles
Heritage Manor of Ohio is a family-run business based in a Cleveland, Ohio, neighborhood. Involved in the family company are the entire family, including their children. Since 2005, Heritage Manor Labradoodles has been producing and caring for these excellent Labradoodles.
With 15 years of expertise and dedication to the breed, the Labradoodle puppy matched to your family will not disappoint. Heritage Manor works closely with a local veterinarian to ensure the dogs' health during the breeding process. In addition, he monitors the puppies closely before they go home and provides early socialization.
Given Heritage Manor's commitment to the well-being of their Labradoodles, it is not surprising that they use a guardian program for their breeding canines. A dog from Heritage Manor costs $3,150. The Labradoodle puppies have a two-year health warranty, microchip, pedigree guarantee, and health records, including initial vaccinations, early training, and socialization.
Location: Walton Hills, Ohio
Phone: (216) 978-6750
Website: Heritage Manor Labradoodles
Facebook Page: Heritage Manor Labradoodles Facebook Page
---
Ohio Valley Labradoodles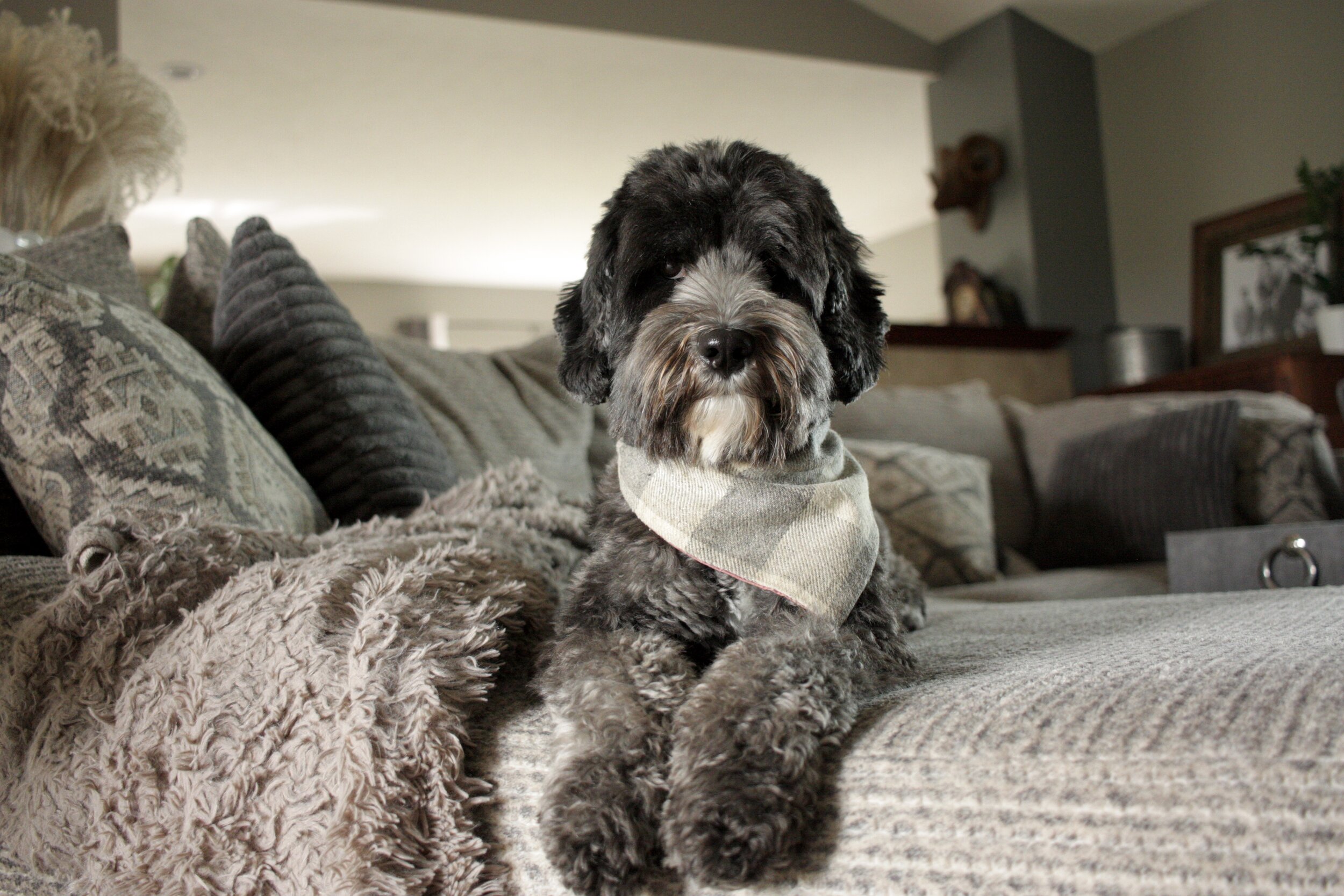 Ohio Valley Labradoodles is a modest and well-established breeder in the state of Ohio. They include the entire family in breeding Labradoodles, so the puppies are well-adjusted and fond of children. They have several breeding dogs and, like many other breeders on our list, they have many puppies in guardian homes. This assures that this is not a puppy factory and that the dogs are treated as family members.
Additionally, we appreciate that Ohio Valley Labradoodles and many of the other breeders we suggest offer lifetime assistance to new families. Excellent for first-time dog owners since they do not abandon you in the cold. If you have questions or issues, they will gladly answer them. A Labradoodle puppy in the Ohio Valley costs $2,700 plus Ohio sales tax. The puppies are sold without breeding rights. There will be a spay and neuter contract that new households must sign.
Location: Conover, Ohio
Website: Ohio Valley
Email: [email protected]
Facebook Page: Social Media
---
Labradoodles on Main
As a therapy dog, Labradoodles on Main's owners were interested in this breed. One of the proprietors is a Physical Medicine and Rehabilitation physician who saw the need for hypoallergenic, friendly, and tranquil therapy dogs. What began with one family dog going to work with one of the owners has evolved into a phenomenal breeding enterprise. Once trained, Labradoodles on Main's puppies are ideal therapy animals. They possess the personality necessary for the noble vocation of a therapy dog.
A Labradoodle puppy from Labradoodles on Main costs $2750 with a $500 deposit. The deposit is payable upon approval of the application. Different charges may apply to therapy and service dogs. The website does not indicate the differential cost of a therapy dog. However, you can contact them if interested in a service or therapy dog.
Location: Findlay, Ohio
Phone: (419) 348-0973
Website: Labradoodles on Main
Facebook Page: Labradoodles on Main Facebook Page
---
Magnolia Australian Labradoodles
This breeder is based in southwestern Ohio and only has a handful of litter every year so that they can devote their complete attention to each pup. They want to ensure that your dog has received affection and socialization from day one.
Magnolia Australian Labradoodles use the puppy culture approach with their puppies to provide the easiest possible transition. The Australian Labradoodle pups from Magnolia are crate-trained before their adoption. The owners want to ensure that the dogs do not become anxious and that you do not lose sleep. This makes the initial weeks of rearing a Labradoodle puppy much simpler. We also like that they connect each puppy with the ideal family.
These Labradoodle pups are $2,850, with a $500 payment payable upon approval of the application. As they are unsure of the precise number of puppies born every litter, they accept five to six reservations per litter. Then, they will create a waiting list that you may join.
Location: Crestline, Ohio
Phone: (419) 571-6471
Website: Magnolia Australian Labradoodles
Facebook Page: Magnolia Australian Labradoodles Facebook Page
---
Riverbend Labradoodles
On our list, this is one of the more established Labradoodle breeders in Ohio. Twenty years ago, they began breeding Labradoodles in the Ohio community of Fayette. Their family-run breeding facility is located near the Michigan-Indiana state line.
They have an extensive breeding program but do not kennel their Labradoodles. In addition, they have a program for guardians. The dogs have a permanent home from when they are puppies, throughout their breeding careers, and after retirement. Riverbend Labradoodles of Ohio desires every dog to be a family member. The pups and adults of Riverbend Labradoodles have ample space to wander and stretch their legs on a lovely farm-like property.
The website also contains training and eating instructions. You may locate a link on their website if you continue feeding your puppy the same brand of food. If you're new to the Labradoodle breed, there are additional grooming suggestions on the website. Labradoodles are hypoallergenic and non-shedding; therefore, they require grooming.
I could not discover the pricing of the pups or information on how to apply or make a reservation on the website, although contact information is available. If you have an interest in their puppies, please get in touch with them directly.
Location: Fayette, Ohio
Phone: (419) 583-7060
Website: Riverbend Labradoodles
Facebook Page: Riverbend Labradoodles Facebook Page
---
Tips When Choosing a Labradoodle Breeder
Choosing a Labradoodle breeder is an important decision. You should choose one with a good reputation, who has been breeding dogs for years and has had successful litters.
Ask for references from other owners who have purchased puppies from this breeder. Please inquire about the dog's temperament and health history (check out our article on testing labs here). Ask about their breeding goals, whether they want to breed with particular breeds or focus on producing puppies that get along well with other dogs.
Check out your prospective breeder's health testing protocols before buying any puppy! This will help ensure that you know exactly what kind of care each puppy will receive when he grows up, so there aren't any surprises later down the line when life gets more complicated than expected."
Short History of the Labradoodle Breed
The Labradoodle, or "Doodle," as its fans and owners affectionately know it, originated in Australia. Wally Conran created the breed in 1989. He wanted to create a new dog breed that was hypoallergenic and friendly to people with allergies because he had one himself! He crossed two types of dogs together: Golden Retrievers and Poodles.
These cross-produced puppies were born without shedding fur or dander (dander is dead skin cells). These little pups have been called "shedless" dogs because they don't shed their dander into your clothing or home like other breeds do!
How Much Does a Labradoodle Cost?
The price of a Labradoodle will vary from breeder to breeder and from puppy to puppy. Prices can range from $1500 to $3000. However, the average cost is around $2000 for an adult dog, so if you're looking for a puppy that's been well-socialized and hasn't had health problems like hip dysplasia or skin allergies, then expect it to cost more than half of its full-grown size (which would put it at about 80 pounds).
Do Labradoodle Make Good Pets?
Labradoodles are excellent family pets. They're friendly and affectionate, making them easy to train. Their gentle nature makes them great with children, as well. They can also be trained to be good with other pets, so if you already have dogs or cats at home, this could be an excellent match for your family.
The main thing to remember when choosing a labradoodle is that they need plenty of exercises daily—they thrive on it! Suppose your dog doesn't get enough exercise outside or inside the house (or both). In that case, he might start acting out behaviorally by chewing everything he can find around the house or digging holes in your yard under shrubbery where he doesn't belong!
Conclusion
We hope you have found the information on labradoodle puppies and their cost-helpful. If you are looking for a new puppy, we recommend starting with our list of Labradoodle breeders in Ohio.
Labradoodle Breeders
Image Credits:
https://depositphotos.com/478901326/stock-photo-close-side-view-portrait-white.html