It is very easy to decide you want to add a Goldendoodle to your family because they are incredibly adorable, reasonably hypoallergenic, and don't shed much hair. The challenging part of obtaining a Goldendoodle is to decide on a reputable breeder. There are many Goldendoodle Breeders available in the USA but the sad truth behind them is that all are not reputable.
Whenever you buy a Goldendoodle, you have to do research first. Check whether the breeder is reputable or not. Ask him all the questions which are on your mind. If he is afraid or hesitant to answer, don't be shy to trust your instincts and choose another breeder. If a breeder openly and honestly answers all your questions confidently and they don't hide anything from you, you should be able to rely on that breeder.
In this post, we provide you the list of the Best Goldendoodle Breeders in the USA who take excellent care of their dogs and provide you healthy dogs.
How We Add Breeders to Our Site
The Dog Breeds Expert team takes a lot of care when it comes to listing Goldendoodle breeders on our site. To ensure the safety of our readers and the right fit for a new pet, we work hard to make sure only the most trusted breeders are featured on the site.
We have a dedicated team that works hard and has done extensive research that involves checking both the breeder and their dogs, to verify that the breeders featured on our site are highly reputable and trustworthy.
Feedback on Google and Facebook is also taken into consideration before they are listed as a breeder to have the highest standards possible. We hope that this gives you a little more information about how we list breeders on our site.
Goldendoodle Puppies for Sale in the United States
Goldendoodles are a fantastic breed of dog, and if you're looking for puppies for sale in the United States, here is a list of some highly rated Goldendoodle breeders in the United States. This list was compiled based on a number of factors, such as quality, reputation, and customer service. You're sure to find a breeder near you that can provide you with the Goldendoodle puppy of your dreams.
The Best Goldendoodle Breeders In The USA
1. Hermeier Doodles – Iowa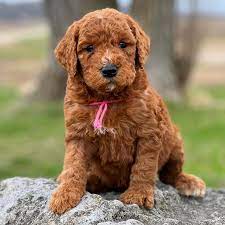 At Hermeier Doodles, they understand that every customer is looking for a different type of pup. That's why they take the time to get to know every one of their customers and what they're looking for in a forever friend. So that they can help them find their new furry best friend. They believe that there's a perfect pup out there for everyone, and they're dedicated to making sure that every customer goes home happy.
At this Goldendoodle breeding outfit, the health and well-being of the pups are always a top priority. Every Doodle that is put up for sale goes through checkups with the vet, potty training, and socialization training to ensure they are healthy and happy. This way, you can be confident that your Doodle will be a healthy and happy part of your family for years to come.
The Hermeier Doodles are perfect for first-time dog owners. Not only will you fall in love with the care they provide their puppies, but they will also provide a wealth of information on everything you need to know about the Goldendoodle breed. From potty training to how to best groom your new pet, the Hermeier Doodles will have you feeling confident and prepared to take on pet ownership.
Location: Waukon, Iowa
Email: [email protected]
Phone: (563) 568-8611
Website: Hermeier Doodles
2. Colorado Golden Doodlebugs – Colorado
Colorado Golden Doodlebugs is a family-operated business that was founded in 2000 by AKC breeder, Kim Brehon with his three daughters, they are backed by an American kennel Club.
Colorado Golden Retrievers and Goldendoodles is a family-run business that specializes in breeding and selling Golden Retriever and Goldendoodle puppies. With a wide variety of experiences when it comes to breeding different types of F1 Mini and F1 Standard Goldendoodles. This gives them the ability to better match each family with the right puppy for them.
When you purchase a puppy from this breeder, they offer a two-year health guarantee against genetic health issues such as hip dysplasia. In addition, every puppy they sell comes with 30-day pet insurance from Trupanion. This way, you can be sure that your new puppy will be covered in the event of any unforeseen health concerns.
If you're looking to add a Goldendoodle puppy to your family, this Goldendoodle breeder charges $2,500 for a Goldendoodle puppy. This price already includes the $200 non-refundable deposit. Furthermore, they also offer a free 25% discount on Baxter & Bella, an online puppy school. So basically, you're getting a deal!
Location: La Salle, Colorado
Email: [email protected]
Phone: (970) 381-7162
Website: Colorado Golden Doodlebugs
3. Safari Doodles – Texas
Safari Doodles was created by two friends who love dogs. All of their dogs are part of their family and live inside their homes. Their vast experience in producing goldendoodles has given them the skill and ability to use this knowledge to create service dogs for people with disabilities.
Aside from Goldendoodles, they also breed Golden Retrievers and some of other Doodles with a focus on hunting.
Safari Doodles are dedicated to breeding some of the most incredible Golden puppies and take great care in making sure that their parents have all the necessary health screenings before they used for breeding
Location: North of Dallas Texas
Website: Safari Doodles
4. High Mesa Doodles – Colorado
High Mesa Doodles is a family owned business situated on 10 acres of picturesque Montrose, Colorado. They began breeding Doodles in 2008 and now specialize in Mini Goldendoodles with a wide variety of coat colors, from cream, apricot to chocolate and black, and Mini Bernedoodles.
High Mesa Doodles not only breeds Goldendoodles, but they also offer stud and dam services. They start training their pups at just eight weeks old, so you can be sure you're getting a well-behaved dog.
High Mesa Doodles takes pride in breeding Doodles with beautiful non-shedding, hypoallergenic coats. To ensure only the best puppies are born, they pre-screen all parent dogs for genetic defects and only allow ethically bred dogs with no history of genetic defects to enter their breeding program. Furthermore, they have strict standards in place to make sure only the healthiest and best-quality puppies are born.
If you want to train your puppy to be the best that they can be, you have the option to enroll them in the Master Turnkey Puppy program. In this program, your puppy will not only be fully house-trained but also crate-trained. This will allow them to have the best foundation for a great life with you as their owner.
Location: Montrose, Colorado
Email: [email protected]
Phone: (970) 417-1343
Website: High Mesa Doodles
5. Cali Doodles (GANA) – California
Kiana McVicker is the owner of Cali Doodles, a GANA-certified Blue Ribbon Goldendoodle breeder. Kiana is a homeschooling mom that spends her days raising the puppies as if they're her own. In addition, Kiana is also a member of the American Kennel Club.
The goal of their breeding program is to provide families with the healthiest Goldendoodle puppies. All of their puppies are raised in a kid-centered environment. When you take home your new puppy, they will have already been socialized and will provide the following things:
1. Dam's Pedigree papers, OFA & DNA testing
2. Sire's Pedigree papers, OFA & DNA testing
3. Puppy Wellness Certificate by our licensed Vet
4. Vaccinations up to 7 weeks of age
5. First deworming
5. Microchipping
6. 30-Day Trupanion Puppy Insurance
7. GANA Registration
8. BAB Puppy Score Card
9. 2-Year Health Guarantee
If you want to know more about this breeder and their available pups, check out their site. Once you're there, you can also get in touch with them through e-mail or phone to ask any questions that you may have.
Location: Fresno, CA
Email: [email protected]
Phone: (415) 758-1553
Website: Cali Doodles
6. Coastland Goldendoodles – California
Coastland Goldendoodles is a great breeder to consider if you're looking for a high-quality Goldendoodle puppy. The business is owned and managed by a mother-daughter duo who makes sure that all of their puppies are health tested and come from pedigreed dog lines.
The breeder tests their parent dogs through OFA screening and Paw Print Genetics to ensure healthy pups. Moreover, all puppies are raised inside their own homes together with them like a family member, so they can get lots of love and attention.
If you're interested in one of their puppies, expect to pay around $3,200. Keep in mind that there is a non-refundable $500 reservation fee that will be charged upfront.
When you purchase a Coastland Goldendoodle, you're not just getting a furry friend – you're getting peace of mind. They provide a two-year genetic health guarantee, health records, up-to-date vaccines, and a few accessories to get you started. And because they want all puppies to go to loving homes, they offer a strict no-breeders policy. So if you're looking for a Doodle that will bring joy to your family for years to come, look no further than Coastland Goldendoodles!
Location: Ventura, California
Email: [email protected]
Phone: (805) 509-3303
Website: Coastland Goldendoodles
7. Hill Country Goldendoodles – Texas
Hill Country Goldendoodle are very passionate Goldendoodle breeder in the USA.They do not operate a large kennel or puppy mill and firmly oppose such practices. It is a comfortable, temperature-controlled environment in which their dogs give birth.
Before breeding, each parent has a complete physical examination by a veterinarian. The Goldendoodle puppies are socialized by human touch daily, and they are introduced to crate training before going home with you. Before going home, Goldendoodle puppies receive a complete vet examination.
Their dogs are AKC-registered, and every Goldendoodle puppy owner receives a copy of the dog's four-generation pedigree. Their Goldendoodle puppies will make you smile, and they are incredibly proud of their work. They select only exceptional bloodlines for their stud Poodles to mate them with litters that have excellent temperaments.
Location: Austin, Texas
Email: [email protected]
Website: Hill Country Goldendoodles Texas
8. Lonestar Doodles – Texas
They are a family-owned and operated breeder in Dallas, and their animals are loved and cherished. Breeding well-socialized, gentle, healthy puppies with loving temperaments is their primary goal.
Additionally, their puppies are some of the best around, exhibiting excellent health, temperament, and beauty. Their breeding program dedicates time, energy, hard work, education, and tender loving care. Their mission is to place family companion dogs in loving, responsible homes. They also raise their puppies at home and handle them every day. It's all love and cuddle until you come home so you can love and spoil them.
During their home breeding program, you will find breeding dogs on their premises or trusted guardian homes. As a smaller environment, we can love and spoil our puppies.
Location: Weatherford, Texas
Email: [email protected]
Website: Lonestar Doodles TX
9. OC Goldendoodles – California
They breed type F2B Standard Goldendoodles. One parent is an F1, and the other is an F1B. 35% of the puppies are Golden Retriever puppies, and 65% are Standard Poodle puppies. Their full size will range from 55 to 75 pounds.
Their breed is small in size, and they usually have only one litter at a time and only breed once or twice a year. It gives each puppy the hands-on attention it needs 24/7. They treat their pets like children.
Having been raised with children, they have been well socialized. They begin potty training their puppies at three weeks of age. Puppy owners start the "Super Dog" program when their puppies are three days old. To achieve early neurological stimulation, you will need to perform five exercises.
Location: Orange County, California
Email: [email protected]
Website: https://ocgoldendoodles.com/
10. Matthews Legacy Farm – Utah
The Matthews family got into breeding because they believe dogs have the power to change everyone's lives. Whether someone has a physical illness such as diabetes or a mental illness such as PTSD or depression a dog can enhance your life and help you in ways you didn't think were possible. They got into this industry because they wanted to make a difference and help people. Their goal is to breed elite dogs to be companions, therapy and service animals.
The Matthews family is educated when it comes to breeding. They have spent countless of hours and years researching to provide not only the cutest dogs but healthy companions. They breed designer Goldendoodles, sheepadoodles and Bernedoodles and their waitlist is over a year out.
The MLF community is a close knit group! Those that buy puppies from MLF stay in contact and send updates throughout the years. Their community is an extension of the MLF family! They hold exclusive giveaways for their community each year & hold puppy get-togethers for each of the litters. Every effort is made to place puppies in loving homes, and they have happy customers throughout North America.
Owners: McKinley & Tori Matthews
Location: Farmington, Utah
Email: [email protected]
Phone: (801) 541-4333
Website: Matthews Legacy Farm
Facebook: Matthews Legacy Farm FB
Instagram: @MatthewsLegacyFarm
11. Creekside Goldendoodles – Missouri
They are a small Goldendoodle breeder in the USA located in southwest Missouri. They breed exceptional standard-size Goldendoodles. They are USDA licensed (state and federal) and regularly inspected.
They are also members of the MPBA (Missouri Pet Breeders Association) and the MAHA (Missouri Animal Husbandry. Educational training from these sources, as well as from their veterinarian, helps them to uphold and protect the health of their dogs and puppies.
All of their puppies are registered through the United All Breed Registry (UABR). They treat their puppies as their family, and their main aim is to work on the great temperament of the puppy so that it becomes family-friendly. Puppies in their home are provided with everything and also a friendly environment.
Location: Southwest Missouri
Email: [email protected]
Phone: (417) 342-3988
Website: Creekside Goldendoodles Missouri
12. Lakeview Doodles – New York
Since 2004, Goldendoodles, Labradoodles, and Double Doodle puppies have focused as a family-owned business-oriented breeding business since 2004. They want to give their dogs the best start in life.
They raise their puppies in a non-smoking, loving home with their children. As a result, they become accustomed to the sights and sounds of an active household. They enjoy living along the shores of Lake Ontario in Upstate New York, where they enjoy the refreshing breezes and have ample space to play and romp.
They have been in love with this breed since 2004. They want to make their puppies well-socialized and family-friendly. Due to this purpose, they work on the extraordinary temperament of their dogs.
Location: Rochester, New York
Email: [email protected]
Phone: (585) 732-5892
Website: Lakeview Doodles New York
13. Beyond Bliss Doodles – New York
In regards to health, structure, and temperament, they selectively bred for superior qualities. Their puppies are gorgeous and mini medium-sized Goldendoodles, with outstanding parents who have been health tested. They take pride in breeding Goldendoodle puppies.
They offer comprehensive health and genetic testing, so their puppy families have the best chance of getting a healthy puppy with the most hypoallergenic, non-shedding coat. They raise their well-balanced, thoroughly socialized puppies in their living room under the very best conditions.
For families with allergies or those who don't want to deal with shedding, they're a great choice. In addition to their roles as service, support, and therapy dogs, family pets, and companions, they also excel at obedience and agility.
Location: North of Syracuse New York
Email: [email protected]
Phone: (315) 778-4368
Website: Beyond Bliss Doodles of NY
14. Central Illinois Doodles – Illinois
They are constantly making sure that their Doodle puppies are happy and healthy. It is the best place to find Doodle puppies for sale in Central Illinois, and they are probably some of the cutest animals you will ever see.
These aren't just any Doodles because they come from parents who have been genetically tested for health. They prove they are an honest breeder of Goldendoodles and Bernedoodles by providing excellent customer service to their nationwide customers.
Their mission has always been to help other families choose their next K9 family member since day one. Their passion is breeding Goldendoodles, and they take pride in their work. The health of your Goldendoodle puppy or Bernedoodle puppy is Central Illinois Doodles' top priority. To have a genetically healthy puppy, the parents must be healthy.
Location: Located south of Chicago, Illinois
Email: [email protected]
Phone: (217) 549-7589
Website: Central Illinois Doodles
15. Erica's Doodles – Illinois
For over 11 years, they have been a state-licensed breeder of Doodles and have gained extensive knowledge surrounding the facts related to breeding and care of their beloved dogs. Furthermore, the family is dedicated to its canines and loves the doodle breed.
For their breeding program, they have researched and selected the best quality dogs. Then the dogs were selected from parents who had been tested for hip dysplasia and genetic disorders.
Their dogs get plenty of free time with their children to run free on their ten beautiful acres, and their puppies are raised in our home underfoot and handled from the moment they are born. Children are genuinely vital to the daily socialization of their babies, they believe.
The key to puppies becoming lifelong companions that families can be proud of is socialization. Breeding puppies that are beautiful, healthy, and provide happiness and joy is their goal.
Location: Located south of Chicago, Illinois
Email: [email protected]
Phone: (708) 424-0712
Website: Erica's Doodles Illinois
16. Timberidge Goldendoodles – Ohio
The breeder specializes in breeding mini and medium English Goldendoodles in shades of cream to apricot. Providing their dogs with a winning combination of health, trainability, and temperament that makes for a great pet, they strive to breed the total dog.
Their breeding dogs are family pets, which means they live in the house (not in a barn or kennel), walk regularly, and receive obedience training. In addition, their breeding dogs come from the best lines, which makes them go to great lengths to obtain them.
Timberidge does a DNA test, and through DNA testing of their parents, they ensure no Goldendoodle puppy will be born with two copies of a recessive gene that might lead to genetic problems.
Location: Loveland, Ohio
Email: [email protected]
Phone: (330) 620-8305
Website: Timberidge Goldendoodles Ohio
How to Choose A Goldendoodle Breeder
Goldendoodles have some amazing qualities that have endeared them to many people. They are known for their great personality, and they don't shed very much. So it's no surprise that Goldendoodles are becoming increasingly popular in America as companion pets.
As the popularity grows, the number of backyard breeders also increases. There are many Goldendoodle breeders in the USA, but not all of them are reputable. During our research, we've seen several scammers and puppy mills that are only interested in making a quick buck.
Unfortunately, many of these unscrupulous breeders sell puppies that are plagued with health problems throughout their lives. So, be sure to do your homework before you buy a Goldendoodle puppy to ensure that you're getting a healthy, happy pup.
There are a few key points to keep in mind when choosing a Goldendoodle breeder in the USA. Here are a few things to consider:
#1. The Breeder Should Be GANA Registered:
When looking for a Goldendoodle breeder, be sure to check if they are registered with the Goldendoodle Association of North America (GANA). The GANA is an organization committed to keeping track of the lineage of Goldendoodle breeds, and only allows those who adhere to their standards and provide documentation of health clearances to be members. This way, customers can be sure that they're getting a puppy from a breeder who puts the health and safety of their dogs first.
#2. Health Testing:
The most important thing to look for when you are searching for an ethical Goldendoodle breeder is if they comprehensively test the health and genetics of their dogs. This includes testing for various hereditary diseases such as hip and elbow dysplasia, eye diseases, heart, and thyroid. The breeder should be able to show you proof of the health testing they've done and be forthright about the health of the parents and puppies.
#3. Meet the Goldendoodle Parents:
It's always a good idea to visit a breeder's premises and meet the parents of the Goldendoodle you're thinking of adopting. This will help you get a sense of the living conditions your potential pup is coming from, and whether or not they seem happy and healthy. Also, take note of how the breeder interacts with the dogs – this will give you a good sense of their overall care and concern for their welfare.
#4. Reviews & Testimonials:
Finally, don't underestimate the power of feedback from past customers. Several breeders update their testimonials sections on websites, but you can also find reviews on Yelp and other online communities. These can be incredibly helpful when you're trying to choose the right breeder for your needs.
How Much Does a Goldendoodle Cost?
There are a few factors that will affect the price of a Goldendoodle puppy. Some of the more prominent factors include: Goldendoodle size, coat colors, age, generation, and breeder's health guarantee. By taking all of these things into account, you'll be able to get a better idea of how much your furry friend may cost.
A Goldendoodle puppy from a reputable breeder will usually cost between $1,500 and $8,000. While this may seem like a lot of money, it's important to remember that a healthy puppy is an investment. With proper care, your Goldendoodle will bring you years of love and companionship.
When you're considering adding a new family member, it's important to think about more than just the initial purchase price. For Goldendoodles, in addition to the puppy cost, you'll need to pay for shots, spaying or neutering, and microchipping.
You'll also want to factor in things like food, supplies, and veterinary care. A good rule of thumb is to budget at least $1,000 per year for a small dog and $1,500 per year for a large dog.
All of these costs added together can make quite the dent in your budget, so be sure to factor them into your budget when deciding whether or not a Goldendoodle is the right breed for you.
Some things you might want to consider when thinking about the cost of a Goldendoodle are the price of food, whether you'll need to purchase special equipment or supplies, and if you're comfortable with regular grooming costs.
Do you Recommend Any Good Goldendoodle Breeders in the USA?
If you know any great Goldendoodle Breeders who lives in the USA, please let us know in the comments below. So we can add it to our list. What is the Breeder Name? Where are they located in the USA? It really helps others who are looking for Goldendoodle puppies in the USA. if they can read honest reviews from buyers like yourself
Conclusion for Goldendoodle Breeders in the USA:
Hope you enjoyed this list of the best Goldendoodle Breeders in the USA, which we have added to our list. There are of course others that we haven't reviewed yet, but we do our best to go through breeders and add them to the list if we find they merit it. If you are looking for a Goldendoodle puppy, consider any of these breeders as they're a good starting point.
Goldendoodle Breeders Elsewhere
Goldendoodle Breeders in the UK