Are you looking to add a furry friend to your family? Goldendoodles, a crossbreed between Golden Retrievers and Poodles, are famous for their intelligence, friendly nature, and adorable appearance. If you're in Texas and considering bringing home a Goldendoodle, it's essential to find a reputable breeder who prioritizes the well-being of their dogs. This article will guide you through finding reliable Goldendoodle breeders in Texas.
List of Goldendoodle Breeders in Texas
| | | | | |
| --- | --- | --- | --- | --- |
| Breeder | Location | Phone | Website | Email |
| Dacus Doodles | Montgomery, Texas | (936) 697-9865 | https://dacusdoodles.com/ | N/A |
| ABCs Puppy Zs | Texas | N/A | https://abcspuppyzs.com/ | N/A |
| Made for TV Doodles | Dallas, Texas | (479) 650-0550 | https://madefortvdoodles.com/ | [email protected] |
| Blackwater Doodles | Amarillo, Texas | N/A | https://blackwaterdoodles.com/ | [email protected] |
| Lonestar Doodles | Weatherford, Texas | (817) 714-5977 | http://www.lonestardoodles.com/ | [email protected] |
| Snickers Doodles | Georgetown, Texas | (512) 869-9541 | http://www.snickersdoodles.com/ | [email protected] |
Dacus Doodles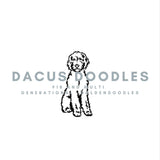 Dacus Doodles is a registered Goldendoodle breeder located near Houston in southern Texas. You can pick up your dog in person, or they can transport your dog across the United States using a flight nanny. These breeders are blue ribbon certified by GANA, one of Goldendoodles's most prestigious breeder certifications. In addition, they provide a 24-month health guarantee for every Goldendoodle they sell.
They are one of the finest breeders in Texas for their standard-sized, multi-generational Goldendoodle puppies. The dogs are socialized daily with their family and nurtured inside the home. Additionally, Dacus Doodles of Texas begins housebreaking their Goldendoodles before they are placed in permanent homes.
Location: Montgomery, Texas
Phone: (936) 697-9865
Website: Dacus Doodles
Facebook Page: Dacus Doodles Facebook Page
---
ABCs Puppy Zs
ABCs Puppy Zs is a distinguished Goldendoodle breeder in Coppell, Texas (near Dallas-Fort Worth). Over the past 15 years, they have been breeding miniature and small Goldendoodles. This breeder has poured their heart and soul into their dog breeding enterprise, and it is evident. Every Goldendoodle puppy from ABC Puppy is nurtured in a family environment from birth until they go to their new homes. They regard each Goldendoodle puppy as a family member and are concerned with their health and happiness until they find permanent homes.
All their Goldendoodle puppies in Texas are reared using the Puppy Culture Program and Early Neurological Stimulation (ENS), which provides stimulation and exposure to various sights and sounds. Due to crucial developmental traits, the first few weeks of a puppy's existence are the most critical, which is why ABC's Puppy Zs follows strict puppy-raising guidelines. Their puppies undergo nutrient-rich weaning, training, body handling, and other puppy wellness practices. This contributes to the development of Goldendoodle babies with exceptional temperaments and personalities.
In addition, the parent canines undergo extensive health evaluations designed to eliminate all genetic diseases and breed-specific problems. This allows them to offer a 5-year health guarantee for their puppies, which is longer than most breeders will provide. Before a Goldendoodle puppy goes to its forever home, it is constantly evaluated by a veterinarian, given a health certificate, and given all age-appropriate vaccinations. When necessary, they also provide long-distance delivery throughout Texas.
We highly recommend checking out ABCs Puppy Zs if you're searching for miniature or petite Goldendoodle puppies. The proprietor's name is Bricks, and he is willing to answer any queries.
Location: Texas
Website: ABCs Puppy Zs
Facebook Page: ABCs Puppy Zs Facebook Page
---
Made for TV Doodles
Made for TV Doodles has been awarded the GANA blue ribbon for F1 Standard Goldendoodle breeding. They reside in the DFW metropolitan area just north of Dallas, Texas, and have been breeding Goldendoodle offspring for years. Due to their numerous certifications and affiliations, the puppies produced by these breeders will be in good health.
Their Golden Retriever is registered with the AKC, CKC, and GANA, indicating that he will be a very outgoing and friendly dog. Made for TV Doodles also offers a standard white Poodle that is CKC and GANA certified. All Goldendoodle puppies are raised and socialized with their children in their Texas residence. In addition, if you purchase a Goldendoodle puppy from them, they provide support for the duration of your dog's life.
The only disadvantage of an F1 Goldendoodle is that it sheds more than an F1B Goldendoodle, for example. Nothing is wrong with these Goldendoodle puppies, but it is essential to note the following.
Location: Dallas, Texas
Phone: (479) 650-0550
Website: Made for TV Doodles
Email: [email protected]
---
Blackwater Doodles
Texas-based Goldendoodle breeder Blackwater Doodles is affiliated with the CKC and GANA. This relatively modest breeding program concentrates on Goldendoodle puppies that will be used as hunting, service, therapy, or family pets. OFA tests are performed on their canines' hips, elbows, and eyes. Pawprint Genetics conducts genetic testing on the parent dogs, which you can observe before purchasing a dog.
Blackwater Doodles in Texas nurtures their puppies in their home and begins training them as puppies. At 16 days, neurological stimulation is administered, which has been shown to improve stress tolerance, immunity, and cardiac health. They participate in GANA's preferred breeder programs. A miniature Goldendoodle costs between $2,500 and $3,000, a reasonable price compared to other breeders of mini Goldendoodles in Texas. In addition, they include a 24-month health warranty.
Location: Amarillo, Texas
Website: Blackwater Doodles
Email: [email protected]
Facebook Page: Blackwater Doodles Facebook Page
---
Lonestar Doodles
Lonestar Doodles of Texas is situated in Weatherford, Texas, and offers for sale in Texas friendly, docile, and healthy Goldendoodle puppies. They have a home breeding program and several guardian homes where other families raise Goldendoodle offspring. Lonestar Doodles of Texas breeds Goldendoodles in five separate homes and offers numerous sizes and generations, including the miniature Goldendoodle. Before going to their forever homes, all bred Goldendoodle puppies are dewormed, microchipped, and have received their initial vaccinations.
Location: Weatherford, Texas
Website: Lonestar Doodles
Email: [email protected]
Phone: (817) 714-5977
Facebook Page: Lonestar Doodles Facebook Page
---
Snickers Doodles
Snickers Doodles is a breeder of Goldendoodles near Austin, Texas. Focusing primarily on the F1 and F2 generations, they breed Goldendoodles of all sizes. They offer a 2-year health guarantee that can be extended to a maximum of 5 years. In addition, Snickers Doodles of Texas provides you with 30 days of pet insurance if something goes awry while you are with your Goldendoodle puppy. A $250 deposit is required, and puppies are available for collection at eight weeks of age.
I believe that these Texas Goldendoodle breeders are exceptional because they offer everlasting support and rehoming. Therefore, they will assist you if you must locate a new home for your dog. This demonstrates their extreme concern for their Goldendoodle offspring.
Location: Georgetown, Texas
Phone: (512) 869-9541
Website: Snickers Doodles
Email: [email protected]
---
Tips When Choosing a Goldendoodle Breeder
Choosing the right Goldendoodle breeder is crucial when bringing a new furry companion into your life. Here are some essential tips to consider:
Research and gather information about different breeders in your area, focusing on their reputation and customer reviews.
Visit the breeder to assess their facility and ensure it is clean, well-maintained, and provides a healthy environment for the dogs.
Meet the parent dogs to observe their behavior, temperament, and overall health, as these traits can be passed down to the puppies.
Inquire about health testing performed on the parent dogs to ensure they are free from genetic diseases and other health issues.
Request references from previous customers and contact them to learn about their experience with the breeder and the health of their Goldendoodle.
Ask about the breeder's socialization and training practices, as early socialization is crucial for the well-being of the puppies.
Review the breeder's health guarantees and contracts to understand the terms and conditions associated with your purchase.
Look for a breeder who maintains open communication and offers support even after you bring your Goldendoodle home.
Conclusion
Finding a reputable Goldendoodle breeder in Texas is essential to ensure you bring home a healthy and well-cared-for puppy. By following the guidelines in this article and asking the right questions, you can make an informed decision and provide a loving home for your new furry friend.
Goldendoodle Breeders Elsewhere
Goldendoodle Breeders in the UK
Image Credits:
https://unsplash.com/photos/ZPDMVi0xMe8