The Bernedoodle is a beautiful dog with lots of stamina and intelligence. They have that gorgeous curly coat that most people love, but they also have good temperaments and make excellent companions for children. If you are looking for Bernedoodle breeders in British Columbia, we can help you find the right Bernedoodle breeder for your nee
List of Bernedoodle Breeders in British Columbia
| | | | | |
| --- | --- | --- | --- | --- |
| Breeder | Location | Phone | Website | Email |
| Designer Doodles Canada | Princeton, British Columbia | N/A | https://designerdoodlescanada.com/ | [email protected] |
| Valhalla Mountain | Crescent Valley, British Columbia | (250) 359-7740 | https://valhallamountainkennels.com/ | N/A |
| Cloud Nine Doodles | Vancouver, British Columbia | (360) 332-9931 | https://cloudninedoodles.com/ | [email protected] |
| Puppy Patch Labradoodle | Kelowna, British Columbia | N/A | https://www.puppypatchlabradoodles.com/ | [email protected] |
| Pacific Doodles | Burlington, British Columbia | (425) 236-0307 | https://pacificdoodles.com/ | N/A |
Designer Doodles Canada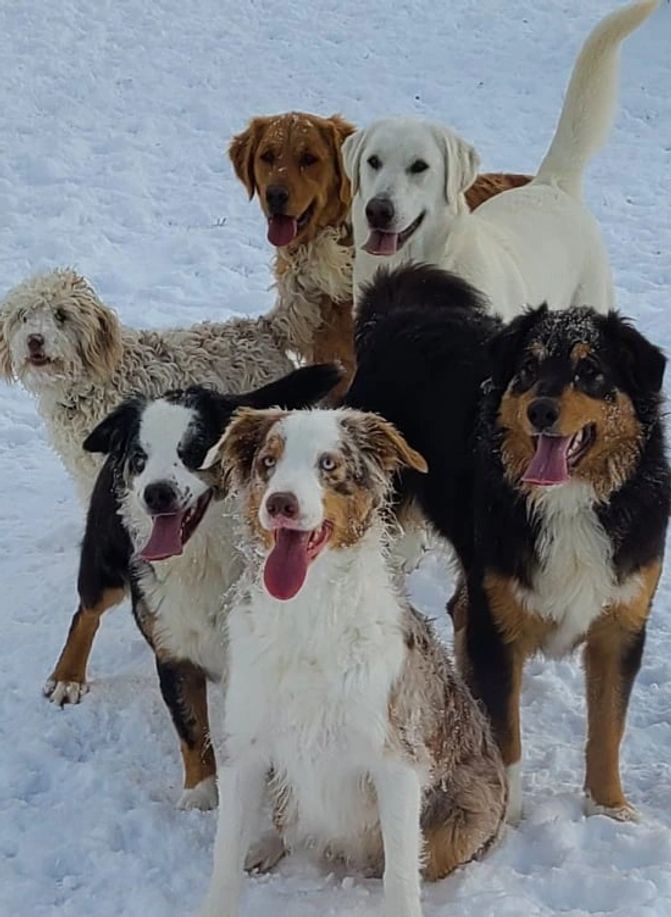 Designer Doodles Canada is a tiny, family-owned breeder in Princeton, British Columbia. Designer Doodles began breeding Bernedoodles out of love for puppies. They strongly desire to share them with the world and educate, promote, and safeguard the breed.
All puppies are reared in a home atmosphere, contributing to their improved growth, health, and readiness for adoption. The fact that they reside with the family is advantageous since they receive excellent care and attention. They specialize in breeding little puppies, mainly because many owners lack the room for a larger dog.
Small puppies are identical to normal-sized puppies but are smaller and more controllable. If you are interested in acquiring a puppy, you may find more information on their website. Additionally, ensure that you contact them with some participation time since they have a waiting list.
Location: Princeton, British Columbia
Email: [email protected]
Website: Designer Doodles Canada
Facebook Page: Designer Doodles Canada
---
Valhalla Mountain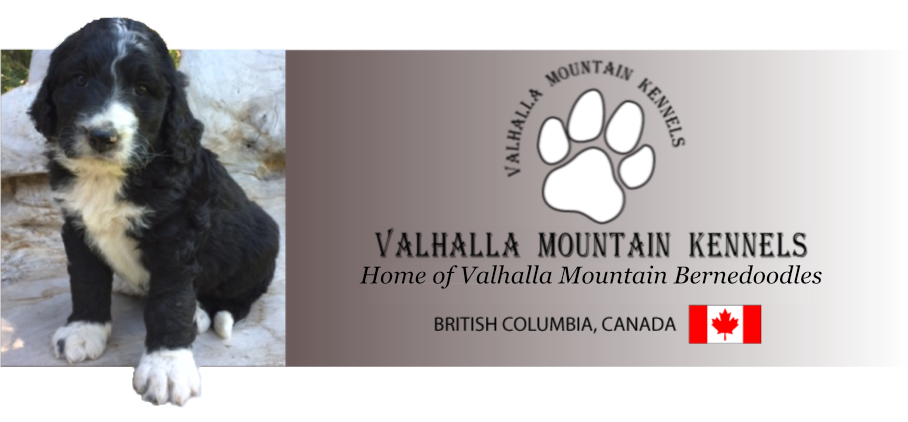 Next on our list is Valhalla Mountain, a Slocan Valley firm breeds puppies. They have bred puppies for over a decade, so they have honed their breeding techniques and acquired extensive expertise. Their primary reason for breeding is their affection for the breed, which makes them excellent companions.
With a vast natural environment surrounding them, they decided to breed puppies in their home, which is the ideal location because it is both snug and spacious outside. This combination is advantageous for the puppies because it allows them to receive the benefits of living with their owners while still being able to run outside and develop their social skills as dogs. In terms of reproduction, their top goals are health and socializing.
To do this, puppies are subjected to extensive testing, and as soon as they are born, they are vaccinated and declawed. They interact with their littermates and breeders to cultivate the puppies' social abilities. They also engage in some outdoor physical activity. If you wish to contact them, feel free to explore their website with any queries.
Location: Crescent Valley, British Columbia
Phone: (250) 359-7740
Website: Valhalla Mountain Kennels
---
Cloud Nine Doodles
Cloud Nine Doodles is located in Deming, Washington, just inside the United States border. They are a family-owned enterprise devoted much time and energy to breeding high-quality Bernedoodles. They have bred puppies for more than 35 years.
Throughout two generations, they have learned a great deal and refined their breeding techniques to the point that they can offer puppies of superior quality. They focus on the puppies' health, socialization, and affection in their breeding practices.
Because ultimately, they want to offer the puppies the best life possible, and these measures help prepare them for it. Regarding health, the puppies are screened for genetic problems, vaccinated as soon as feasible, declawed and dewormed, and immunized as quickly as possible. Cloud Nine also utilizes the household environment to breed puppies.
This aids in the development of the puppies' behavior and disposition. Through their website, you can contact them if you are interested. Lastly, if you purchase a puppy from them, they will assist you and go with you and your dog.
Location: Vancouver, British Columbia
Phone: (360) 332-9931
Email: [email protected]
Website: Cloud Nine Doodles
Facebook Page: Cloud Nine Doodles
---
Puppy Patch Labradoodle
Puppy Patch is a family-owned kennel in Kelowna, British Columbia, with over 20 years of experience breeding Bernedoodles. They began breeding as a pastime but gradually expanded their business, success, and understanding of puppy breeding practices.
Puppy Patch only breeds purebred Labradoodle puppies, which have superior characteristics, genetics, and overall quality compared to other puppies. They breed to produce healthy, handsome dogs who can be lifetime companions. Additionally, each puppy is nurtured in a household atmosphere. The puppies can also go outside and be dogs in the garden. There, they will run, play, and socialize with other puppies.
In addition, the puppies are provided with all the conveniences of a house. If you purchase a puppy from them, it will already be vaccinated and dewormed. In addition, they will be freshly examined by a veterinarian before being presented to you. The puppies' certification by the WALA (Worldwide Australian Labradoodle Association) attests to their superior breeding.
Location: Kelowna, British Columbia
Email: [email protected]
Website: Puppy Patch Labradoodles
---
Pacific Doodles
Ironically, the final breeder on our list of the best Bernedoodle breeders in British Columbia is in Washington, United States. This time, we'll cross the border to visit Pacific Poodles, a breeder that focuses on providing a luxurious experience. For them, Bernedoodle puppies are excellent puppies, and they want to breed them out of enthusiasm and affection for the dogs, as well as to share, promote, and improve the brand while conducting business.
They emphasize the entire experience of adopting a puppy. You will be fully informed from when your puppy is created until it is placed in your care. Because they sell luxury products, their requirements are inherently highly stringent. Every puppy must undergo a health examination.
Then, pups are immunized as quickly as possible. Throughout the process, the puppies are inspected by a veterinarian multiple times. They wish to foster a unique relationship between owner and pet. They will, therefore, also train the puppies to be polite and well-mannered. If you're interested, you may find a great deal of information about them on their website.
Location: Burlington, British Columbia
Phone: (425) 236-0307
Website: Pacific Doodles
---
Short History of the Bernedoodle Breed
Bernedoodles were created by combining Bernese Mountain Dogs with Poodles. The Bernese Mountain Dog was developed in Switzerland, while the Poodle was developed in Germany and France. The Bernedoodle is available in three sizes since the Poodle parent can be a toy, miniature, or standard-sized dog.
Tips When Choosing a Bernedoodle Breeder
When you're looking for a breeder, there are a few things you should keep in mind. First and foremost, choose one that has been around for a while and is reputable. Ask to see their references and check out the website if they have one. This may seem obvious, but it's important because some breeders will try to sell you something by saying they're "good" when they don't mean anything!
Second: look at the environment your puppy will grow up in—you want to ensure it's clean, safe, and comfortable. If possible, meet with someone from the family who lives there so you can get an idea of what kind of people live there (and ask questions!). Also, please note whether any pets roam freely inside or outside; this could affect how much exercise your Bernedoodle gets (as well as its chances of becoming aggressive). Lastly—and most importantly—try looking at temperament and checking out health records because these things also matter!
Do Bernedoodles Make Good Pets?
If you are looking for a dog that will be easy to train, Bernedoodles are great options. They're intelligent and easy to prepare, so they'll learn new things quickly. Bernedoodles are affectionate dogs who love cuddling with their owners and getting attention from them. They make good family dogs because they interact well with other people or animals. Bernedoodle breeders recommend that these dogs not be left alone for long periods because some can become depressed too often during the day (which may lead them to bark excessively).
Conclusion
Bernedoodles are an excellent choice for any family looking to add a dog to their lives. They make wonderful companions and can be trained to do everything from walks around the neighborhood to obedience school work.
Image Credits:
https://depositphotos.com/479374386/stock-photo-month-old-female-puppy-bernedoodle.html
Other Bernedoodle Breeders
Bernedoodle Breeders in the UK – Top Bernedoodle Breeders in the World