Poodles are beautiful, intelligent dogs that make wonderful pets. They're loyal and gentle, making them perfect for families with children or others who may be intimidated by other dogs. If you're considering adding a poodle to your family, below is a list of poodle breeders in Brisbane that can help you find the right puppy.
List of Poodle Breeders in Brisbane
| | | | | |
| --- | --- | --- | --- | --- |
| Breeder | Location | Phone | Website | Email |
| Beautoy Toy Poodles | Brisbane | (043) 582-6551 | https://mybeautoy.wixsite.com/website | [email protected] |
| Bienaime Miniature Poodles | Brisbane | (073) 805-5924 | https://www.dogs.net.au/bienaimepoodles/default.asp | [email protected] |
| Martrejame Poodles | Elimbah, Brisbane | (043) 8351-499 | https://martrejame.weebly.com/ | [email protected] |
Beautoy Toy Poodles
We breed red, black, and apricot toy poodles from parents whose DNA has been tested and cleared. Also, all breeding dogs are free of patella concerns.
Since the 1990s, our family has owned toy poodles, and our enthusiasm for the breed has driven us to breed quality, health-tested puppies raised in a home atmosphere on our property. Our breeding dogs are chosen for their health, temperament, and confirmed pedigrees.
Since we go above and above to deliver excellent service to each of our new families, Beautoy Toy Poodles has gained a positive reputation. We recognize that your experience levels vary and are always available to provide continuing support.
Location: Brisbane
Website: Beautoy Toy Poodles
Phone: (043) 582-6551
Email: [email protected]
---
Bienaime Miniature Poodles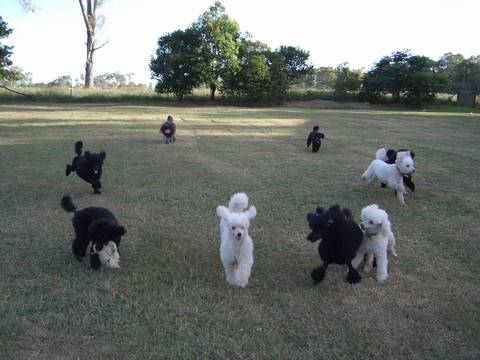 As a small kennel, we aim to breed healthy, well-tempered dogs ideal for conformation, obedience, and happy family pets. Our goal is for every one of our puppy buyers to derive the same pleasure and happiness from their poodles as we have over the past fifteen years. By guaranteeing that our puppies come from healthy breeding stock, are devoid of genetic defects, and have a pleasant disposition. Over the past four decades, we have worked with numerous dog breeds, but none has given us as much as the Poodle. After acquiring our first Poodle, we, like many other poodle owners, cannot picture life without one by our side.
I am a member of the Queensland Poodle Club and the Logan Allbreeds Obedience Club, and we have lately started attending lure coursing with several of our non-show dogs to give them another interest. Even if most of my dogs reach the Pre-trial level in obedience, there does not appear to be enough time in the day for confirmation exhibiting and serious obedience trialing.
Since Genetic PRA testing became available in the United States through Optigen, we have been fortunate that all our black and brown lines have tested negative. We have had the good fortune to breed/title about fifteen Australian champions in the past ten years. Our companion puppies have achieved the CD/CDX obedience level with their new owners.
Location: Brisbane
Phone: (073) 805-5924
Website: Bienaime Miniature Poodles
Email: [email protected]
---
Martrejame Poodles
We are a small-scale, dedicated, and ethical breeder of Purebred Apricot and Red miniature poodles from DNA-tested parents. Our furry children are raised in our home with much love and care. Our pets are fostered and cared for as part of our family instead of confined in kennels. We only have one to three litters a year. Poodles have been our obsession for more than two decades.
Our mission is to breed puppies with superior health and temperaments. To produce healthy, content, and well-adjusted puppies, our breeding program has always emphasized the exceptional health of both parents and their exemplary character and gorgeous demeanor. We have a waiting list, and we make every effort to evaluate each applicant and ensure they understand the work and lifelong commitment required to provide a healthy, loving home for each puppy. We meticulously organize each litter to guarantee that each puppy receives our undivided attention. Puppies will be socialized intensively. We do not accept deposits on pups until they are born. You are always invited to visit our residence and view the parents and puppies. Your puppy comes with a Limited ANKC Registration paper, a vet check, vaccinations, microchipping, worming, gratis, Pet insurance for six weeks, and a puppy bag.
Location: Elimbah, Brisbane
Website: Martrejame Poodles
Phone: (043) 8351-499
Email: [email protected]
---
Tips When Choosing a Poodle Breeder
When you're looking for a breeder, there are some things you should keep in mind. First, ensure the breeder is a member of an ethical and reputable club. If they don't have the right credentials, it's best to find another puppy-producing facility or wait until your dog is ready to leave his mother's nest before deciding where he'll live.
Another thing to look out for is whether or not their operation has been going on for more than five years—this shows that they know what they're doing! Also, ask about references from previous clients who bought puppies from them; this will give you insight into what kind of experience everyone had interacting with these owners. Finally, if possible, visit where your new family member came from before choosing whether or not this particular breed fits well within yours; this way, when deciding which matches best fit with its personality traits.
How Much Does a Poodle Cost?
The cost of a poodle can vary depending on the type of Poodle and the breeder. Poodles can cost anywhere from $200 to $3000, with purebreds being more expensive than mixed breeds. For example, if you're looking for a puppy that will grow into an adult dog, an average price range would be between $200 and $800 (depending on their health). However, if you want something small like toy dogs or designer breeds like Yorkies or Maltese Poodles, then prices will increase significantly because these smaller dogs require more attention from their owners than larger ones.
Do Poodles Make Good Pets?
The Poodle is a very loyal, affectionate and playful breed. They are brilliant and have a high level of energy. As with any dog, they need regular exercise to keep them happy. Poodles can make excellent companions because they're so intelligent, but if you want an active companion who loves nothing more than running outside on the weekends, this may not be the best choice for you! Most poodles love being groomed—they'll put up with having their hair cut by strangers as long as they get some treats afterwards!
Conclusion
Poodles are a unique breed of dog that's always been popular in Australia. They're affectionate and curious but also very active and playful. You can find them living in the city or country; they like to swim when they can and love going on walks with their families. The Poodle is an intelligent breed who learns quickly how to interact with people, which makes them great companions for kids of all ages.
Image Credits:
https://depositphotos.com/14406879/stock-photo-poodle-portrait.html