If you're looking for a loyal, friendly, and energetic dog, then the Boxer breed might be just what you need. As one of the most popular breeds in Australia, Boxers are known for their intelligence, playful nature, and devotion to their owners. But with so many breeders out there, finding the right one in Victoria can be daunting. In this article, we'll guide you through finding a reputable Boxer breeder in Victoria and help you choose the perfect pup for your family.
List of Boxer Breeders in Victoria
| | | | | |
| --- | --- | --- | --- | --- |
| Breeder | Location | Phone | Website | Email |
| Sjecoin | Devon Meadows, Victoria | (035) 998-2110 | http://www.sjecoin.com/ | [email protected] |
| Alcance | Thornbury Victoria | (040) 414-4208 | http://www.alcanceboxers.com/ | [email protected] |
| Kesdar | Maldon Victoria | (040) 730-6618 | https://kesdarboxers.com/ | [email protected] |
| Rouglepark | Maryborough Victoria | (040) 790-4094 | https://www.rouglepark.com/ | [email protected] |
Sjecoin
Rosina Brace developed a love for dogs at a young age and rescued a Boxer scheduled to be destroyed. This sparked her passion for breeding Boxers and Boston Terriers under the "Anisor" prefix in New Zealand, where she had many champions.
In 1973, Rosina moved to Australia and established the "Sjecoin" Boxer kennels, which have since produced many Australian and International Champions, Grand Champions, Tracking Champions, and other performance titles. She has also imported Boxers from England and the United States of America to maintain a healthy gene pool for breeding and uphold the standard of the breed.
Rosina is an experienced Boxer judge who has judged extensively in Australia, New Zealand, Asia, the UK, and the USA, including at the American Boxer Club 1988 Specialty. However, she particularly enjoys showing her homebred Boxers against strong competition and has accumulated a record of 53 Royal CC's and over 100 Best in Show awards.
With her husband David, who is involved in the administrative activities of the Victorian dog world, Rosina shares love and respect for Boxers. They have produced many champions and hope that people will enjoy seeing pictures of their Boxers from over the years.
Name of Owner: Rosina Brace
Location: Devon Meadows, Victoria
Phone: (035) 998-2110
Email: [email protected]
Website: Sjecoin
---
Alcance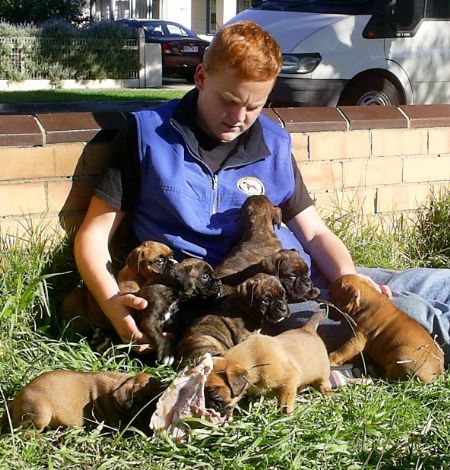 Alcance, a term derived from Spanish, is defined as "To Reach, To Stretch, To Overcome," signifying the breeding philosophy and relentless spirit of the Alcance Boxers. This establishment, located in the northern suburbs of Melbourne, Australia, prides itself on being a conscientious, compact, and benevolent breeder. The breeder actively showcases their canines, and every once in a while, they have puppies for purchase, but only for those who genuinely adore Boxers. The breeder aims to create top-notch boxers, endorse them, and sustain their "Alcance Alumni."
Jill possesses a Bachelor of Science degree in Animal Science and is passionate about utilizing her knowledge to breed healthy dogs. On the other hand, Frank is keen on training and socializing their dogs. Emilia, who holds a degree in Psychology, serves as the resident handler and is also an accredited Delta Therapy Dog, who takes pleasure in employing their boxers to benefit those in hospice or hospitals. Zac has now become a commissioned officer in the RAN but will always be an integral member of our pack!
The resident boxers are rigorously evaluated for prevalent health problems found in the breed, including genetic testing. The breeder exclusively breeds females with males with a 0 rating for Aortic Stenosis. Whether you're seeking a puppy or an adult boxer, the breeder is always eager to assist you to the best of their ability.
Name of Owner: Frank & Jill Berra
Location: Thornbury, Victoria
Phone: (040) 414-4208
Email: [email protected]
Website: Alcance
---
Kesdar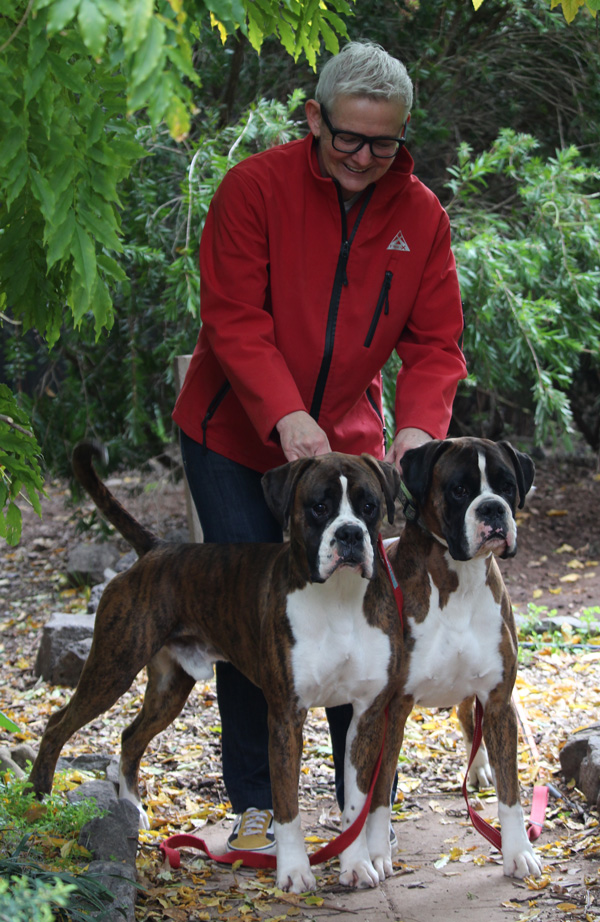 Kesdar Boxers is a breeding kennel located in central Victoria that focuses on raising dogs with excellent temperament, soundness, and health while preserving the unique character and appearance of the Boxer breed. The dogs are presented in a peaceful country environment. They are treated like family members, enjoying various activities such as lounging on the couch, chasing soccer balls, and running freely in the beautiful front acre of their property.
Their young dog, Hunter (Ch Kesdar Kindred Spirit), is confidently offered at stud. Hunter is DNA tested clear of DM and ARVC, and heart tested HT0. He carries the fawn and brindle genes and can sire both fawn and brindle offspring.
The Kesdar Boxer team participates in dog shows most weekends across Victoria and other parts of Australia. They are proud that their kennel has produced five Best in Show Specialty winners and multiple Best Puppy in Show Specialty winners. They are equally proud that their dogs have become wonderful companions to numerous families across Australia. The team loves their Boxers and considers them as members of their family.
Name of Owner: Jennifer Davis & Helen Keele
Location: Maldon, Victoria
Phone: (040) 730-6618
Email: [email protected]
Website: Kesdar
---
Rouglepark
Rougle Park is situated on the outskirts of Maryborough in Victoria, Australia. We have a small hobby farm with dogs, horses, a cat named Sebastian, dams with fish and yabbies, and birds occasionally. Our establishment is proud to be home to the beautiful Boxer breed, and we breed dogs for pet homes, enjoying the journey with new families that become part of our extended doggie family.
We have been lovers of the Boxer breed for 20 years and have bred for almost as long. We have taken many trips down memory lane with families who got their first Boxer from us, their next, and so on. Our breeding program began with one Boxer bitch named Jemma, aka "Rougle." She was a smart, level-headed, and loyal dog, the best mum and friend we have ever encountered. We lost Jemma just shy of her 13th birthday, and we still remember her as the bouncing baby she was.
From there, we were hooked on the breed and wanted nothing more than to better it and let other people experience how lucky we are by providing them with their Boxer. Our Boxers produce some of the sweetest, kindest, and most sound puppies. We rear them in a loving, happy, and warm environment, and you are then provided with the most comfortable puppy that wants nothing more than to love, please, and honor you 100%.
Our Boxers are brought up with two smaller humans who love helping with the dogs and assisting with the puppies when they arrive. We hope you enjoy our site and are as lucky as we are to own one of these beautiful breeds.
Name of Owner: Liz & Gary
Location: Maryborough, Victoria
Phone: (040) 790-4094
Email: [email protected]
Website: Rouglepark
---
Short History of the Boxer Breed
The Boxer breed originated in Germany during the late 19th century when breeders crossed different breeds such as the Bulldog and the now-extinct Bullenbeisser, which was used for hunting large game.
Initially developed as a hunting dog, Boxers soon gained popularity as police and military dogs due to their intelligence and trainability. During World War I, the German military utilized Boxers as messenger and guard dogs. Similarly, the American military also used Boxers during World War II.
After the wars, Boxers' reputation as a family pet grew rapidly. Nowadays, they are one of the most popular dog breeds in the United States.
Boxers have a muscular build with short hair and distinctive wrinkled faces. They usually have a fawn or brindle coat. Boxers are affectionate and playful with their owners, but can be cautious around strangers, which makes them excellent guard dogs.
Tips When Choosing a Boxer Breeder
Choosing a Boxer breeder is crucial in finding your perfect furry companion. Here are some tips to keep in mind:
Look for a reputable breeder.
Ensure the breeder is registered with reputable organizations like the Australian National Kennel Council (ANKC). A reputable breeder will be happy to show you proof of their registration and provide you with information about the health of their dogs.
Visit the breeder in person.
Seeing the breeder's facilities and meeting the puppies' parents is essential. This will give you a better idea of the puppy's living conditions and temperament.
Ask for health clearances.
A reputable breeder will provide you with health clearances for the puppy's parents, ensuring that your pup has no inherited health issues.
Check for socialization.
Ensure the puppies are socialized and exposed to different sights, sounds, and people. This will help your pup adapt to its new home and prevent behavioral issues in the future.
How Much Does a Boxer Cost?
The cost of a Boxer puppy can vary depending on factors such as the breeder's reputation, location, and lineage. A Boxer puppy can cost anywhere from $1,500 to $3,000. However, it's essential to remember that the initial cost is just the beginning of the expenses of owning a pet. Boxers require proper healthcare, grooming, and a healthy diet, which can add to a significant expense over time. Considering these expenses when considering adding a Boxer to your family is essential to ensure that you can adequately provide for their needs.
Do Boxers Make Good Pets?
Boxers are excellent family pets, loyal and affectionate in nature. They are great with children and make excellent watchdogs. However, it's important to remember that Boxers are energetic dogs that require daily exercise and mental stimulation.
Conclusion
Finding the right Boxer breeder is crucial in bringing home a healthy and happy pup. Research, ask for health clearances, and visit the breeder in person. You can find your perfect furry companion with a little effort and patience.
Image Credits:
https://depositphotos.com/10209023/stock-photo-boxer-dog.html