If you're looking for a loyal and affectionate companion that's also protective and energetic, a boxer dog may be the perfect breed for you. But finding a reputable breeder in New South Wales can be a challenge. In this article, we'll explore the world of boxer breeders in New South Wales and provide tips for finding a breeder you can trust.
List of Boxer Breeders in New South Wales
| | | | | |
| --- | --- | --- | --- | --- |
| Breeder | Location | Phone | Website | Email |
| Boxberry | Riverina Region, NSW | (049) 727-1150 | https://www.boxberry.net/ | [email protected] |
| Guntop | Pheasants Nest NSW | (024) 684-1176 | https://www.guntopboxers.com/ | [email protected] |
| Nija Telde Boxers | Penrith NSW | N/A | https://www.nijateldeboxers.com/ | [email protected] |
Boxberry
In 1990, breeding for the future was established. Our puppies are nurtured in a home environment, all of our breeding stock is health tested, and we offer lifetime health guarantees on all of our puppies.
Our mission is to improve the breed in Australia. Our Boxers can be found in the pedigrees of Boxers in England, the United States, Canada, New Zealand, and Sweden, among others. Boxberry has produced 38 Australian Champions and over 60 boxers with titles.
The majority of our males are available for mating with approved females. All inquiries regarding our gorgeous breed are warmly welcomed. Please email for additional details.
Name of Owner: Darryl Halliday
Location: Riverina Region, NSW
Phone: (049) 727-1150
Email: [email protected]
Website: Boxberry
---
Guntop
Liz is an International All-Breeds Dog Assessor, and she and her late husband, Miles, have exhibited and bred Boxers for nearly half a century. Over 60 Champions have been bred/owned at GUNTOP, and there are GUNTOP Champions in seven countries worldwide, including two in the United States.
Numerous champion boxers have dubbed GUNTOP their home. Please visit our website to view some of our past and present exceptional canines. This image depicts the special stallion dog we imported from Italy's renowned Del Nettunto Kennels. Del Nettuno has been breeding outstanding Boxers since 1958. Novecento is a Sire of Merit with Champion offspring in Australia and New Zealand: his descendant, Ch. Guntop Make Mine Diamonds completed his puppy year as the top-ranked Boxer puppy in Australia and became a Champion at 14 months.
Name of Owner: Miles & Liz Gunter
Location: Pheasants Nest NSW
Phone: (024) 684-1176
Email: [email protected]
Website: Guntop
---
Nija Telde Boxers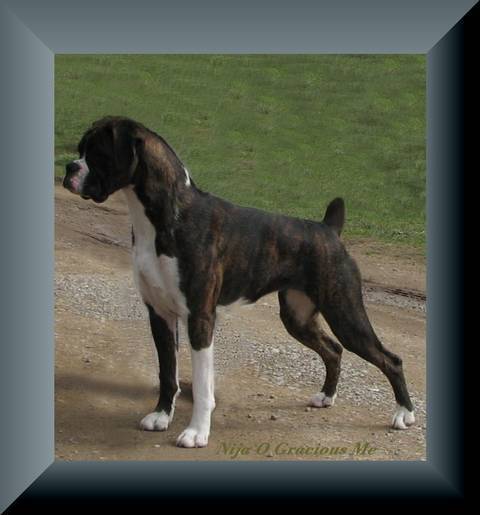 Nija Boxers & Telde Boxers have existed for more than four decades. At NIJA & TELDE, temperament, health, and soundness are highly valued in infants and adults.
With this in mind, we rarely reproduce, and when we do, we do so with great care and consideration. Our dogs/puppies are nurtured in a family environment to become valuable members of their new family. We are focused on the future with Natural Short Tails and Natural Length Boxers.
Name of Owner: L Hetherington & J Y Lawson
Location: Penrith NSW
Email: [email protected]
Website: Nija Telde Boxers
---
Short History of the Boxer Breed
The Boxer breed has a relatively short history, dating back to the late 19th century in Germany. The breed was developed by crossing various breeds, including the Bullenbeisser and the English Bulldog, to create an athletic and loyal dog.
Originally used as a hunting and working dog, the Boxer became popular as a police and military dog due to its intelligence and trainability. The breed's popularity grew throughout the 20th century, eventually becoming a beloved family pet. They are a popular breed in many parts of the world, including New South Wales, and are known for their playful personalities and love of children.
Tips When Choosing a Boxer Breeder
When choosing a boxer breeder, remember several essential tips to ensure that you find a reputable breeder and a healthy, happy pup.
Do Your Research
Before you start contacting breeders, it's essential to do your research. Look up boxer breeders in New South Wales online, and read reviews from past customers. Check out the breeder's website and social media pages to get a sense of their reputation and the quality of their dogs.
Visit the Breeder
Arrange to visit their facility in person once you've found a breeder. This will give you a chance to meet the breeder, see the dogs' living conditions, and interact with the puppies. Make sure the breeder is transparent and willing to answer any questions you have about their breeding practices.
Ask for Health Certifications
Boxers are prone to specific health issues, such as hip dysplasia and heart problems. A reputable breeder will have their breeding dogs screened for these conditions and be able to provide health certifications. Ensure you ask for these certifications and check that the breeder is following best practices to ensure the health of their dogs.
Check for Socialization
Socialization is crucial for puppies, and a good breeder will have taken steps to socialize their pups from an early age. Ask the breeder how they socialize their puppies and what experiences they've had so far.
Do Boxers Make Good Pets?
Yes, Boxers make great pets! Boxers are also brilliant and trainable, which makes them ideal for those who want to participate in obedience or agility training. They are incredibly loyal to their families and love to be close to their humans. However, it's important to note that Boxers require daily exercise and mental stimulation to prevent destructive behavior. They also tend to have shorter lifespans than some other breeds, so it's essential to be prepared for the commitment of caring for them throughout their lives.
Conclusion
Finding a reputable Boxer breeder in New South Wales requires research and effort, but ensuring you get a healthy and happy pup is worth it. Remember to look for breeders who prioritize their dogs' health and welfare and are transparent about their breeding practices. It's also a good idea to meet the breeder and their dogs in person, ask lots of questions, and see the living conditions of the dogs. With these tips in mind, you'll be well on your way to finding the perfect Boxer for your family. A well-bred and well-raised Boxer can be a loyal and loving companion for many years.
Image Credits:
https://depositphotos.com/2583273/stock-photo-puppy-boxer.html