From the rugged islands North of Scotland
The Shetland Sheepdog breed looks like a small version of the Rough Collie, and originated on the Shetland Islands, north of Scotland, the most northerly point of the United Kingdom. These dogs are bright, playful and have lots of energy. Shetland Sheepdogs are affectionately known as the 'Sheltie' for short.
Shetland Sheepdog – Temperament
Shetland Sheepdogs are very intelligent and smart. In a series of tests for dog intelligence, the Sheltie came 9th out of 138 breeds tested. They are not difficult to train, and pick up new commands quickly. They are cautious around strangers at first, and take a little time to get to know someone new.
Shetland Sheepdogs get along well with other dogs and pets, and children. They are gentle and playful, but like some other herding breeds may have a tendency to nip at children's heels if running around, as their herding instinct kicks in.
Shelties are quite vocal dogs, and tend to bark a lot. They bark when they are excited, and when running around, and if any strangers approach. They make good watch dogs, but may not be suited to apartment life as their barking may disturb the neighbors.
Shetland Sheepdog –
Breed History
As the name implies, this breed were sheepdogs originally and used for herding. But they were able to herd ponies and poultry as well as sheep. It was important to keep small herds of these animals under control, as there were few fences on these wind-blown islands, and the few crops that could be grown had to be protected.
Because the Shetland Islands are rocky and difficult to grow much on, food is at a premium. The Sheltie was bred to be small enough to need significantly less food than bigger dogs. The Shetland Pony is so small for the same reason.
The breed is believed to have started with small working Scottish Collies being imported and crossed with the original local small dogs that were used for herding, producing mixed-breed dogs that were easy to feed, hardy to the harsh climate and forming the basis stock for further development.
At some point in time, these sheepdogs from the Shetlands were introduced to England, and crossed with the larger Rough Collies. Only the smallest dogs from each generation were used for further breeding, ensuring the size was maintained, while looking like a miniature Rough Collie.
The breeders on the islands did not keep written records of the breeding program back then, and so there are no precise details of how the Sheltie originally developed. The remoteness of the islands meant that they developed over generations with little contact with the mainland, until the first examples were introduced to the mainland.
As working herding dogs, the Shetland Sheepdogs have now largely been replaced by imported Border Collies. The original small herding dogs have become extinct, and the Shetland Sheepdog is now used as a general farm dog or as a family pet.
In 1909 the breed was recognized by the English Kennel Club, under the name 'Scottish Collie'; But Collie enthusiasts thought that this was misleading and confusing, and the breed name was amended to 'Shetland Sheepdog' a while later. The breed was subsequently recognized by the AKC in 1911.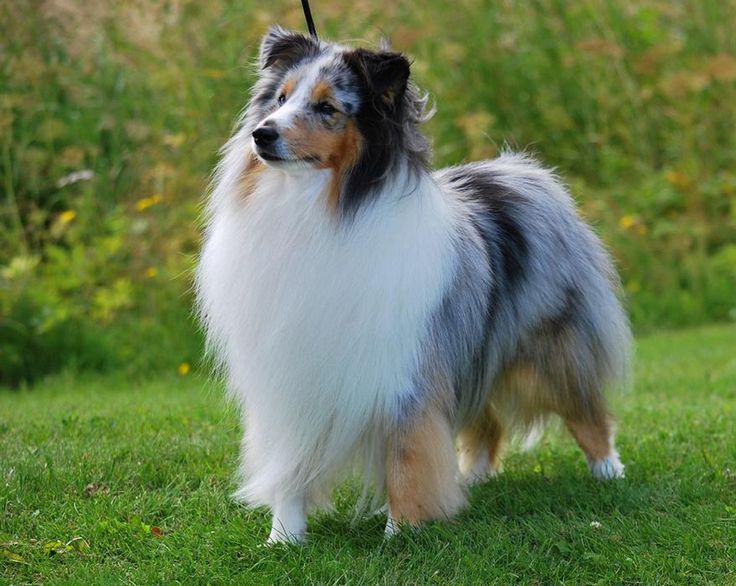 Vital Statistics;
Height; 13 inches to 16 inches
Weight; 12lbs – 25lbs
Life span; 12 to 15 years
Colors;
Tricolor, Merle and Sable.
Ease of Training
As bright and intelligent dogs, this breed is relatively easy to train. They are willing to please, and will do their best to learn. It's always a good idea to socialize your puppy as early as possible to new and strange sights, sounds, people and other animals in a safe and controlled environment.
Basic puppy training will start you off on the right foot. But after that, there is so much more that these dogs can do. With proper training, they excel at tests of obedience, agility, and of course herding.
Protection
Shetland Sheepdogs are naturally alert and watchful, and distrustful of strangers. They tend to be aware very quickly if something odd is happening in the vicinity. Combined with this is the vocal nature of the breed; they tend to bark at almost anything. These 2 factors make the Sheltie a great watchdog.
However, as a guard dog, they are not so good. First, despite their initial suspicion of strangers, they are good-natured and friendly, and will accept most people they do not know after a few minutes' "getting to know you". So, they are likely to end up welcoming intruders, albeit with a lot of barking.
In addition, their small size means they are not much of a physical deterrent. All in all, they are alert and loud, but will bot take much action. If you need a dog for protection, I suggest you look for another breed.
Grooming
Shetland Sheepdogs have a thick double coat; there is a fine, dense undercoat, and a long, rough-haired top coat that is water repellent. With this amount of hair, they do shed quite a lot. You will need to brush the coat through 2 or 3 times a week, and more often during shedding season, to prevent fine hairs from the undercoat getting everywhere in the house and your car.
Bathing is only recommended infrequently, if the dog gets particularly muddy or smelly. Bathing too often will dry the skin and remove the oils from the top coat.
FURminator deShedding Tool
We have found that the absolute best way of grooming any long haired dog breed is to use the FURminator grooming tool! We highly recommend this unique brush from Amazon to keep your dog in tip top shape. Click on the image below to find out more…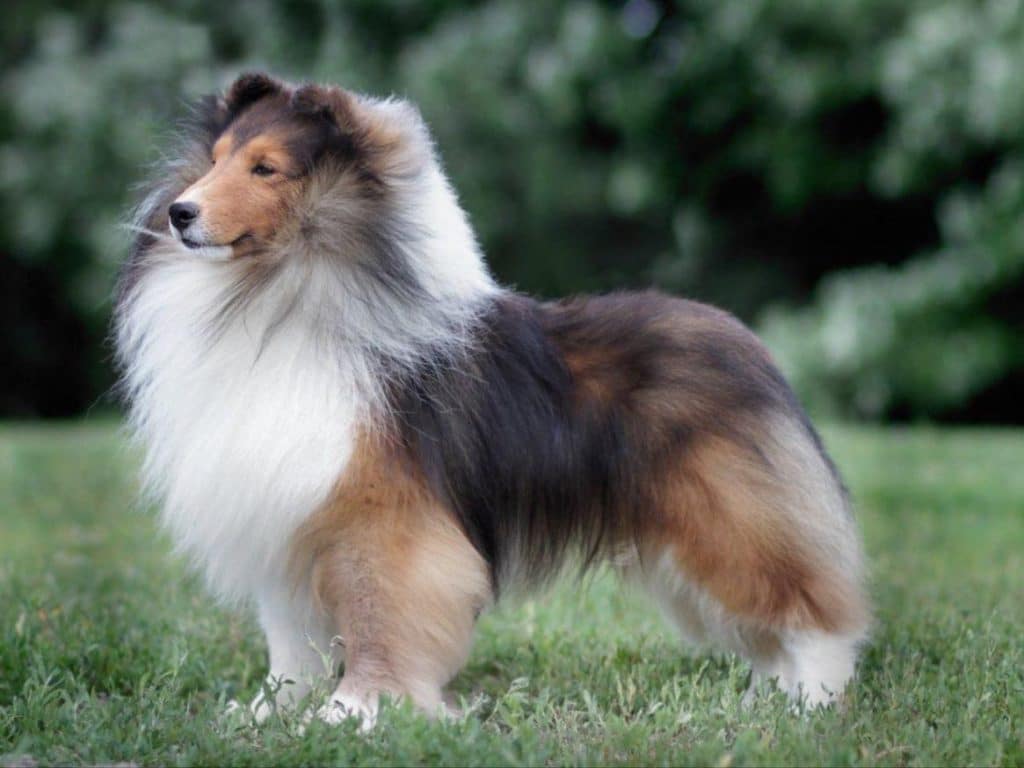 Health Considerations
Shetlands are generally healthy, but there are a number of issues to be aware of;
Hip dysplasia
Thyroid disease
Eye problems
Dermatomyositis
Von Willebrand's disease
Gallbladder mucoceles
Epilepsy
Famous Shetland Sheepdogs
I couldn't find any particularly famous Shetland Sheepdogs – please let me know if you are aware of any, by using the Contact Me link. Thank you!