The Italian Greyhound is smart, alert, and very companionable.
Although this dog breed carries the name "Greyhound", it is about half the size of the standard Greyhound. In the Middle Ages, it was used for hunting small game, but also found favor as a companion or "lap" dog with the wealthy classes in Europe. It's small size made it very popular with the ladies. Frequently referred to as the "I.G." for short, this abbreviation is sometimes pronounced "iggy".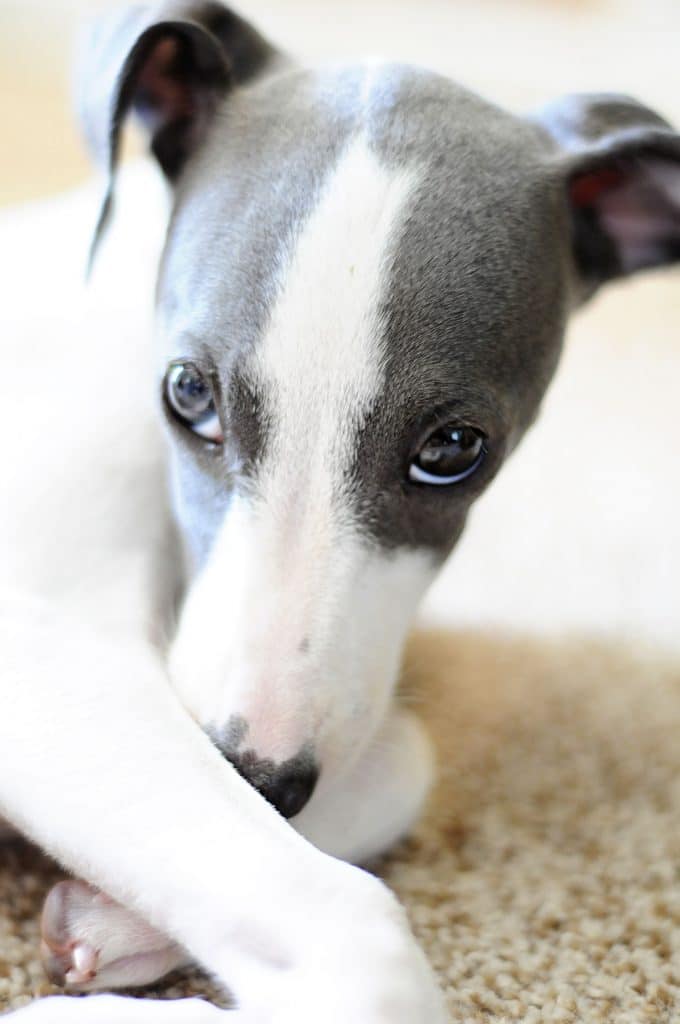 Italian Greyhound – Temperament
These dogs are curious, alert and playful. They bond very closely to their owner, and will follow them from room to room around the house, wanting company. I.G.s are gentle and affectionate with members of their family, but can be shy with strangers.
The breed is intelligent and smart, but can be hard to train, as they have an independent streak, and do not seem to be very keen on pleasing their owners if they don't feel like it. With a consistent approach, however, they can be trained to do well in obedience and agility trials.
After lounging and snoozing in a comfortable sunny spot for a bit, the Italian Greyhound loves to zip around the room, jumping up onto any convenient pieces of furniture. They are agile and nimble, and can perch on sofa armrests and tops of armchairs like a cat.
Then the dog will find another sunny or warm spot to curl up in. They really like being warm, and will seek out the warmest spots in your home. They don't like being cold or getting their paws wet, and try to avoid both as far as possible. They will need a covered, dry area outdoors to go out to relieve themselves at cool times of year, otherwise they may be very reluctant to go out!
This love of warmth and human company means that they will want to share your bed at night, burrowing under the bed covers and curling up into a tiny ball. With an I.G., you must be prepared for a "velcro dog". Also, they love lying in the sun in summer, soaking up the warmth. BUT skin cancer is a problem with this breed, so they should be discouraged from sunbathing in direct sun.
As the smallest member of the sight hound group, the "iggy" retains the instinct to chase anything small and moving. This means that other small pets in the home may be in danger, such as rabbits, guinea pigs or gerbils, for example. This innate desire to chase things means that you should always keep your I.G. on a leash when you go out. They are unlikely to return when called!
Italian Greyhounds will get on well with children under 10 years of age, BUT they may be easily injured by rough play. In the same way, they will play with other dogs, but care should be taken if they are playing with significantly bigger breeds, due to the risk of injury. In general, they do best in a household with teenagers and adults, and dogs of similar size.
This breed needs plenty of attention, love, exercise and training; this is a time-consuming dog to have around the house, but you will be rewarded with love and companionship in turn.
Italian Greyhound –
Breed History
Although there are references in literature and art to small greyhound-like dogs going back 2000 years, the modern version of what we now call the Italian Greyhound first appeared in Southern Europe in the Middle Ages, where it became very popular with the nobility at the time, especially in what is now Italy.
Italian Greyhounds arrived in England in the 1600s, and yet again became popular with the aristocracy. Mary, Queen of Scots, and later Queen Victoria were both keen I.G. owners.
This breed was one of 3 breeds involved in the development of the Miniature Pinscher in Germany.
The breed reached America 200 years later, and was recognized by the American Kennel Club in 1886. The breed numbers in the USA were small but significant.
During the 2 World Wars, the Italian Greyhound population in Europe almost died out, as dog ownership and breeding became a luxury, and a non-essential activity during war years.
After the War years, Italian Greyhounds from America were taken back to Europe to help re-establish a breeding stock, and numbers grew gradually from the 1960's through to the 1990's. Since 2000, there has been a renewed interest in this ancient companion and hunting dog breed.
Vital Statistics;
Height; 13 inches to 15 inches at the withers.
Weight; 6 lbs to 10 lbs, although some may weigh up to 14 lbs.
Life span; 12 years to15 years.
Colors;
Black; Blue (Grey); Red; Cream; Fawn; in various shades, with white patches or blocks.
Ease of Training
The Italian Greyhound is not an easy dog to train, but neither are they too difficult if you are prepared to exercise patience. However, they are difficult to house train, like many small dogs, and some I.G.s may never be totally house trained.
If it's raining outside, and cold, your Italian Greyhound may not want to go out, resulting in a small "accident" somewhere in the house. That's why it is important to have a dry sheltered area for your I.G. to go, keeping its feet dry, directly from the door. Some owners recommend a small "dog door" flap so that the dog can come and go as they please.
Like all breeds, they should be socialized from an early age, to get them used to new sights, sounds, smells, and new people and other animals. You can read more about this at our guide on socializing your puppy.
By getting your dog used to strange things and people, they will be less shy, less suspicious of new people, and so happier and more confident. Part of socializing your dog should include puppy training classes. This will introduce both your dog and you to the essentials of training. A well-trained dog is a happier dog, because it better understands what you want, and is happy to please you.
But training must be continued on a regular and consistent basis, at home as well as at obedience classes. While the I.G. may not be an easy dog to train, it will respond to careful and patient training over time. We have a great page on the 7 best dog training manuals, which you can read HERE.
Protection
This is an alert breed, which has a natural caution of anything new. The I.G. will certainly let you know if there is anything unusual going on in the area, by barking. For such a small dog, their bark is surprisingly loud. They make good watchdogs.
But when it comes to protection, they are simply too small to be effective guard dogs. If you are looking for a dog to provide some protection, you should look for a bigger breed.
Grooming
The Italian Greyhound has a short, dense coat that is easy to look after. They only need a quick daily brush to remove any loose hairs, and a more thorough brushing once a week. They do not shed much, and with regular grooming they don't leave many hairs around the home / car.
They only need bathing occasionally, when they start to smell "doggy" or have rolled in something smelly. The short dense coat does not tend to trap much dirt or dust.
The dog's claws should be checked weekly and trimmed if they are getting too long, to prevent cracking and splitting. Your vet can trim the claws if you are unsure about how to do this.
The ears should be checked weekly for any signs of redness, swelling or infection, and cleaned gently with a damp cloth if they seem dusty or dirty. The dog's teeth should be brushed daily with a dog-specific toothpaste, not a human toothpaste as they contain xylitol.
Health Considerations
This breed can be prone to developing several health conditions, and you should ask the breeder for proof that the parents of you puppy have been checked and certified for the following conditions;
Hip dysplasia
Elbow dysplasia
Hypothyroidism
von Willebrand's Disease
Thrombopathia
Eye conditions
Italian Greyhounds also tend to suffer with skin cancer issues, so they should be prevented from lying in full sun, or else use a dog-specific sunblock. They also do not tolerate cold at all, and should be considered "indoor" dogs. If you live in a cooler climate, you might consider some sort of dog jacket for your I.G. to keep them warm when you take them out.
Famous Italian Greyhounds
I couldn't find any – but if you know of a famous Italian Greyhound, please let me know, using the Contact Me link HERE.
Thank you!