This Big Dog Breeds 3 page details the dogs that are among the most numerous group of animals in the world. They were first developed for only two purposes: Hunting and Farming, and many can trace their roots to ancient times. Don't forget to check out the other pages 1 – 5 in this list of big dog breeds!
Today, while many are still be used for their original purposes, most enjoy the comforts of homes and serve as loyal family pets.
Big dog breeds share one thing in common: Their size.
Breeds on these pages are roughly 44 to 88 pounds or 20 to 40 kg
Beyond that, they vary on the amount of grooming needed, the ease of training, the amount of daily exercise required and their basic temperaments of personalities.
5 Facts about Big Dog Breeds 3
Most were developed in the 1800s
They are thought to have evolved from ancestors of the Asiatic Wolf
The majority of big dog breeds were developed in Europe
Include most if not all of the Spaniels, setters, pointers and retriever breeds
Most make excellent family pets
---
Big Dog Breeds 3
German Pointer
Size:
44-71 lb (20-32 kg)
Height:
21-25 in (53-64 cm)
Colors:
Liver, Brown, Black
As an all purpose hunting dog, they can track, point and retrieve over most any type of land.
There are three varieties, the German Shorthaired Pointer or GSP, The German Longhaired Pointer and the German Wirehaired Pointer. The ideal owner would be a hunter, or an active owner who loves to run, hike or cycle.
---
German Spaniel
Size:
40-55 lb (18-25 kg)
Height:
17-21 in (44-54 cm)
Colors:
Red, Brown, Red-Roan
These dogs can serve as both gun dogs and companions as long as they get enough energy. They love the water and they make excellent retrievers for hunters.
---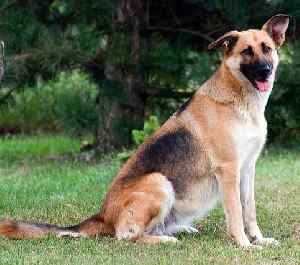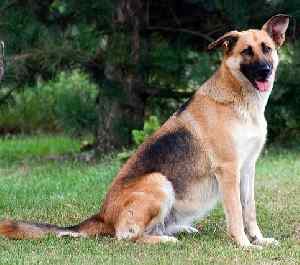 Size:
49-88 lb (22-40 kg)
Height:
22-25 in (58-63 cm)
Colors:
Sable, Black
Most colors are acceptable
One of the smartest dog breeds, the German Shepherd is a real workaholic. Intent on any job you give them to do, they will perform faithfully and with complete devotion.
There is no questioning why this breed is so popular- they make great companions but also serve in the armed forces, as police dogs, as search and rescue, guarding, among many others.
---
Size:
44-71 lb (20-32 kg)
Height:
21-25 in (53-64 cm)
Colors:
Liver, Liver and White
A very versatile hunting dog, they can point, retrieve, trail and even kill game, though many are just devoted family pets. Being a little boisterous, they may not be ideal for very young children.
Some do not do well with other small pets unless trained early, but training is relatively easy if a gentle approach is taken. They may be barkers or whiners, which means they may not be ideal for those looking for a quiet breed.
---
German Wirehaired Pointer
Size:
44-71 lb (20-32 kg)
Height:
21-25 in (53-64 cm)
Colors: Liver, Brown, Black Liver and White with ears and head a solid liver.
With energy to spare, the German Wirehaired Pointer is a rugged bird dog and happy companion. A little on the stubborn side, they have retained a guarding instinct which means they can be rather aloof with strangers.
They are a perfect fit for someone who loves the outdoors and has the energy and time to accommodate their need for exercise.
---
Giant Schnauzer
Size:
65-90 lb (29-41 kg)
Height:
24-28 in (60-70 cm)
Colors:
Solid Black, Salt and Pepper
Their size places them in between a large and a giant breed dog, but we've chosen to list them here too. Having been originally developed to be a larger drover, there was probably quite a few breeds that went into their creation.
They are household pets today, although there is still a need for their services as police dogs. Being reserved with strangers, they make great guard dogs. They are a little too boisterous with young children so they may not be the best choice for family pet.
---
Size:
55-75 lb 25-34 kg)
Height:
20-24 in 61-61 cm)
Colors:
Various Shades of Gold
An athletic, strong, obedient dog, they are truly everyone's best friend. An excellent choice for a family pet, they are devoted to their people and good with children.
Being an active breed, they require abundant daily exercise and failing to fulfill this need leads to problem. They love walks, romps and especially retrieving games. They also require a decent amount of grooming, but if owners are willing to meet their needs, they will be rewarded with a wonderful pet.
---
Size:
57-66 lb (26-30 kg)
Height:
24-26 in (62-66 cm)
Colors:
Black and Tan
Although a little more protective than other Setters, the Gordon is not particularly reserved around strangers, and loves human company, especially their owners. They make great family dogs.
They are energetic and could run and hunt all day which means this level of energy needs a regular outlet. They need an active family that will keep their exercise needs a high priority.
---
Greenland Dog
Size:
60-106 lb (27-48 kg)
Height:
20-27 in (51-68 cm)
Colors:
All Colors

These are friendly, strong, energetic dogs, good with children and other dogs. They are believed to be a very ancient breed that was used by indigenous people of Greenland to hunt seal and polar bears.
Like other sled dogs, they have a tendency to roam and can be difficult to train. As a highly active dog, they need outlets to use up some of that excess energy.
---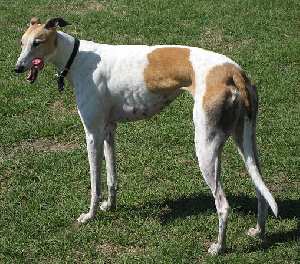 Size:
60-66 lb (27-30 kg)
Height:
27-30 in 69-76 cm)
Colors:
Black, Gray, Red, Fawn, solid or brindled, solid or spotted
Known as the world's fastest "couch potato" they are quiet and calm indoors. They are good with other dogs and with children and can be taught to be fine around other pets. They have a strong prey instinct which means they are likely to chase anything small that moves.
They are sensitive and independent but respond to training and are eager to please.They do need daily exercise but can achieve this with a daily walk or a place to run.
---
Haldenstovare (Halden Hound)
Size:
51-64 lb (23-29 kg)
Height:
20-26 in (50-65 cm)
Colors:
White, Tan, Black
This is the largest of the four Stovare breeds, this one from Norway was bred to accompany hunters. They are also rare outside their native lands.
---
Hamiltonstovare (Swedish Hound, Hamilton Hound)
Size:
51-60 lb (23-27 kg)
Height:
18-24 in (46-60 cm)
Colors:
Black and Brown with White Markings
Many names are associated with this breed from the Swedish Foxhound to the Hamilton Hound. Developed in Sweden and is a mixture of English Foxhound and
Holstein Hound, Hanovarian Haidbrake to the Courtlander Hound. They are easy going hunters who love to flush out small game. Very rare outside their native country.
---
Harrier
Size:
42-60 lb (19-27 kg)
Height:
19-22 in (48-55 cm)
Colors:
Any

More playful than foxhounds, but not as much as beagles, they are happy and do well with children, but are reserved with strangers. They need daily exercise in a fenced in area or a daily walk.
They have been in America since Colonial times where they were used to hunt hares, but have never been widely accepted as a solely companion dog.
---
Size:
62-99 lb (28-45 kg)
Height:
23-28 in (58-70 cm)
Colors:
Black, Black and Gold, Blond
These dogs are slowly gaining in popularity. They were developed in Germany in the first half of the 20th century. They are a loyal, friendly family companion today, but once were used as farm dogs. They are not easy to train, and don't always do well around other dogs unless socialized well as a puppy, and consistently trained.
---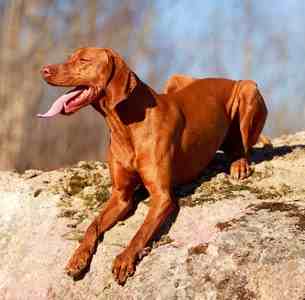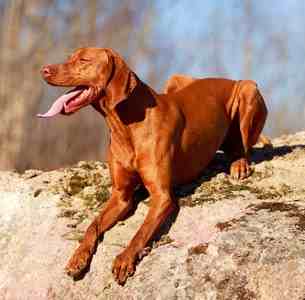 Size:
44-66 lb (20-30 kg)
Height:
21-25 in (53-64 cm)
Colors:
Golden Rust in various Shades
There are two varieties of the Vizsla, the Wirehaired and the Shorthaired. Both are excellent hunters but also make loyal, loving family companions. They have tons of energy so any family interested in this breed must know that their exercise needs must be met on a daily basis. They are good with other dogs and children. They learn quickly and are eager to please.
---
Hygen hund
Size:
44-55 lb (20-25 kg.)
Height:
19-23 in (47-58 cm)
Colors:
Red-Brown, Yellow-Red, Black and Tan with white
These dogs, developed in Norway, are quick thinking hunters designed to work in the icy, snowy Arctic areas. They are full of energy, but rare outside their native lands.
---
Further Big Dog Breeds
Big Dog Breeds A-B | Big Dog Breeds C-F | Big Dog Breeds G-H | Big Dog Breeds I-P | Big Dog Breeds R-W
---
Big Dog Breeds: References and Further Reading
The following books give further information on big dog breeds – all a great read! Click on the images for more details.